'Sense8' Spoilers Will Make Fans Excited For S2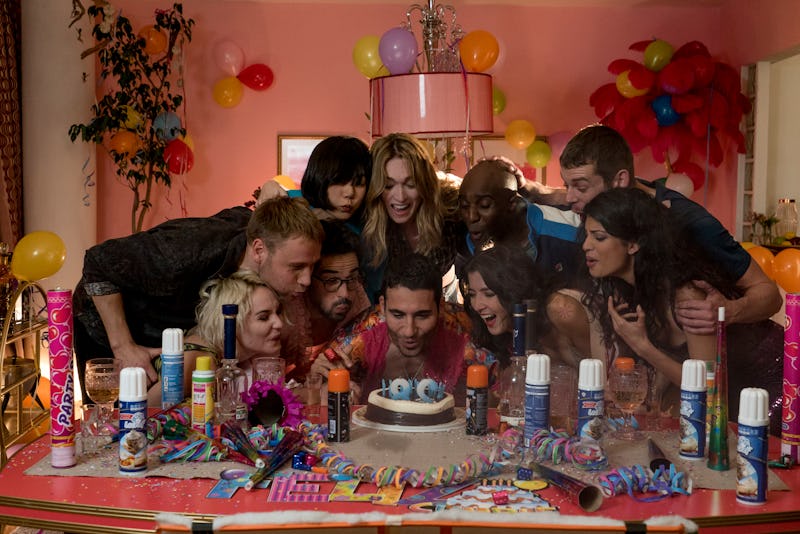 Murray Close/Netflix
"Happy f*cking New Year," German sensate Wolfgang utters at the end of the trailer for the upcoming Sense8 Christmas special — and I'm sure fans of the trippy Netflix drama couldn't agree with that sentiment more. The show — about eight people of various races, creeds, and sexualities from around the globe who share a mysterious and potent psychic connection — which was created by Lana and Lilly Wachowski (The Matrix, Cloud Atlas) and premiered in June of 2015, finally returns from its prolonged hiatus this Friday with a two-hour episode celebrating the spirit of the holiday season. Of course, this one-off special will likely only make fans even more anxious for the sophomore season of the show, coming in May 2017; so let's look at what Sense8 Season 2 spoilers are out there to help tide us over until then.
Unsurprisingly, details about the actual plot of the season are a bit hard to come by; given the narratively complex nature of the show, the Wachowski sisters are keeping a relatively tight lid on how the battle between the sensates and their nefarious pursuer Whispers will unfold after the climactic events of the Season 1 finale. But that doesn't mean we have no idea what to expect from the new batch of episodes — mostly thanks to the enthusiastic cast, who seem as eager to share as much as they're allowed to about their show.
In honor of Sense8's eight sensates, here are eight spoilers about Season 2:
1. An Unexpected Facelift
The biggest change that's in store for Sense8 fans is going to be a bit of a shocker: one of the eight sensates will look quite a bit different when the show returns. Capheus — the bus driver from Nairobi known as "Van Damme" — will no longer be played by British actor Aml Ameen. Ameen's unexplained departure from the series was announced in April of this year. Rather than killing off the integral character, the role of Capheus has been recast; he'll now be portrayed by Toby Onwumere.
2. Sense8 Gets Political
Speaking of Capheus, we have at least one hint of what his storyline will entail when Sense8 returns for Season 2. In a set photo posted to Reddit by user bass-, a woman in a crowd with a Kenyan flag in the background is seen holding a large poster with Onwumere's face on it that reads: "COURAGE. Vote Van Damn! Capheus Onyango, The Son Of Kibera. #justiceforall." Following the most contentious election cycle in memory, apparently the Wachowskis decided to dip their toes into political waters by having one of their sensates run for office. #ImWithVanDamme
3. The War Against Whispers
After Season 1 ended with Whispers worming his way inside Will's head, the conflict between the villain and our favorite cluster will only get more heated. Each sensate will play a key role in the battle to come — but particularly Will, Riley, Kala, and Nomi, according to an interview the entire Sense8 cast held with Buzzfeed last May. "A lot of Season 2 is this really interesting chess match between [Will and Whispers] that takes some really surprising turns," Brian J. Smith revealed about his character. "When you think someone really has the upper hand, you realize that someone has been played the entire time and there's a whole other layer where you think the person who is doing the playing has also been played."
"While Will's in this state, [Riley] has no choice but to look after him and become the momentum behind the relationship," Tuppence Middleton added. Tina Desai is excited to put Kala's skills as a scientist and a pharmacist to good use: "Going forward, she'll only be able to contribute more, because in this season, there's more of Whisper hunting us while we're simultaneously trying to hunt him," she said. And according to Jamie Clayton, Nomi's skills as a hacker will make her the "central hub of information in Season 2."
4. Love, Actually
Of course, Sense8 is as much about the internal emotional lives of the characters as it is about the external conflicts they face. And so love will once again be a prevailing theme of the season, particularly for the Kala/Wolfgang/Rajan love triangle and the complicated dynamic between newly-out movie star Lito and his lover Hernandez and their friend Daniela. In regards to the latter storyline, actor Miguel Ángel Silvestre told Buzzfeed that, "[Lito's] life is a roller coaster in Season 2," sounding every bit as poetic as his character does in his big, emotional scenes. "The three of them are going to face a very rough, cruel reality. It's like a big test for the three of them, where love trembles too, because everything trembles around you when the soul or the ground is so rough. It proves that you're always making decisions, love-wise. We'll see how they handle their own love when everything around them is trembling."
5. Hard Hearts, Blown Minds
I'm sorry, did you think that Sun was powerful in Season 1? Well, you ain't seen nothing yet, according to Doona Bae. "She was growing up, mentally, in Season 1," she told Buzzfeed about her character. "She was physically very, very talented, but also her heart is quite soft. This season, she's getting stronger as a weapon and she's finding a way for revenge. In Season 1, she was quite confused and she was growing up. But by the end of the season, she realized something, and in Season 2 she just drives fast for something."
And while Sun hardens her heart, Alfonso Herrera (who plays Hernando) promises that Season 2 will affect a different organ in our bodies, as well. "Many, many answers are going to be sorted out in this second season," the Exorcist actor said in the above interview, posted to Twitter by Sense8 co-creator J. Michael Straczynski. "It's going to get into this deepness. I remember when we were reading the table read in Berlin, we were all amazed by what Lana did, by the writing and where the story was going. It's going to be mind-blowing."
6. We'll Meet Even More Sensates
As if eight sensates — plus one dead sensate (Angel), one ally sensate (Jonas), and one enemy sensate (Whispers) — weren't enough for one show, it looks like Season 2 is going to be introducing even more. The cast revealed to the Chicago Sun Times in July that the new episodes will see the cluster "not only travel between one another mentally, but also between the past and the present through sensates of earlier eras." If you thought Bran warging into Hodor while simultaneously greenseeing into the past and warging into young Hodor was confusing, just wait until the sensates start time-traveling through generations of other sensates. (Herrera was right; my mind's already blown.)
7. Globe Trotters
A large part of what makes Sense8 such a fun series is its globe-trotting sense of adventure and its lush, varied locations. Season 1 famously filmed in nine cities in eight countries on four continents: Berlin, Chicago, London, Mexico City, Mumbai, Nairobi, Reykjavik, San Francisco, and Seoul. Season 2 looks like it's going to expand the geographical scope of the series even more, according to this (since deleted) Instagram from Silvestre. The cities on the actor's list of Season 2 locations that are new to Sense8 are: Amsterdam, Cambridge, Malibu, Malta, Positano, São Paulo, and… Scotland. (No, "Scotland" is not a city, but you'll have to take that quibble up with Silvestre himself.)
8. The Magic Words
But out of everything Sense8 fans are probably anxious to know, it's Max Riemelt (Wolfgang) who said the magic words. "There's more sex, more violence, more of everything!" he told Buzzfeed. "We're pushing the boundaries" in Season 2. That's an admittedly ambitious task, given the high bar set by the first season's free-flowing sensuality, exemplified by the infamous intra-sensate sauna sex scene. But it doesn't look like Riemelt was simply telling fans what he knows they want to hear. Exhibit A: the above video posted to Instagram of the cast filming during São Paulo's gay pride parade, in which Lito, Will, and Riley disrobe and make out while a cheerful Wolfgang looks on.
Prepare yourself now for the onslaught of sex, violence, love, emotion, and mind-blowing, brain-melting storylines coming your way when Sense8 Season 2 hits Netflix on May 5, 2017.