Sephora Dropped 40 New Lipsticks For Only $8 & They Have The Cutest Packaging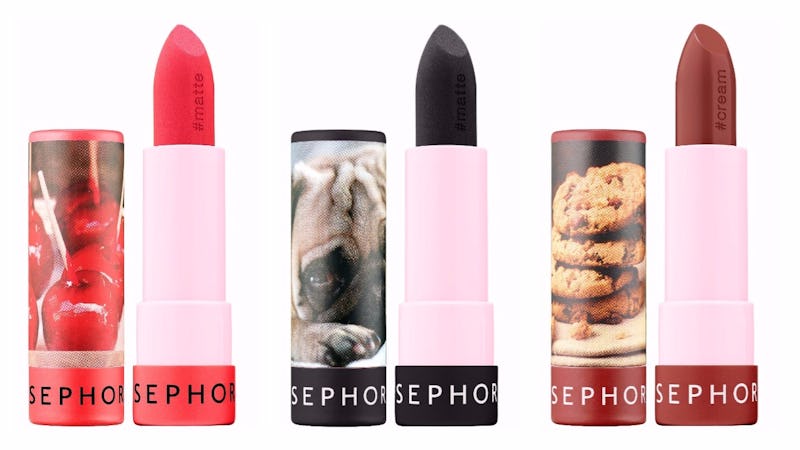 Courtesy of Sephora
All hail the mothership for all things beauty. Sephora just launched 40 new lipsticks that feature some impressive packaging, and the bullet designs aren't even the best part. For an affordable $8 price, you could get your hands on the Sephora collection newbies, and it's a deal too good to pass up.
In the midst of their massive holiday sale, the holy grail cosmetics company somehow found time to spring a juicy new collection on beauty lovers. Stocking shelves with every red, plum, nude, and metallic cream a lipstick lover could ever need, the #LipStories Collection truly has something for every pout. With that many shades and such an unbelievable price tag, it's hard to resit snatching up a dozen lippies at once. But if those selling points don't grab your attention, the stunning design of each tube and the reasoning behind their packaging just may convince you to make a purchase.
Created with the idea in mind that lipstick shouldn't be just for posing for the 'Gram, each bullet features an image of a place, experience, or object that tells a story of its hue. According to a Sephora Collection press release, every lipstick should have a good story behind it, revealing "where you wore it, with who, what you did, and how you it made you feel."
The line of long-lasting lipsticks feature a new formula different from other Sephora Collection pout enhancers. Already stocked in Sephora stores and online, the collection includes three different highly-pigmented finishes — cream, matte, and metal. And just in case it isn't clear how a lippie will swatch, their finishes are engraved onto their tear drop shape.
Each shade is divided into 10 groups that combine lippies with similar themes. These groupings, referred to as "mini stories", make the concept behind the lipstick line even more meaningful.
"These collectable shades were created to celebrate wild adventures, favorite moments and magic memories that are yet to come, so embrace every color and texture in real life and share your story with us," said Helen Phillips, National Makeup Artist for Sephora Collection, via a press release.
Though all the lipsticks are available for purchase, the curated, seasonal collections are still rolling out. You'll have to stay tuned on the Sephora Collection Instagram to see mini stories as they launch each month. As you might imagine, the "Holidaze" story will probably be the first release of the series coming soon, "Spring Break State of Mind" may come to light during March, and "Pool O' Clock" will likely take place during the summer. But there are plenty more stories where those came from.
For now, you can enjoy every beautiful shade that catches your eye before mini stories are released. With such enticing shades, you're likely going to want every single tube. And for less than $10 a pop, it's worth snatching up all four lippies in your favorite mini story.
There's a stunning raspberry red, "Popsicle Lips", reminiscent of a pout stained from a frozen treat.
A nude like "Tan Lines" definitely evokes the happiest vacay season memories.
"Just Add Tinsel", a metallic stunner that twinkles like Christmas lights, is just what the holidays called for.
And a deep brown shade like "Fire Side" could definitely give you major feels, instantly producing thoughts of yummy hot chocolate and snuggling up to a cozy fire. From their hues to their bullets, each shade is too stunning to ignore.
By now, you're probably convinced that the #LipStories Collection is worth your coins. Its expansive shade range makes it hard not to find your new go-to in the bunch. Plus, the captivating packaging alone makes these beauties worth collecting. After all, their reasonable price tag wont exactly break the bank.