Sephora's Black Friday Sale Includes Tarte & Too Faced Mini Sets For Under $15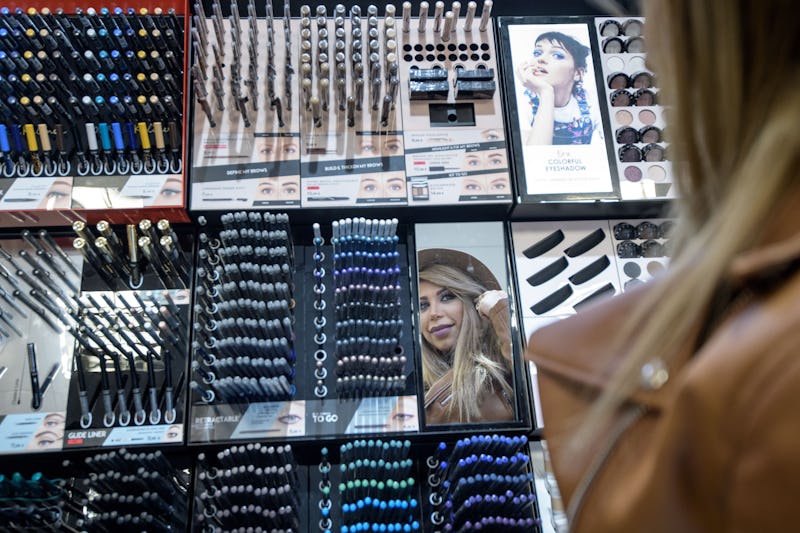 Thomas Lohnes/Getty Images Entertainment/Getty Images
If you're powerless inside the aisles of Sephora, then you know firsthand just how beneficial their sales can be for your wallet — which is why the Sephora Black Friday 2018 deals are so important. You can stock up on those playful palettes you've been admiring from afar and replenish old empties at half the cost. It's just good economics to wait for those prices to be slashed way down, letting you buy a whole lot more for a whole lot less. If you ever threw a $50 foundation and tossed in yet another brown liquid lippie into your basket and felt a pang of guilt, this is the one day in the year where the prices will be so low that you won't feel that niggling buyer's remorse as you trade in your rent money for your makeup addiction.
Knowing this, Sephora is coming at us hard with their Black Friday sale. While no official Black Friday flier has been released yet with their official sale store hours or percentage slashes, the beauty store did release a sneak peek exclusively on their Sephora app. Starting Nov. 15, shoppers with the Sephora app can log in and see a snapshot of what will be available come Nov. 23, letting you start planning what you would like to snap up and what you would like to try for the first time.
The Black Friday preview shares all the deals that you can nab that are $15 and under. "The more you know, the less you FOMO. Start your list now," the app shares. While $15 doesn't usually get you a lot in terms of quality makeup, the price slashes are so deep that you can get some of your favorite brands for less than $20.
The sneak peek includes items like makeup sets, intense hydrating creams, beauty tools, skincare lines, hair products, face cleansers, lipsticks, and even kits that target beauty lovers by age — and all of these quality items are $15 and under, meaning that a lot of these products are over 50 percent off during this major shopping holiday.
But let's get into a few specifics. There is the Tarte Girl Boss Goodies Skin & Makeup Mini Set, which is valued at $34 and is being sold at $15, giving you $19 in savings. It consists of three products: a Color Splash Lipstick (usually $21), Lights, Camera, Splashes Waterproof Mascara (usually $23,) and Drink of H2O Hydrating Boost Moisturizer (usually $39.) This mini kit not only gives you all the products you would need for a natural face of makeup, but it's also a great way to try out some of the brand's best sellers.
Then in a different direction, there are products like the BECCA Drenched In Glow Mini Set, which is a $50 value but will be sold for $15. This set also includes three products: Glow Lip Gloss (usually $22,) the First Light Filter Face Primer Mini (usually $18,) and the Shimmering Skin Perfector Pressed Highlighter (usually $19.) It's a great way to stock up on one of your favorite brands for cheap.
But it's not all just mini bundles going on sale for Black Friday — standalone items are getting price slashed as well. For example, Clinique's Clarifying Lotion 2 is going to be $15 (coming down from $29.50,) and Bumble and Bumble's Hairdresser's Invisible Oil Heat & UV Protection Primer will be $15 (coming down from $28.)
Download the Sephora app today and start planning your shopping spree next week! Your wallet will thank you.