Serena Williams Busts Outdated Pregnancy Notions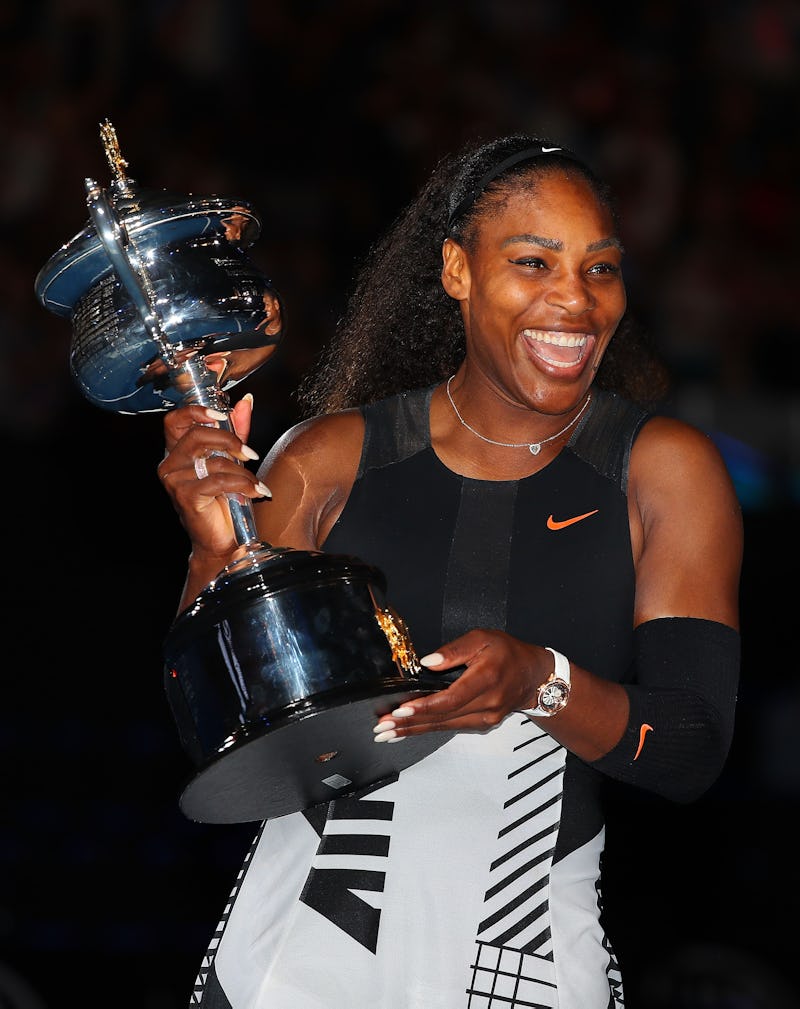 Scott Barbour/Getty Images Sport/Getty Images
If you haven't heard the wonderful news yet, Serena Williams announced on Snapchat Tuesday that she is pregnant with her first child. The now-deleted snap showed the tennis champion posing sideways in a yellow swimsuit with a baby bump. (Although the post was deleted, her spokesperson confirms to Bustle that Williams is expecting a baby in the fall.) She captioned it, "20 weeks." As exciting as that is, the comments are already rolling in about how amazing it is that Serena Williams was pregnant during the 2017 Australian Open, which she won for the seventh time in January.
Yes, it's phenomenal that she was carrying a baby during the win, because it goes to show you just how fabulous of a year the 35-year-old is truly having that she could experience these two amazing things at the same time. There's no doubt that she is and will forever be remembered as a talented athlete, pregnant or not. However, the way Williams is celebrated on social media for being pregnant and winning another tennis title isn't all as positive as it sounds.
That's not to say she shouldn't be praised, because winning a tournament and having a baby should absolutely be applauded. But, how the tennis professional is being complimented for winning the tournament while carrying a child is what needs to change. A pregnant woman being able to accomplishment something shouldn't be seen as achieving the impossible.
Yes, a woman's body changes when she is pregnant and there are certain limitations that come with pregnancy, especially as the months continue. But pregnancy needs to be normalized in relation to what a woman can do — and that's exactly what Williams has done.
By playing and winning the Australian Open while pregnant, Williams is shutting down any and all outdated pregnancy notions that a pregnant woman is restricted in what she can or should do. When it comes to Williams, it's almost like people are saying, "Oh my gosh, you're pregnant and you can still do your job?" It's not that shocking. A pregnancy doesn't mean a woman should stop doing what she loves or that she should just sit around all day.
As noted earlier, there are several tweets worshipping Williams' capability to play tennis pregnant. For example, one tweet reads, "Serena Williams announcing she's pregnant, and was pregnant during a dominant Australian Open run...she's unreal." Another Twitter user wrote, "Serena Williams is 20 weeks pregnant, which means she won the Australian Open while being pregnant and didn't drop a single set. The GOAT." These tweets don't seem to have any ill will towards Williams and appear to be very impressed that nothing, including pregnancy, will stop her from continuing to play tennis and winning titles. I understand where they're coming from, but they do raise the question of whether this is something that should be seen as a surprise.
Then, there are some tweets expressing concern over the fact that Williams was still playing tennis. One user posted, "So Serena Williams played and won the Australian Open while pregnant? Is that safe, was she supposed to be doing that?"
According to the American Pregnancy Association, when it comes to any type of recreational activity while pregnant, it's best to consult your doctor. Let's not judge Williams or question her decision, because she may have very well got clearance from her doctor, and I'm sure she wouldn't do anything to endanger her future child. As Dr. Raul Artal, chairman of obstetrics, gynecology, and women's health at Saint Louis University, told ESPN in November 2009, "I strongly believe pregnancy should not be a state of confinement. If there are no complications, and a woman is willing to continue to train, she can."
Next time you hear that a woman is successful at something and that she was pregnant while she did it, don't act so surprised. Women can still be athletic, work, and do whatever else they put their minds to — even with a baby bump. Basically, by not only winning her seventh Australian Open title while pregnant, but by also smashing ideas of what a woman can do while expecting, Williams is once again living up to her "GOAT" title in more ways than one.