Serena Williams Announces Big News On Snapchat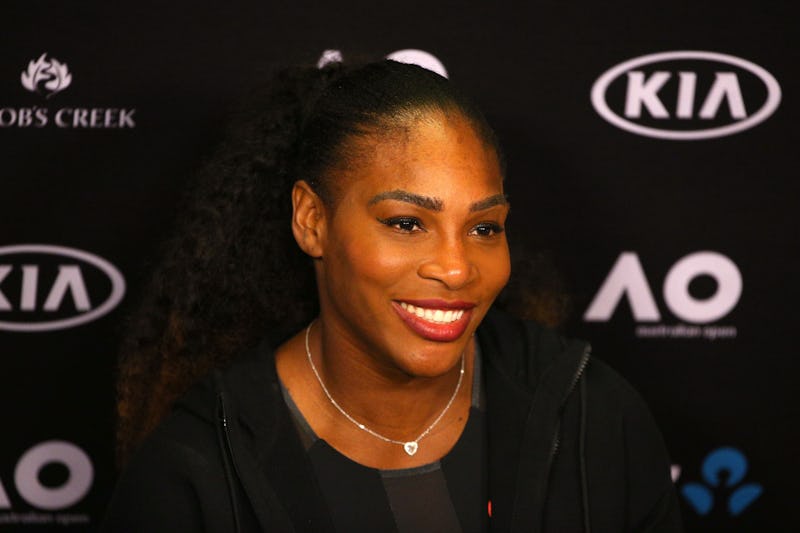 Michael Dodge/Getty Images Sport/Getty Images
A few years ago the phrase "revealed her pregnancy on Snapchat" would've been total nonsense, but not today. On Tuesday, Serena Williams revealed her pregnancy on Snapchat, by posting a photo of herself in a yellow bathing suit with a caption reading, "20 weeks." It's a super casual way of sharing the information, especially because the snap was nestled alongside photos of the vacation she's currently on and a video of a stuffed animal wearing a flower behind his ear on a hotel bed. Way to make us go from cute-but-weird stuffed animal video to pregnancy announcement, Serena! Williams' spokesperson also confirmed to Bustle that the athlete is expected a baby in the fall.
Williams isn't known for being super outspoken about her personal life, so it's no surprise that she didn't make her baby news public immediately. The tennis champ is currently engaged to Alexis Ohanian, the co-founder of Reddit, and she has kept their relationship pretty private, too. But, perhaps as a sign of their big news to come, Williams actually did post a photo of herself and her fiancé on Instagram on Monday. As for their wedding planning, she hasn't shared much, but did recently post a photo of some dress inspiration.
During the Australian Open, when asked about her engagement and upcoming wedding at a press conference, Williams said, "I just kept saying that February I'll start looking at the bigger picture of my life." Interestingly, it seems that Williams was pregnant when she won the tournament as she's 20 weeks along now; although she would have been pretty early on.
Clearly, this is an exciting time for Williams and Ohanian. Can't wait to see how they announce their baby once they arrive!