Serena Williams' Daughter Dancing To The 'Moana' Soundtrack Is Too Cute For Words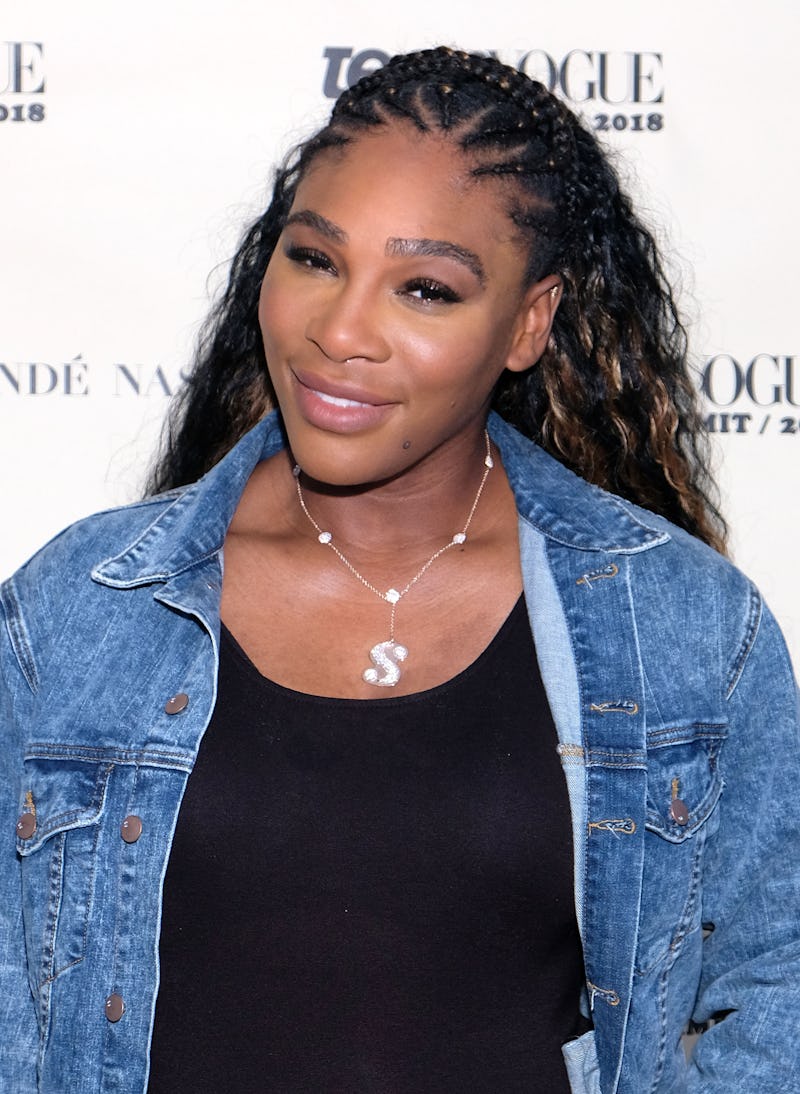 Sarah Morris/Getty Images Entertainment/Getty Images
There's good news for people looking to start the week off with something cute. On Monday, Serena Williams' posted a video of daughter Olympia dancing to Moana, and it will melt your heart. The tennis star shared the post on Twitter, featuring her husband Alexis Ohanian holding Olympia while they dance to the song "You're Welcome" from the Disney film. Ohanian even sings along to the track and tries to get Olympia to bop along, but she doesn't quite seem into the song. At the end of the sweet video, he gives his daughter a big hug and kiss.
Williams included a special message for Ohanian with the video. She wrote,
"This guy wow he is amazing. I wake up feeling special everyday. He's the best dad too."
It's definitely not the first time that Williams has shown appreciation for her husband online, but it's clear the two are enjoying parenthood together. Ohanian even had a funny response to the post, writing back a joke about Olympia's indifference to the dancing. He wrote, "Meanwhile Olympia Ohanian is unfazed, unbothered."
Moana seems to be a special movie for the parents, since they've posted about it on more than one occasion, in relation to their daughter.
In May, Williams answered a fan who asked which Disney film she was most excited to share with Olympia. At the time, the tennis champion tweeted, "Moana because I watched it when I was pregnant and so she watched it with me."
It's clear the Disney film did become a family favorite, and the couple posted a video of Olympia watching Moana back in April. In the footage, Olympia looks captivated by the movie, and the caption reads,
"Papa only let's me watch Disney music videos (the ones about strong heroines who don't need rescuing) on special occasions".
The Moana posts are not the only musical memories with Olympia that the couple has shared on social media. In fact, their daughter has her own Instagram where both Williams and Ohanian regularly post videos.
In May, Williams posted a video singing a nursery rhyme with her daughter. The tennis legend tries to help Olympia once again looks uninterested, and the post had the funny caption, "Mommmmmm ugh."
These Instagram posts prove Williams and Ohanian are enjoying parenthood, a topic both have opened up about in the past. In March, Williams shared that while working motherhood had challenges, she loved being a mom to Olympia, according to Entertainment Tonight.
"It's been amazing, I've always wanted to be a mom but I never seemed to have time with my career. Then, it just happened, and I was like, 'I don't know.' I just dove right in," she said. "It's so natural for me, I love it. I love her so much. We have a great little family going on."
Ohanian shared a similar positive sentiment about fatherhood during an "Ask Me Anything" session on Instagram Live, according to PopSugar. "I really think about how I would do anything for my daughter, and also my wife," he said. "I sort of feel like I leveled up in a way that is just really awesome because being a dad gives me this clarity of thought around every decision I make, not just professionally, but personally, and it feels really good."
These two are clearly thrilled to be parents, and they will likely continue to share cute moments with their fans. It's not yet clear if Olympia will share her parent's enthusiasm for Moana, but for now fans can be grateful for this adorable video of her dancing to the soundtrack.