Why Serena Williams Is So Happy Her Daughter Has Her Arms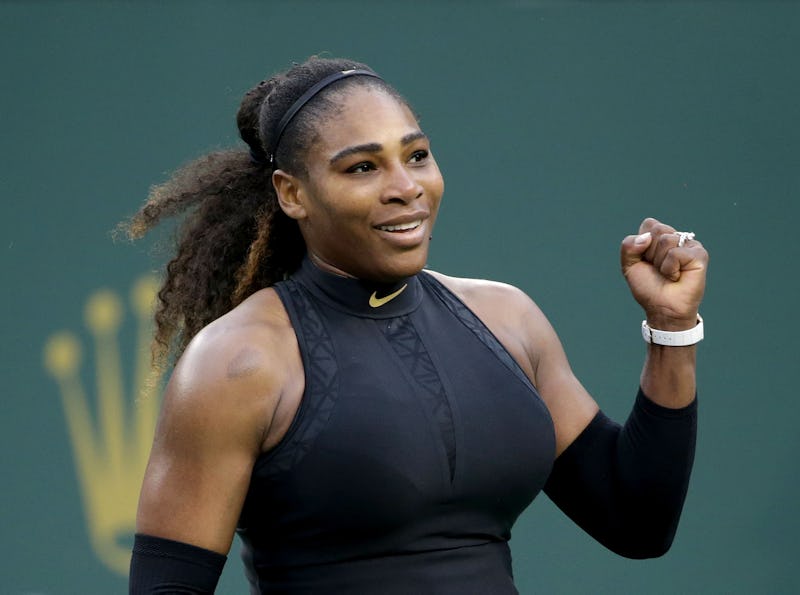 Jeff Gross/Getty Images Sport/Getty Images
Serena Williams is a powerhouse. At 36, she's a 23-time grand slam title holder and one of the most accomplished tennis champions ever. When she isn't being a tennis boss, the professional athlete is slaying motherhood. For example, and in no surprise whatsoever, Serena Williams is teaching her daughter, Olympia, to love her body no matter its shape, size, or color. As the July cover star for Harper's Bazaar U.K., Williams opened up about worshipping her body and why she's so excited her daughter's body resembles her own.
"Oh God, I'll never be a size 4! Why would I want to do that, and be that?" she told Harper's Bazaar U.K. after the publication discussed with Williams how one of her goals at 22 years old was to become a size 4. While pointing to her bicep, she continued, "This is me, and this is my weapon and machine." She even admitted she's glad becoming a size 4 was her one-time achievement, because she can use it as a teaching moment for Olympia. She explained,
"But I love that I said that, because I can understand. I can show Olympia that I struggled, but now I'm happy with who I am and what I am and what I look like... Olympia was born and she had my arms, and instead of being sad and fearful about what people would say about her, I was just so happy."
Maintaining self-confidence and a love for yourself is difficult, especially when society has been telling women for so long they need to look a certain way and be a specific weight. Olympia is so lucky to have a mother like Williams, who knows what it's like to be constantly scrutinized for her body, but to also to be able to ignore the opinions and love herself wholeheartedly.
Williams' body has been a huge topic of conversation over the years, and especially in a negative light. First things first, she's an athlete who needs to stay in shape and maintain her strength to kick ass at what she does best. Hello, she is the greatest tennis athlete of all time, even Roger Federer agrees.
But, when it comes to being a muscular woman, well, there are certain people who don't believe that is what a woman should look like. Far too often has Williams been criticized for her muscles or for being too masculine. There are many who have even compared her to resembling a man, which yes, has hurt her feelings. She's only human.
In 2014, Shamil Tarpischev, the head of the Russian Tennis Federation, called Williams and her sister, Venus Williams, the "Williams brothers". Tarpischev was fined $25,000 and was suspended by the WTA (Women's Tennis Association) for a year.
Williams told Harper's Bazaar U.K. the incident was "hard". She added, "People would say I was born a guy, all because of my arms, or because I'm strong. I was different to Venus: she was thin and tall and beautiful, and I am strong and muscular — and beautiful, but, you know, it was just totally different."
All that said, the fashion designer has learned not to care what haters think. She told The Guardian in June 2016, "For every negative comment, there's a million good comments. I always say, 'Not everyone's going to like the way I look.' Everyone has different types. If we all liked the same thing, it would make the world a really boring place! What matters most is that I like myself."
She's truly an amazing mother, which she clearly gets from her own mother, Oracene Price, who taught her children to accept themselves. "... She always taught us to love ourselves and I think that is a wonderful message that I spread now to so many females," Williams also told The Guardian. "It's really important. You are who you are, you can't change it. And you're beautiful."
And she's already instilling that same kind of self-love within her daughter. Williams is clearly winning motherhood and Olympia is only 8 months old. Yeah, she's a G.O.A.T. — or as her husband and Reddit co-founder Alexis Ohanian calls her, the G.M.O.A.T.