Serena Williams Isn't Going Wild With Wedding Updates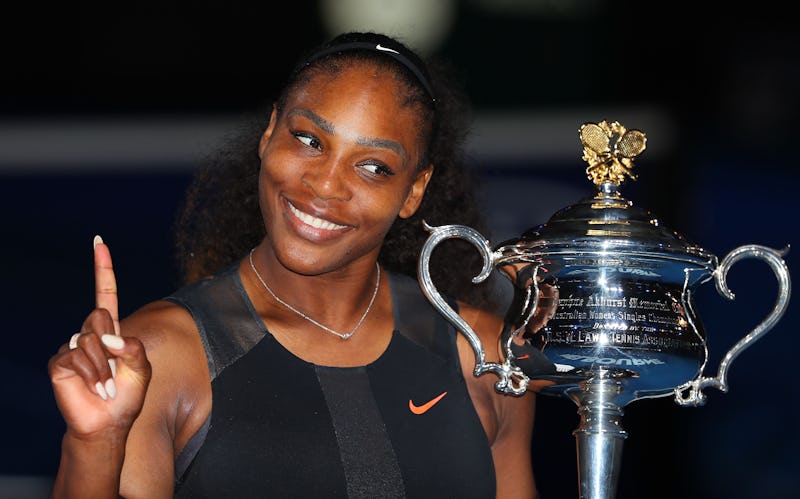 Scott Barbour/Getty Images Sport/Getty Images
When it comes to planning her wedding, the ball is in Serena Williams' court. Just like a tennis match, fans are going to have to wait with bated breath and see when wedding bells will ring for Williams and Alexis Ohanian. The tennis superstar announced her engagement to the Reddit co-founder in December 2016. Sadly, she hasn't shared too much info about her impending nuptials just yet.
In January, during a press conference at the Australian Open, the 35-year-old phenom said that she couldn't even bring herself to think about her wedding until she finished the tournament. "I just kept saying that February I'll start looking at the bigger picture of my life," she said.
Talk about keeping your eye on the prize. For us mere mortals, it's hard to think of winning your seventh title at the Australian Open as the smaller picture, but I digress. Well, Serena, February has come and gone. What's good?
On April 2, Williams posted a photo of a lace veil on Instagram. She wrote, "Romantic lace. Very pretty. #inspired #fashion." Could this be the one she wears on her big day? Who knows! In an interview with Australian program The Project in March, Williams stayed mum on the wedding date subject, but joked that if she wasn't a badass tennis playing champion, she would be an event planner. "I do event planning all the time actually," Williams said on the TV show. "I do everything from the food to the looks to everything."
Williams' sister Venus also commented on the upcoming event in an interview with People in March. She told the site, "We are not sure what is happening with who doing what yet. You know there are a lot of sisters in our family! But I am looking forward to doing whatever Serena asks."
One thing is for sure, thanks to her long tenure in tennis, Williams is definitely no stranger to dressing in white, especially at Wimbledon. However, the athlete and her sister are known for their out-of-the-box style both on and off the court so an avant-garde wedding dress wouldn't come as too big of a surprise.
Despite fans being left in the lurch on wedding details, what matters most is that Williams appears to be happier than she's ever been. In fact, her mother, Oracene Price, told the New York Post she's happy her daughter met her match. "He's good for her because she's one of these people with a Type-A personality, and he's more calm and serene," Price said. With her man — and her trophies — by her side, serenity is certainly on the horizon for Serena Williams.