Serena Williams' Daughter Wore A Tutu Just Like The Tennis Champ In A Sweet New Photo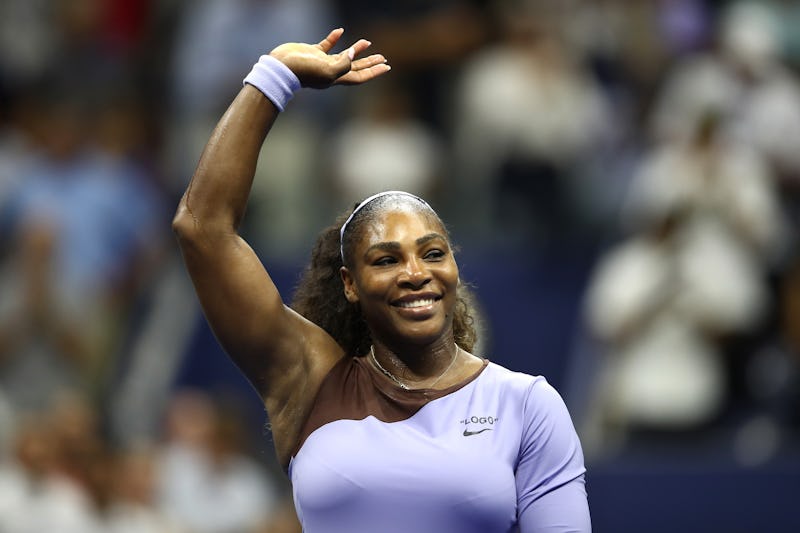 Julian Finney/Getty Images Sport/Getty Images
Everyone needs to follow the Williams-Ohanian family, especially because of 1-year-old Alexis Olympia. If you're not keeping track of them on Twitter or Instagram, then you probably missed Serena Williams' photo of Olympia celebrating her U.S. Open win, which advanced the tennis star to the 2018 finals of the major tournament. Williams and Alexis Ohanian's daughter is seriously the cutest, meaning you need to check out her latest picture, stat.
As you can see below, on Thursday, Williams tweeted a picture of her baby girl pushing a pink stroller and captioned, it, "Did Momma win?"
Olympia can also be seen wearing a mini-replica of her mom's black tutu outfit. Williams wore the now famous attire during one of her 2018 U.S. Open matches and it is part of Williams' Nike collection, Serena Williams x Virgil Abloh x Nike, which is athleisure wear at its finest.
To answer Olympia's question, you bet your momma won. Williams advanced to the U.S. Open finals after beating Anastasija Sevastova during the semi-finals held in Queens, New York City on Sept. 6. Her next match will be on Saturday, Sept. 8 for the women's final.
If the 36-year-old tennis champ wins, Williams will earn her 24th Grand Slam singles title, according to CBS Sports. This means, she could end up tying Margaret Court for the all-time record of the most Grand Slam singles titles ever. That would be a huge accomplishment and definitely something to celebrate, but, for Williams, she's just happy to be where she is currently.
In a post-game interview with ESPN on Thursday, Williams talked about returning to this tournament one year later after giving birth to Olympia and taking a brief break from tennis due to her pregnancy. She said through tears,
It's honestly really incredible. A year ago I was fighting for literally my life at the hospital after I had the baby. So every day I step out on this court, I am so grateful that I have an opportunity to play this sport, you know? No matter what happens in any match semis, finals, I just feel like I've already won.
For those unaware, Williams had a difficult labor, and the athlete revealed afterward that she almost died from it. In a February essay written for CNN, she wrote, "I almost died after giving birth to my daughter, Olympia." She continued, "While I had a pretty easy pregnancy, my daughter was born by emergency C-section after her heart rate dropped dramatically during contractions. The surgery went smoothly."
Olympia was delivered safely, but following her birth, Williams faced many life-threatening complications, including a pulmonary embolism, her C-section wound opening up, more surgery, the discovery of a large hematoma in her abdomen, and another procedure to prevent blood clots from traveling to her lungs. This led to Williams remaining in bed for the first six weeks after welcoming Olympia into the world.
So, like she told ESPN, she's beyond thankful to be where she's at today.
On Saturday, Williams will play Naomi Osaka. It's going to be quite the match, especially because of how they both view the finals. Williams is just happy to be able to play and Osaka idolizes Williams. After ESPN asked Osaka what she wanted to say to Williams before their big game, she said honestly, "I love you." Yeah, this is going to be the match of a lifetime.
If Williams does win, Olympia will most likely celebrate her mom's achievement in the cutest way, so you better keep an eye on social media.