Serena Williams Spoke Candidly About The Pressure To Look A Certain Way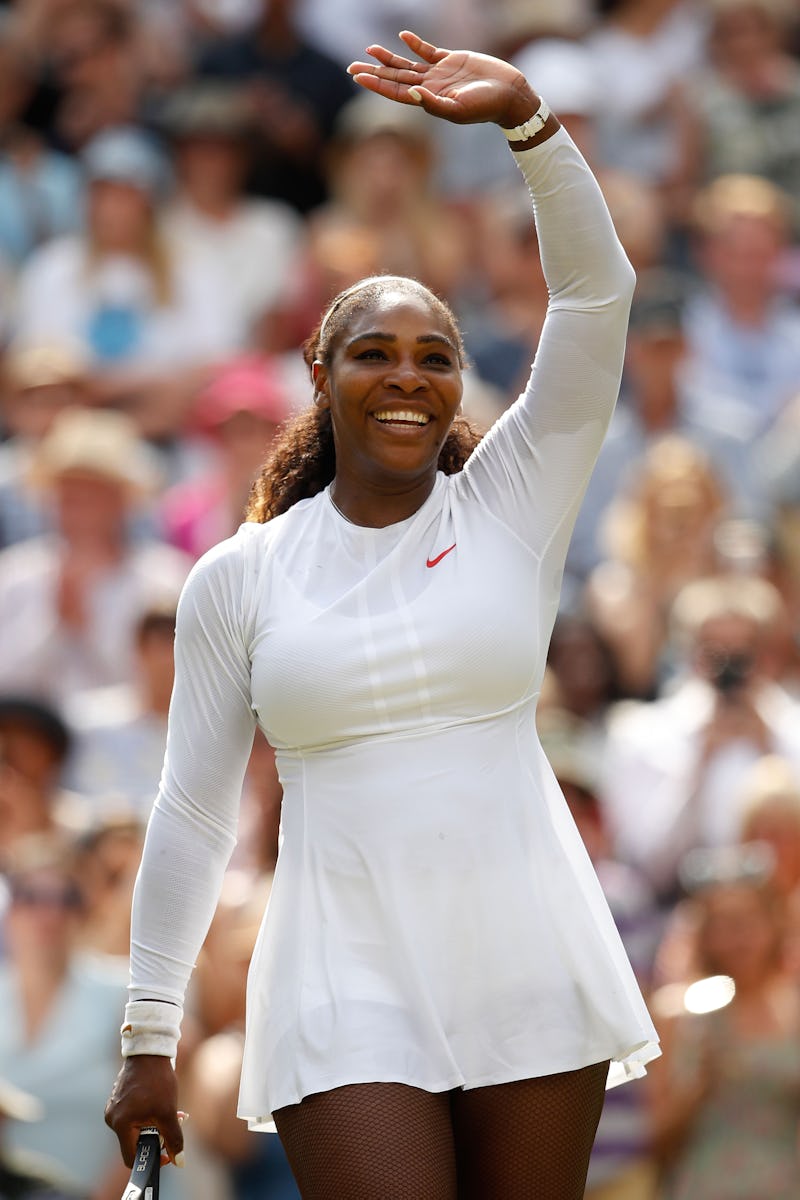 Julian Finney/Getty Images Sport/Getty Images
Serena Williams opened up about everything from recent Wimbledon defeat to her strong bond with daughter Alexis Olympia Ohanian Jr. in her new cover story with TIME. During the interview, Serena Williams also discussed body image struggles and how even she feels the pressure to look a certain way. And you're going to want to hear what she has to say about the very relatable subject.
Even though Williams is a tennis champ and one of the greatest athletes of all time, she still deals with some unfortunate pressure tied to her appearance. She told the publication, in regard to a post-baby snap she posted on Instagram, that she used a waist trainer to help get her body back into shape, a method she wishes she hadn't used. "I hated that I fell victim to that," she told TIME, "It puts a lot of pressure on women, young and old." It's true — there's unfair pressure on women's bodies in general, but also after giving birth. That's especially true for celebrities.
While not necessarily directly related to that particular comment, Williams also told TIME, "Nothing about me right now is perfect. But I'm perfectly Serena." And that's a powerful message in itself.
This interview isn't the first time that Williams has opened up about body image, especially as it relates to society's expectations of what a person should look like. She recently spoke with Harper's Bazaar UK, in an interview published in May, where she discussed this issue at length. The athlete told the publication that she's dedicated to having a more positive mindset when faced with those who (ignorantly) call her "manly" because of her muscles. She explained,
"People would say I was born a guy, all because of my arms, or because I'm strong. I was different to Venus: she was thin and tall and beautiful, and I am strong and muscular — and beautiful, but, you know, it was just totally different."
During the interview, she was asked about a 2004 report, which mentioned that one of Williams' goals was to be a size 4. The tennis player said, "Oh God, I'll never be a size 4! Why would I want to do that, and be that?" She took this previous comment in stride though, and managed to put a positive spin on it.
According to Williams, it's actually good that she can look back on that quote and use it to teach her daughter, Olympia, some valuable lessons about having a healthy mindset relating to body image. "This is me, and this is my weapon and machine," she told the magazine, while pointing to her biceps, "But I love that I said that, because I can understand. I can show Olympia that I struggled, but now I'm happy with who I am and what I am and what I look like." The athlete continued to say,
"Olympia was born and she had my arms, and instead of being sad and fearful about what people would say about her, I was just so happy."
It's so great to see that Williams, after experiencing some pressure to look a certain way, has been able to leave those negative thoughts behind and spread a positive outlook in regard to body image. Considering the fact that the tennis superstar is an all-around strong woman, it's no surprise that she's not about to let any of this negativity get her down.