Sessions Says Comey & Trump Meeting Was "Not Problematic"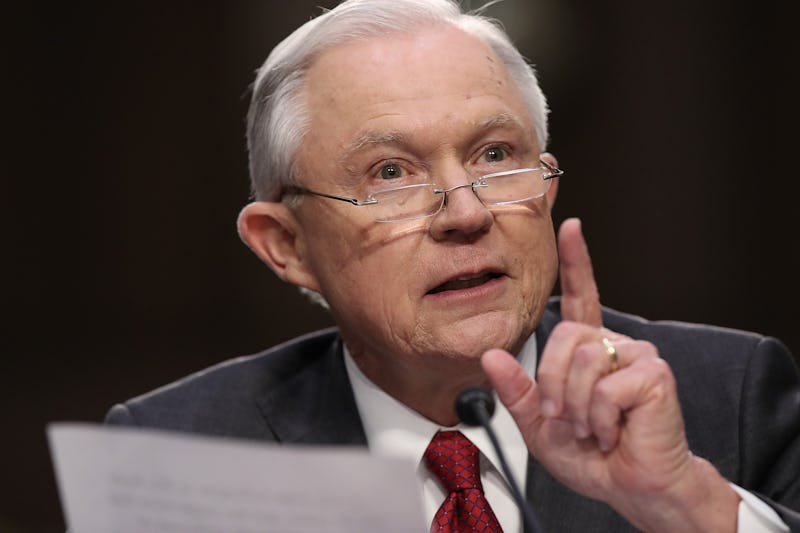 Win McNamee/Getty Images News/Getty Images
As the high-profile firing of former FBI Director James Comey continues to grip Capitol Hill, Comey's former boss, Attorney General Jeff Sessions, is tasked with explaining his rationale for ousting the head of the FBI amid an investigation into ties between President Donald Trump's administration and Russia. In an attempt to shed some light on the "he said, he said" saga between Comey and Trump that is threatening to engulf No. 45's young presidency, Sessions gave the Senate Intelligence Committee his take on a one-on-one meeting between Trump and Comey that has become the focal point of a potential investigation into obstruction of justice.
"That in itself is not problematic," Sessions told lawmakers about a meeting in which he and Presidential Senior Adviser Jared Kushner were asked by Trump to leave the room — thereby leaving Comey alone with the president. Sessions told lawmakers "everyone else did depart" and "Director Comey was sitting in front of the president's desk."
Regarding the conversation that proceeded between Comey and Trump, which Comey detailed at length in contemporaneous memos and in testimony to the Senate Intelligence Committee, Sessions said Comey "was concerned about it, and his recollection of what he said about his concern was consistent with my recollection." The veracity of parts of Comey's testimony has been called into question by President Trump, who on Twitter threatened to release tapes of their conversations that may or may not exist.
Under questioning by Republican Sen. Marco Rubio, an opponent of Trump's during the presidential primary, Sessions testified he does not know if the president records conversations in the oval office.
"Would there be an obligation to preserve those records?" Rubio pressed.
"I don't know, Sen. Rubio," Sessions replied. "Probably so."
Regarding the Feb. 14 conversation with Trump, Sessions testified that Comey "did not tell me at that time any details about anything that was said that was improper."
I affirmed his concern that we should be following the proper guidelines of the Department of Justice and basically backed him up on his concerns and that he should not carry on any conversations with the president or anyone else in a way that was not proper.
Sessions' testimony conflicts with the account given by Comey last week. Comey testified that he "implored" Sessions to never again leave him alone with the president, whom Comey interpreted as trying to exert pressure on the then-FBI Director to drop an investigation into former National Security Advisor Michael Flynn's ties to Russia. According to Comey's account of the interaction, Sessions remained silent. In the intervening days between Comey's and Sessions' turns before the Senate Intelligence Committee, the Department of Justice issued a memo saying Sessions did respond to Comey.
Sessions backed up that account Tuesday, saying,
He expressed concern to me about that private conversation and I agreed with him essentially that there are rules on private conversations with the president but there's not a prohibition on a private discussion with the president.... He gave me no detail on what it was he was concerned about.
Asked whether he'd be willing to give his own account of his one-on-one conversations with Comey, Trump said Friday he would be "100 percent" willing to testify under oath.