This Netflix Show Will Make You Uncomfortable & That's The Whole Point, According To Its Star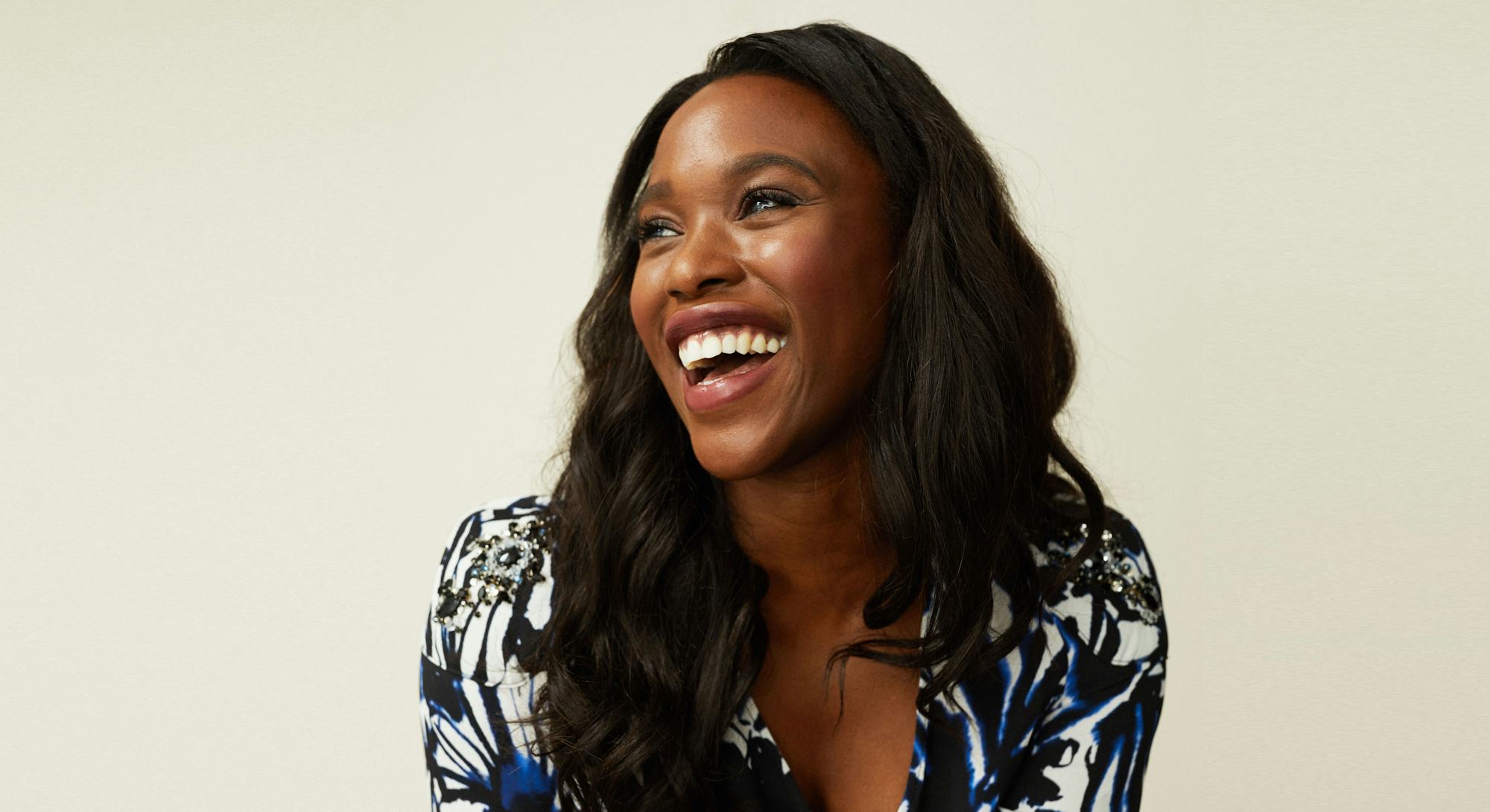 Ashley Batz/Bustle
Clare-Hope Ashitey hates being the center of attention. Despite having spent over a decade in front of the camera since her breakout role as Kee, the last pregnant woman in Alfonso Cuaron's gritty dystopia Children of Men, it's clear Ashitey can get uncomfortable when all eyes are on her. As she recounts the "excruciating" nights spent singing karaoke to a silent room on the set of Netflix's new crime drama Seven Seconds, it's not hard to relate. "They were a nightmare to shoot," she says, sitting in Bustle's New York City offices after a relatively painless photoshoot. "I love karaoke with my friends when I'm quite drunk in a bar," the actor says, but on set everyone had to be quiet to ensure that the cameras recorded her voice. "It's just you singing in a silent room, which nobody wants."
It's somewhat ironic, then, that Ashitey excels in telling stories designed to unveil uncomfortable truths. In Seven Seconds, a show that questions the nature of the American justice system and the injustices it not only produces but endorses, Ashitey plays K.J. Harper, an alcoholic New Jersey prosecutor investigating the murder of a young black boy at the hands of a white police officer. It's there, playing an imperfect character exploring the harsh reality of the relationship between African-Americans and the police, that Ashitey is in her zone.
"No one is all the way the hero, or all the way the villain, or all the way... totally flawed and hopeless, or all the way the most perfect person in the world," Ashitey says matter-of-factly. "So reading that pilot script that I got and seeing how interesting [K.J.] was, and the fact that that gave her somewhere to go as well, I think that was really appealing to me."
Ashley Batz/Bustle
Ashley Batz/Bustle
Seven Seconds is about much more than a few good characters, however —it's about the long slog of justice, and how even when you have the facts on your side, conscious or unconscious bias can still result in a failure in the system. Moreover, the show demonstrates that failures in the justice system are a result of systemic oppression that can make it easier for even a black prosecutor to look the other way when a black boy is murdered by police. K.J. must push herself far to willingly go against the system and pursue a case against highly respected New Jersey police officers. It's a move that, as a young black woman, could potentially ruin her already tenuous career.
"There are moments when it would be easier to just close that door and let it pass, and it seems easier, but, you know, you can't build a house on rotten foundations," Ashitey says of K.J.'s uphill battle for justice. The characters in the show, she adds, must expose the extent of the rot before she and those around her can begin to achieve any form of justice.
K.J. in particular must face her fears of being discredited as biased because of her race and also of being used by her white boss for publicity, offering a nuance to the overall discussion about the intersection of race and justice in the United States. It's the kind of specific and thoughtful discussion that can make audiences uncomfortable — and rightly so. But before she could portray such nuance, Ashitey herself had to venture out of her comfort zone when it came to how she perceives her own racial identity. Playing K.J., an African-American woman in Jersey City working in a predominantly white and male space, she had to constantly consider her race, an unfamiliar and devastating task for the London native. "I didn't like what it meant for my daily life. I didn't like what it meant for the way I interacted with people," she says of diving into the uniquely American racial tensions put on display in Seven Seconds.
"I can build on who I am and where I'm from, but it is very different over here," she says. "And that is both about being American, about being a woman; it's about being African-American." Ashitey worked closely with series creator Veena Sud to develop K.J. Harper's backstory, but the actor admits that learning how to navigate American ideas of race was the real challenge. "People in the U.K. are aware that there are generally poor race relations over here," she says. "But I didn't realize that it was quite as bad as it was."
Ashley Batz/Bustle
Ashley Batz/Bustle
This isn't the first time Ashitey has starred in an American production tackling the fraught relationship between American law enforcement and black communities. Last spring, Ashitey starred in Shots Fired, a FOX series that filmed on location in North Carolina. "Race is very surface here," she says. "It's at the top of how people think and deal with each other, no matter where they are on the political spectrum in a way that I don't feel in London."
Living in North Carolina while making Shots Fired, for example, Ashitey found herself emphasizing her charming British accent as a way of avoiding being stereotyped. "I ended up being super British when I was there, like loudly, everywhere I went, because people made an assumption about me before I opened my mouth," she says. Ashitey is thoughtful and careful with her words speaking about her experiences living as a black woman in America while working on Seven Seconds and Shots Fired. "It kind of made me hate myself, doing that, but I didn't want to be treated like an African-American," she says bluntly, "because in a lot of places here, the way they're treated sucks."
Based on her previous credits, it would be easy to assume that Ashitey goes looking for projects about social justice, but the actor says it's actually a complete coincidence — one she is very thankful for. "I feel very lucky to be able to have worked in worlds that look at these issues and help people understand these things, and validate the experiences of, you know, tens of — or hundreds of — thousands of people," Ashitey says. "I think it's important to honor these people and their experiences, so, you know, I'd do a million more."
Hopefully, the world won't need her to do a million more. Ashitey is hopeful that, like the characters in Seven Seconds, people everywhere will continue to confront the racism, sexism, and the countless other injustices of modern society. Just as K.J. Harper must face the corruption of the justice system in Seven Seconds, so must we. "As painful as what's going on right now is — and it is incredibly painful — it's also kind of necessary, because it turns out we've been living on rotten foundations," Ashitey says.
Make no mistake, Ashitey is not preaching to her audience. The actor is quick to count herself among those who were fooled into living on the rotten foundations of society, too. "I didn't realize. I thought we were doing quite well as a species, but it turns out we're really not," she says. It's clearly something she's thought about a lot. The past year has seen an alarming rise in brazen racism and the celebration of white supremacy, from the march in Charlottesville to the 29 percent rise of hate crimes in England, as reported by the Home Office. Thanks to the inescapable heightened tensions around race relations both in the U.S. and the U.K., what was once hidden below the surface has come to light in a major way, and Ashitey has chosen to react the same way K.J. Harper does in Seven Seconds: with a desire to get to the truth and move forward. "You have to just keep digging until you get to something that's not rotten and then you build from there."
It's time to pass the shovel and get to work.
Hair by Jennifer Brent for Exclusive Artists using Aveda
Makeup by Janice Kinjo for Exclusive Artists using Giorgio Armani Beauty