Here's How You Can Fight White Supremacy In Charlottesville & Beyond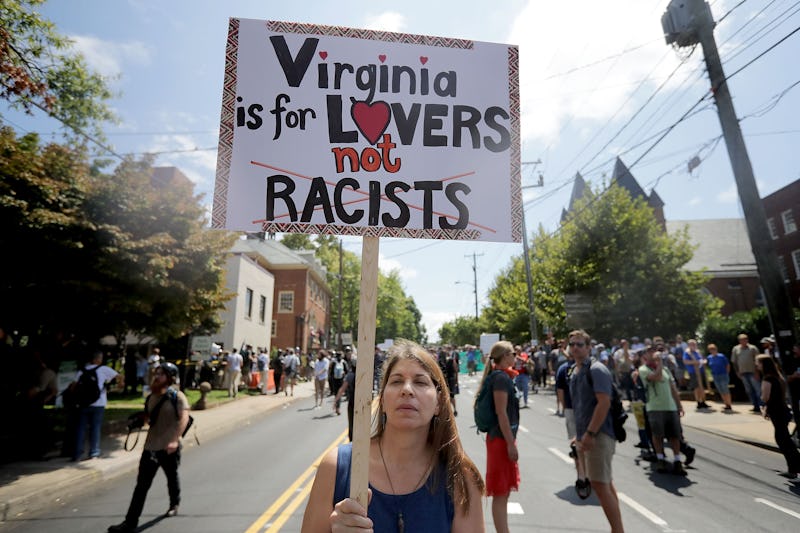 Chip Somodevilla/Getty Images News/Getty Images
On Saturday, white nationalists descended on Charlottesville, Virginia, to protest the city's decision to remove the statue of Confederate Gen Robert E. Lee, claiming this decision was a direct attack on white heritage. Americans at home watched, horrified, as "Unite The Right" marches clashed with counter-protestors. Public displays of white nationalism have grown after Trump took office, you may be wondering how you can help push back against white supremacy. Whether systemic or personal, there are a lot of different methods for combating white supremacy and the hatred that it breeds.
If you're white, one of the best every day actions you can take is talking to friends, family, coworkers, and acquaintances about racism. Call people out when they make inappropriate or racist comments, don't disengage just because it's uncomfortable. The culture that enables and protects the rhetoric of "Unite The Right" protesters starts with everyday comments and the widespread acceptance of (seemingly) mundane racism. There's a reason white nationalists today feel comfortable showing their faces in public, and it's not limited to the acceptance of their political allies.
On a practical level, we should all be regularly calling our representatives and pushing them to protect us through legislation. The website OurStates.org provides a great primer on state-by-state legislation, what is being considered and what has passed, and who to call about it. There are seven main legislation categories on the website: health care, immigration, policing/protest, reproductive justice, voting rights, LGBT equality and economic justice. When you click on each category, it shows you which states are considering regressive legislation, so you can make calls.
Another great tool for consistently pushing back against far-right rhetoric is the Trump Resistance Manual. The manual includes everything from information on state-level and federal policies, who to call to either protest or support legislation, and what specific legislation means. There are reading guides on everything from anti-racist bystander intervention to intervention and deescalation resources.
The Trump Resistance Manual also connects readers with resources for getting involved with volunteer opportunities in their community to bolster everything from support for homeless populations to after school programs. While these might not seem directly connected to the rally in Charlottesville, building stronger community alliances and fighting systemic oppression is a clear way to push back against the fear and ignorance that is fueling this demonstration.
While the white nationalist rally at Charlottesville provides a clear example of the terrifying possibilities when people unify from a place of fear and hatred, that same unification can be used to fight back.