Trump's History Of Lashing Out At Journalists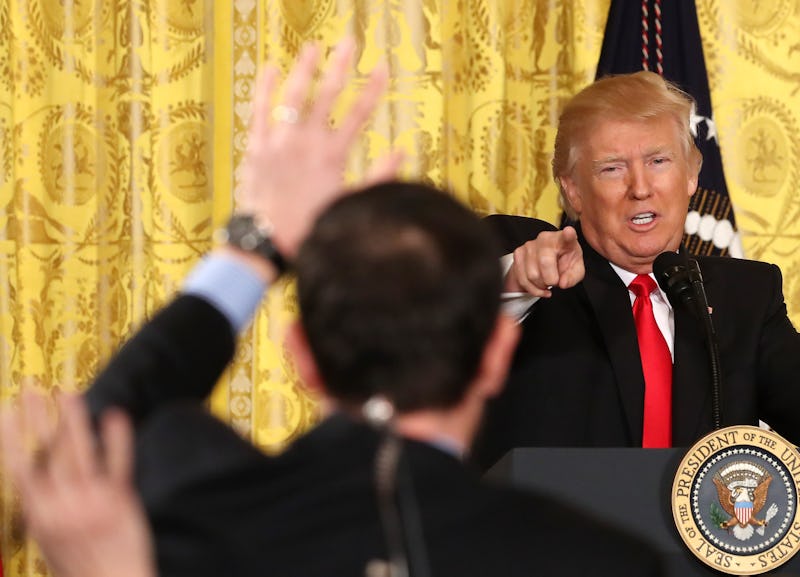 Mark Wilson/Getty Images News/Getty Images
It's no secret that the president is no particular friend of the press. The list of times Donald Trump got mad at journalists for doing their job could end up as a significant chunk of someone's PhD dissertation some day, and it probably should. After all, this is becoming a pretty important part of POTUS 45's presidency thus far.
Trump is far from the first president to have a testy relationship with the press, but that's exactly how things should be. A press that goes easy on the people in power is useless to the functioning of democracy and is also a common feature of authoritarian governments around the world. With other presidents, though, you could at least see that they were trying to maintain a veneer of civility. Trump's style of personal attack, on the other hand, is a horse of a different color, and it's very troubling. He lies at an unprecedented rate and doesn't like to be pressed or challenged on any of those lies. He's unwilling to own up to the negative consequences of his campaign or his presidency. And when reporters do their jobs and bring up the lies of the negative consequences, he doesn't hesitate to tear into them.
There are certainly many more of these examples, but here are seven of the most egregious examples of Donald Trump lashing out at the press.