Lesbian & Bisexual Girls Are Being Failed By Sex Ed In An Infuriating Way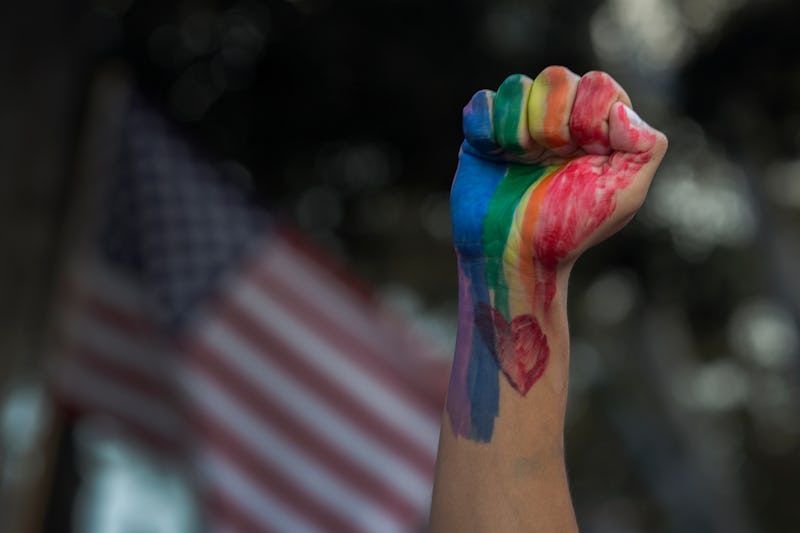 David McNew/Getty Images News/Getty Images
Most of us winced our way through sex education classes some time in middle school, or early high school. Sure, most teachers gave us the bare basics on how to use condoms or identify STI symptoms, but do you remember learning anything about dental dams? Or about safe sex between people of the same gender? According to a new study, sex education for lesbian and bisexual girls isn't giving them the information they need to have safe sex, and it shows how much more inclusive sex ed needs to be.
The research, originally published in the Journal of Adolescent Health, was conducted by researchers at the Center for Innovative Public Health Research (CiPHR) in collaboration with professors from the University of British Columbia, and the City University of New York. Through an online focus group, 160 bisexual girls and lesbians in the United States were polled on sex education. Unfortunately, the study revealed these queer teens did not have the proper knowledge to practice safe sex, or protect themselves from STIs.
One of the study's authors and Managing Director of the Stigma and Resilience Among Vulnerable Youth Centre, Dr. Jennifer Wolowic, said in a press release that the researchers were taken aback by the study participants "overall lack of knowledge when it came to safe sex practices with female partners." The study revealed a large barrier in receiving proper sex education for bisexual girls and lesbians was the heteronormative language and lesson plans. Meaning, most of the information taught was geared towards the study participants' straight peers. Dr. Wolowic also said even when the bisexual girls and lesbians asked questions, they reported to the researchers they felt "uncomfortable" about the major focus on heterosexual intercourse.
"Young people need accurate sexual health information, but sex education has traditionally focused on heterosexual sex," Dr. Elizabeth Saewyc, Director of the University of British Columbia School of Nursing and one of the study's authors, explained in the press release. "Our findings suggest we need to create more inclusive curriculum to help lesbian and bisexual girls have the knowledge they need to make healthy sexual decisions."
The focus on heteronormative sex has dangerous consequences for bisexual girls and lesbians: The study found that these girls had an increased risk of contracting a sexually transmitted infection (STI) than straight peers. Majority of the 160 girls polled reported they would not use regularly use a dental dam — aka, a vaginal and sometime anal condom — due to a lack of education, or fear it would dampen the mood (and their pleasure) during sexual activities.
"Participants told us, they 'literally had never heard of dental dams,' or thought STIs weren't a concern when having sex with girls. Of those who knew about protective barriers, many said using protection made sex awkward or less pleasurable, and so they left them out during sex," Dr. Wolowic told EurekAlert.
Moreover, the bisexual girls and lesbians who participated in the study largely agreed that getting tested for STIs was important, but trusted female partners more implicitly about being "clean," or free of STIs. In fact, previous studies revealed bisexual girls and lesbians were more likely to contract certain STIs such as herpes simplex virus type 2 (aka, HSV-2, or genital herpes).
Conclusively, the study highlights the need to improve sex education for bisexual girls and lesbians across the U.S. — especially the need to equip queer people with the information they need to have sex safely. "[Bisexual girls and lesbians] need to know that there are sexy ways to use barriers, that they can make dental dams out of condoms if needed, and that they can get STIs having sex with other girls," Dr. Michele Ybarra, the Research Director at CiPHR and the lead author of the study, said in the press release.
With a 2016 survey estimating only 48 percent of teenagers from ages 13 to 20 identify as straight, making sex education less heteronormative and more inclusive of LGBTQ teens is more important than ever before. Teenagers, both straight and queer, should be equipped with the knowledge to prevent them from getting STIs, and unwanted pregnancies. Inclusive and comprehensive sex education should not be a privilege, but a necessary part of helping teenagers make healthier and happier decisions.