Sex Parties Changed The Way I Viewed My Sexual Assault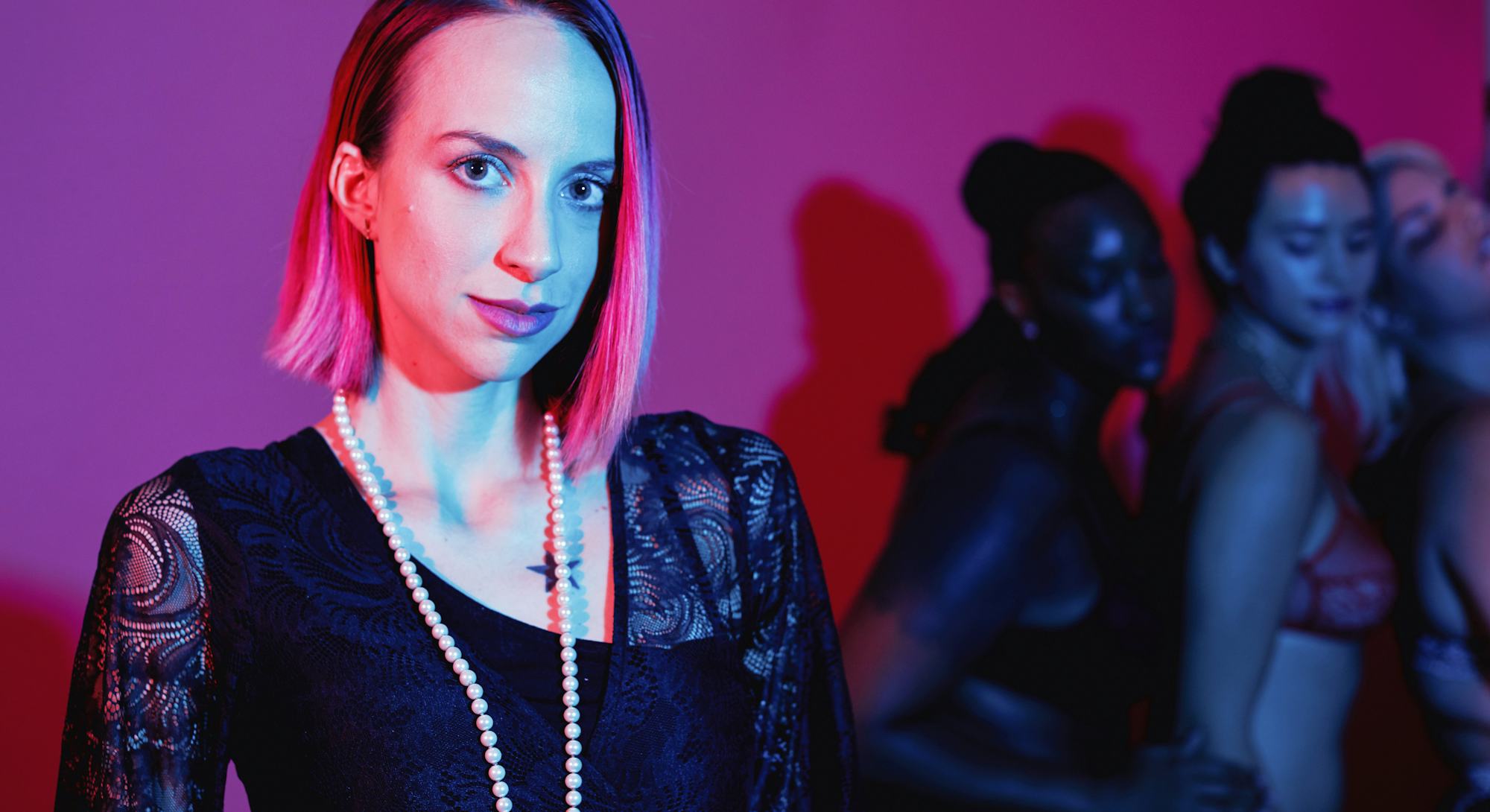 Ashley Batz for Bustle
For the month of September, Bustle's Sex TBH package is talking about sex, honestly. We're delving into how women approach the things they're taught to be shy or embarrassed about in the bedroom — and, in doing so, we're liberating people to live their best (sex) lives. Let's do it.
There are many different ways to cope after a sexual assault. I should know — I'm a multiple sexual assault survivor. Sadly, this information about me shouldn't surprise you; the National Sexual Violence Research Center reports that one in five women will be raped during their lifetime, and according to the CDC and the Human Rights Campaign, those numbers are even higher for queer women like me. But you might be surprised to hear that sex parties, also called play parties, helped me heal.
Over the course of several years, a cab driver groped me, a stranger slipped something into my drink, and someone I trusted assaulted me. After I reported the cab driver to the NYPD and nothing happened, I opted not to report the other assaults, and focused on seeking treatment that involved therapy, a psychiatrist, and support from friends. But it was while engaging with the play party scene over the past two years, rather than while in a doctor's office, that I first began to understand enthusiastic consent — which, Timaree Schmit, PhD., sexuality educator explains, is the idea that not only does "no" mean "no," but that anything less than a "yes" is also a "no."
And while it couldn't have happened without the foundation of therapy, learning about enthusiastic consent at play parties helped me evolve from someone who hated themselves to feeling like a powerful sex goddess once again.
When curated correctly, play parties are safe spaces (usually located in private residences) where public sex is allowed and encouraged. Often, people come to these parties to meet new play partners, and couples may come and choose to only sleep with one another while thriving in the highly sexual environment. You also don't have to sleep with anyone; you can come to a party and just converse or make out to get a feel for the environment. To ensure that everything goes down safely and consensually, a proper play party will ensure guests are well-educated on consent. I was first introduced to New York City's play party scene through my work as a sex writer, but found it turned me on (shocker, I know), so I eventually made it part of my private life as well.
In the years after my assaults, I had an inner monologue that went something like this: "I thought this person was my friend. How could my intuition be so off? And did I not say no loud enough? "Yes, I said 'no' and asked him to stop, but I never shoved him off of me." These are the self-loathing questions that kept me up at night. Such ruminations are common for sexual assault survivors, Dr. Schmit says.
But as I began to engage with the play party scene, I started to learn that consent is more than just not saying "no." The first time I heard this was while attending a play party etiquette class taught by Effy Blue. Blue is a relationship coach specializing in ethical non-monogamy. She teaches a workshop called Play Party Etiquette designed to educate curious people like me about how to navigate sex parties with confidence. "I make it very clear that consent should be discussed loudly and broadly," Blue tells Bustle.
This change in mindset was crucial for me: not only did I say no during my attacks, but I sure as shit never said yes. I began to view myself, and my assaults, differently.
Attending play parties and BDSM workshops may sound like a way to put yourself at risk for sexual violence. However, when done right, play parties are extremely closely curated and monitored by individuals steeped in sex positive culture and well-versed in enthusiastic consent.
After an assault, many people feel powerless — I know I did. Which is part of what made the play party scene so appealing; in the play scene, most often women have the power. Thanks to work of those in the community like Blue and Daniel Saynt, chief conspirator for digital agency and private club NSFW, party attendees of all genders and orientations are taught that true consent is so much more than the absence of a "no," and that such manners must be acted out at parties. It's a stark comparison from the (patriarchal) real world, where defense attorneys still ask rape survivors questions such as, "What were you wearing?," and "Don't talk to strangers" is the basic safety advice doled out by parents, even though in 70 percent of sexual assaults, the perpetrator is someone the survivor knew.
At the small, private, invite-only play parties I've attended, consent is framed as essential by party organizers the second guests step in the door (I've never been to a large public play party and cannot speak to such events.) One of my favorites is NSFW, which holds play parties as well as a "How to Ask for Sex" class. It has a code of conduct all members must agree to and requires members to sign consent forms upon arrival at play-friendly or instructional kink events. Parties are staffed with guardians, common at high-end play events, whose job it is to ensure that everyone is safe. "More so now than ever, enthusiastic consent is something that people are talking about. 'How do we take people from no means no to yes means yes?' A lot of that has come from the maturity of the play scene," Saynt tells Bustle. While house or frat parties felt potentially unsafe to me, knowing that a party is full of guests who have undergone consent training puts me at ease.
When organizing NSFW consent guidelines, Saynt says he takes every potential scenario into account, such as if one or both parties are consuming alcohol or drugs, or if one party is initially interested, but changes their mind (which you are absolutely allowed to do). "We push enthusiastic consent because there's so many areas within [sex] that leaves everyone in an uncomfortable and very dangerous gray zone. We need to have these safeties in place in order to prevent what we don't want to happen," Saynt says.
Even when play parties are thrown properly, sometimes people violate the rules. Saynt says that NSFW has a system set in place for members to report any behavior at an event that makes them uncomfortable, and after throwing over 80 events, it's received three "creeper reports" from guests. Two reports were filed about the same person (who was promptly banned). The third was relatively minor, yet was also dealt with immediately.
I've also experienced interactions at play parties where people have violated the enthusiastic consent rules. Once, while hooking up with a woman at another play party, another woman lightly spanked me with her whip without asking. I didn't want her to, and I didn't like it, so I backed away and asked her to stop. While it made me uncomfortable and reminded me that no space is ever completely safe, she apologized and stopped, embarrassed of her intrusion, and the night was able to move forward in an orgasmic manner. The play scene creates an environment where people are encouraged to check themselves and realize their mistakes; and while not every single person in the scene does it, the fact that the scene prioritizes this kind of behavior is important.
In these kinds of situations, the play scene's embrace of enthusiastic consent again helps. While it's not a woman's responsibility to keep herself safe but the attendee's responsibility to respect codes of conducts, other aspects of enthusiastic consent taught at play parties include how to firmly say no and how to take rejection if you receive a no. "There's nothing wrong with being rejected," Saynt says. Unfortunately, taking rejection in stride isn't often taught to people outside the scene.
Mainstream media rarely depicts enthusiastic consent. "Consent is nowhere in our romantic stories, it's nowhere in any of our teen dramas. It's not in our sex education at all. It's interesting that it's coming from the play community, from people who are experiencing more consent than others," Saynt says. If leather collars can make their way from the underground BDSM world to mainstream fashion, why not enthusiastic consent? "Consent culture is the cornerstone of any good sex party rather than some esoteric practice, which is how it is viewed in regular nightlife or frat parties," Blue says. "Hopefully, this will permute to the mainstream culture eventually."
For people who aren't involved in the play party or BDSM, there's often one major barrier to interest in enthusiastic consent. "The biggest reason people don't practice [enthusiastic consent] it is because they think it's not sexy." Saynt says. But the key to practicing enthusiastic consent either at play parties or in private is through ongoing communication, and constantly checking in with your partner, in a manner that feels sexy rather than clinical.
I've had good and communicative sex prior to discovering the play party scene, but now it's become the norm, since I actively seek partners who are well-educated in enthusiastic consent. And it hasn't just made me feel safer; it's made my sex life better.
For instance, I recently had what felt a bit like "sex nerd" sex with a man I'm seeing, where we were constantly checking in with one another, saying things like "Is it cool if I go down on you?" It felt much nicer than when a boy tries to stick his peen in you after a couple minutes of making out. Another memorable encounter involving enthusiastic consent was at a female-only sex party. A woman asked me permission before fingering me. It wasn't awkward; it was hot.
Dirty talk is also my favorite trick to share a kink, or to ask someone if they will get a condom. This may feel dorky at first. But there's no reason it should. "Make it sexy," Saynt says. If you feel like you might struggle with this (which is very understandable), there are lots of classes and other resources out there can help you upgrade your enthusiastic consent communication skills.
I hope enthusiastic consent makes its way mainstream, into our TV shows and sex education, because even though I enjoy them today, play parties are not for every person at every stage of their life; if I were plopped into an event where public sex was present shortly after my assault, it would have been triggering. It took years of therapy and finding the right treatment for me to enjoy aspects of sex in the bedroom within a committed relationship, let alone at a play party. Seeing sex in public, especially the first time, is an intense experience for anyone.
After I had a solid foundation of recovery under my belt and I was interested in trying out the play scene, the stress placed on enthusiastic consent at the events I attended absolutely made me feel better about myself as a survivor. It helped me understand that yes, I was assaulted, but no, it was not my fault for not "fighting back enough." It helped me stop shouting, "I hate you" at myself in the mirror. Instead, I started telling my reflection, "You're a badass bitch."
Furthermore, one of the best orgasms I ever had in my life was with a woman at a play party. It was a luxurious night, at a penthouse with a view of the Manhattan skyline. As I cabbed home, having maintained my boundaries, practiced enthusiastic consent, and gotten off, I felt powerful.
If you are a sexual assault survivor, remember that play parties are not a form of therapy. Consult RAINN for a list of therapeutic resources for survivors.