Why A Group Of Survivors Waited At The Airport To Confront Senators About Kavanaugh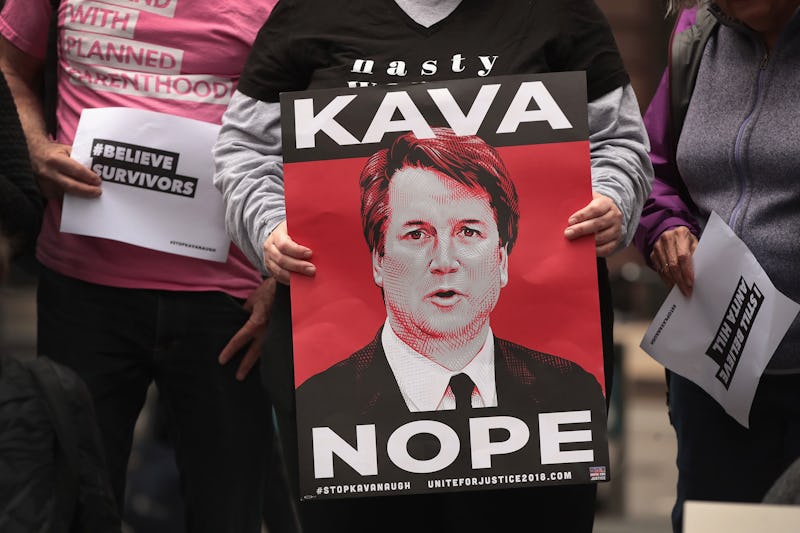 Scott Olson/Getty Images News/Getty Images
Sometimes elected officials can be difficult to pin down. So on Monday, one group of activists, determined to discuss Brett Kavanaugh's nomination to the Supreme Court, opted to intercept them at the airport. Afterward, videos of sexual assault survivors confronting senators who had just arrived in Washington, D.C. for the work week pointed to just how resistant some elected officials were to publicly addressing Kavanaugh's contentious nomination.
"We were saying 'look us in the eyes, actually have a conversation with us,'" Center for Popular Democracy (CPD) President and Co-Executive Director Jennifer Epps-Addison tells Bustle. She and others — a combination of CPD staff and volunteers — staked out officials at the Ronald Reagan Washington National Airport on Monday in an attempt to speak candidly with them about Kavanaugh and the ongoing FBI investigation into recent sexual assault allegations against him, all of which he has denied.
Those who participated spent the weekend studying photographs of senators so that they would recognize them in public, she explains. They approached a series of both Democratic and Republican senators, though Epps-Addison says that how individuals reacted appeared to be divided among party lines. Democrats, she says, were willing to engage them, where as Republicans, by and large, were not.
"The reality is that I think that most people know, including these Republican senators, that what is happening right now is a travesty to American justice," Epps-Addison says.
One person that Epps-Addison personally confronted was Republican Sen. David Perdue, who represents Georgia. In the video, Sen. Perdue is seen refusing to shake hands with the women speaking to him before abruptly ducking into a men's bathroom. Epps-Addison says that he was uncooperative with their attempt to ask him questions.
"He really is demonstrating what women across the country are saying: It's not only that you are not listening to us, but you are overtly hostile to us when we say that we want the full rights and dignity that everybody in this country deserves," she says.
In contrast, Democratic Sens. Elizabeth Warren, Bernie Sanders, and Kirsten Gillibrand were willing to speak with them regarding their questions, she says. A video of Warren's candid discussion with Epps-Addison was also shared online. Per Epps-Addison, participants asked all senators the same questions — primarily about the ongoing FBI investigation — regardless of party affiliation.
"I think we hope that these confrontations are lessons in humanity, are about reminding senators that they do work for the American public and that they are supposed to listen to our voices," Epps-Addison says.
But there's more to it than that, she adds. Part of the reason they publicly confronted lawmakers on Monday was to send the message to other sexual assault survivors that they are allowed to call elected officials to task.
"If nothing else," Epps-Addison says, "I think what we want them to know is every time somebody gets up and tells their story, every time someone confronts these incredibly powerful people and speaks their truth, they give permission to hundreds of other people to do the same thing. And that's what democracy is about."