'The Fault In Our Stars' Fans Will Swoon Over Shailene Woodley & Ansel Elgort's Met Gala Reunion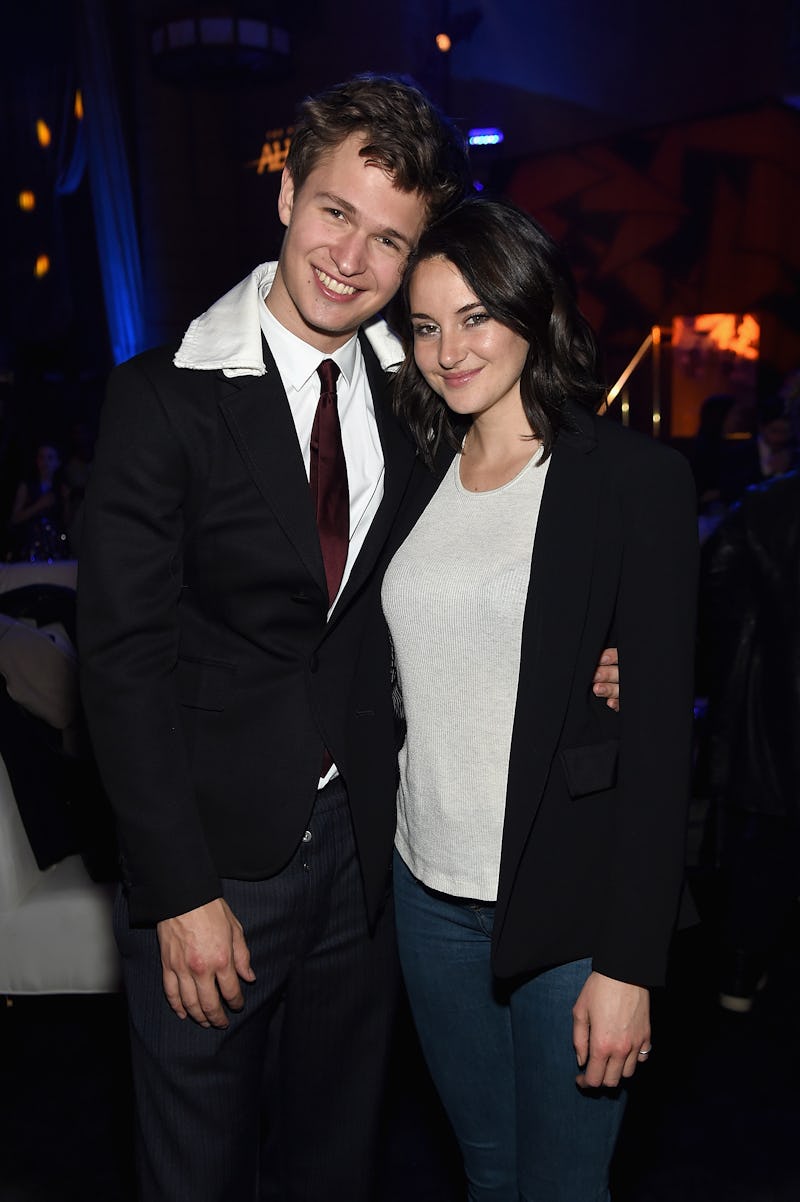 Jamie McCarthy/Getty Images Entertainment/Getty Images
Who else has been longing to see Shailene Woodley and Ansel Elgort reprise some iteration of their on-screen companionship for the better part of two years? To all those who answered with an affirmative, this Fault In Our Stars reunion at the 2018 Met Gala is probably going to stick you with a serious case of déjà vu — on more counts than just one. Woodley and Elgort also shared the big screen together in the Divergent films.
As pop culturally attuned folks (or pretty much anyone with access to an Instagram account) likely know already, the theme of this year's Met Gala, "Heavenly Bodies: Fashion and the Catholic Imagination," ushered in a medley of delightfully creative ensembles on the red carpet, many of which inspired some unexpected celebrity reunions. Woodley and Elgort were among the events's most buzzed-about pairs. And, for those who've been itching to see the duo together again since Allegiant premiered in 2016, it's easy to understand why.
First of all, per the evening's round of photos, Woodley and Elgort proved a pretty eye-catching pair. Woodley dressed the theme pretty overtly, donning a square-shouldered, metallic gladiator dress and a pair of sleek, thigh-high boots. Coupled with a slicked-back high ponytail and Renaissance-type ruffled sleeves, the 26-year-old actor appeared to be dressed as "Joan of Arc" on the Met Gala carpet. Elgort, for his part, went with a noticeably more understated look.
Still, Elgort's crisp purple-tinted tux managed to complement Woodley's get-up pretty perfectly. That could be because both looks were designed by Ralph Lauren, according to several reports. Or, as intimated by the fan response on Twitter (which largely toggles back and forth between references to The Fault In Our Stars and Divergent), perhaps Woodley and Elgort have simply become accustomed to standing shoulder-to-shoulder before a sea of cameras.
Which brings us to our second — and perhaps more relevant, from a fan's perspective — point. Beyond its fashion merits, Woodley and Elgort's Met Gala meet-up was a pretty exciting surprise for fans of the pair's lengthy on-screen history. As those familiar with the actors' respective career endeavors know, Woodley and Elgort have been running in similar Hollywood circles for quite some time now.
The pair's joint cinematic saga dates all the way back to 2014, when Woodley and Elgort made their first onscreen appearance together in Divergent, the dystopian science fiction film based on Veronica Roth's novel of the same name. And, while the pair would later appear in the Divergent franchise's proximate two iterations — 2015's Insurgent and 2016's Allegiant, respectively — arguably their most memorable onscreen jaunt came just a bit later in 2014, when they sent the greater media-consuming population into unanimous bouts of tears with their leading performances in The Fault In Our Stars. (Seriously, who wasn't crying?)
Unlike their Divergent characters, who were siblings and probably didn't share quite as much screen time as fans would have liked, Woodley and Elgort's Fault In Our Stars roles probably forever iconized them as the American teen's most idyllic (and most tragic, probably) young lovers. Suffice to say, some fans on Twitter were quick to make the Hazel-Gus connection in responding to the pair's Met Gala photos.
And, while one enthusiastic Twitter user noted the duo has had famous roles since playing small-town teenage cancer patients in The Fault In Our Stars, another mentioned the inevitable weirdness that generally accompanies seeing actors together in real life after watching them die on tv.
Unfortunately for fans of Woodley and Elgort's famous onscreen chemistry, it looks like the pair's joint Met Gala appearance is the most people will be seeing of them on camera for the foreseeable future. With that being said, if Woodley and Elgort's vibrant professional history is any indication of what's to come, it's probably safe to say the next reunion — whenever it may be — isn't too far off.