Shangela Knows You Think She Was Robbed & The 'Drag Race' Star Feels You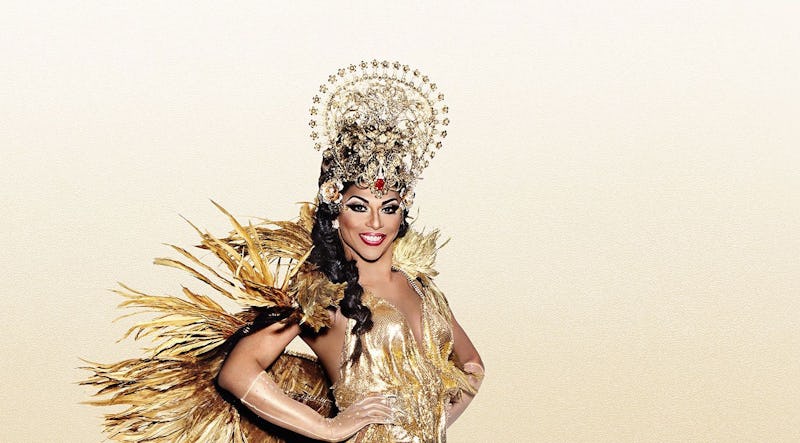 VH1
In one of the biggest Drag Race twists of all time, Shangela, the clear frontrunner to win All Stars 3, was not even given a chance to fight for an opportunity to win. Instead, due to a rule change that allowed the eliminated queens to pick the Top 2, Shangela was eliminated in the Top 4. Fans were shook, saying Drag Race robbed Shangela. Now, in an interview with Bustle, Shangela says she was just as shocked as the rest of the viewership.
"In that moment, the only word to describe it is just disappointment," Shangela says. "I was disappointed in how the rules had changed, I was disappointed in the fact that the girls, the jury, didn't choose me, after I had done everything I could and felt like I had a really strong season in the competition." She adds, "I was [also] disappointed for my fans who had been so invested in this journey with me, not even just in this season but from the time I first walked into the workroom as a baby on Season 2."
However, even if the queens had known about the jury twist from the beginning, Shangela doubts she would have leaned into it. "Maybe I would have played the game a little differently [if I knew], yes. But would I have presented anything differently or changed anything else? No. I had a lovely run on the show," she says. "But I didn't give up, and I was very proud of what I was able to present on the runway. Life is going to be how it's going to be. All you can do is keep it moving."
While it is old news for Shangela that she wasn't crowned queen (the season wrapped months ago), re-watching it did sting. She reveals that, until the finale aired, Shangela did not know who exactly the jury voted for. In the end, only Thorgy Thor voted for her to be in the Final 2. That's right, just one vote, despite the fact that Shangela had more lip-sync wins and top challenge finishes than any queen in the Top 4.
Although she may not have expected the jury votes to be so low for her, Shangela says she was pretty sure the twist wouldn't be good for her game. "I knew I didn't necessarily have a jury of peers. Especially when I walk into the room to deliberate, you know, to give them my story. No one was interested in hearing how well I did in the competition, how many lip-syncs I'd won," she says. "And remember, some of these people hadn't been there since Day 2. They haven't seen anything, they don't know what the runways were and they didn't care. They had no interest in basing their judgement on that."
If Shangela had been put into the Final 2, it's almost a given she would have won. Through this season of competition, she was undefeated in lip-sync battles and a definite frontrunner.
While Shangela doesn't like to think about the hypotheticals, she is confident she would have performed well if she'd been given the opportunity. "I knew that I didn't want to lose. And I knew that I definitely had some stunts and tricks. Just watch me in a lip-sync baby, I do my best," she says of how she would have approached the Final 2 lip-sync. "I perform at my best level. I can't tell you if I would have won based on what the other girl would have done, or who would have been there with me, but I can tell you that Shangela was coming to turn the party. Trust me on that."
Despite her own disappointment, she urges fans not to be mad at the series. "I hope that no one gets disheartened about [the show] … it's done so many great things not only for other contestants but for me," she says. "RuPaul's Drag Race really helped me to find who Shangela is and gave me this amazing platform to travel the whole world and be able to showcase that."
Shangela hopes that her Drag Race story can teach fans a life lesson that can help them out through their own struggles. "You may lose one battle, [but] you will always be able to win the war if you keep your head up, you keep working, and you just keep a good attitude," she says.
Moreover, the experience seems to have inspired future performances for Shangela, as well. "It'll definitely play into how I move forward for sure. I've already written a new stand-up comedy show called 'Shangela is Shook'," she says. "And I don't think it could be any more appropriately titled. It's a one-hour cabaret that I'm doing."
Along with that cabaret, which will tour in the UK, Australia, and eventually the U.S., Shangela is keeping busy. She'll be appearing in two films: Hurricane Bianca 2 and A Star is Born. In addition, she has a new song on iTunes called "Pay Me" because, as she says to Bustle. "'Cause RuPaul didn't give me my $100,000, I'ma need somebody to give it to me."
So, no, Shangela did not win the crown. But she's taking her own advice and not letting one lost battle get in the way of her success. While it is uncertain if she will ever appear as a competitor on Drag Race, again, it certainly would be exciting. Earlier this season she said that she felt like the third time would be the charm. Now, it's clear that if anyone could have the fourth time be the charm — it would be Shangela. Until then, though, she's doing better than fine.