Why Shangela Thinks She Can Win 'RuPaul's Drag Race All Stars 3'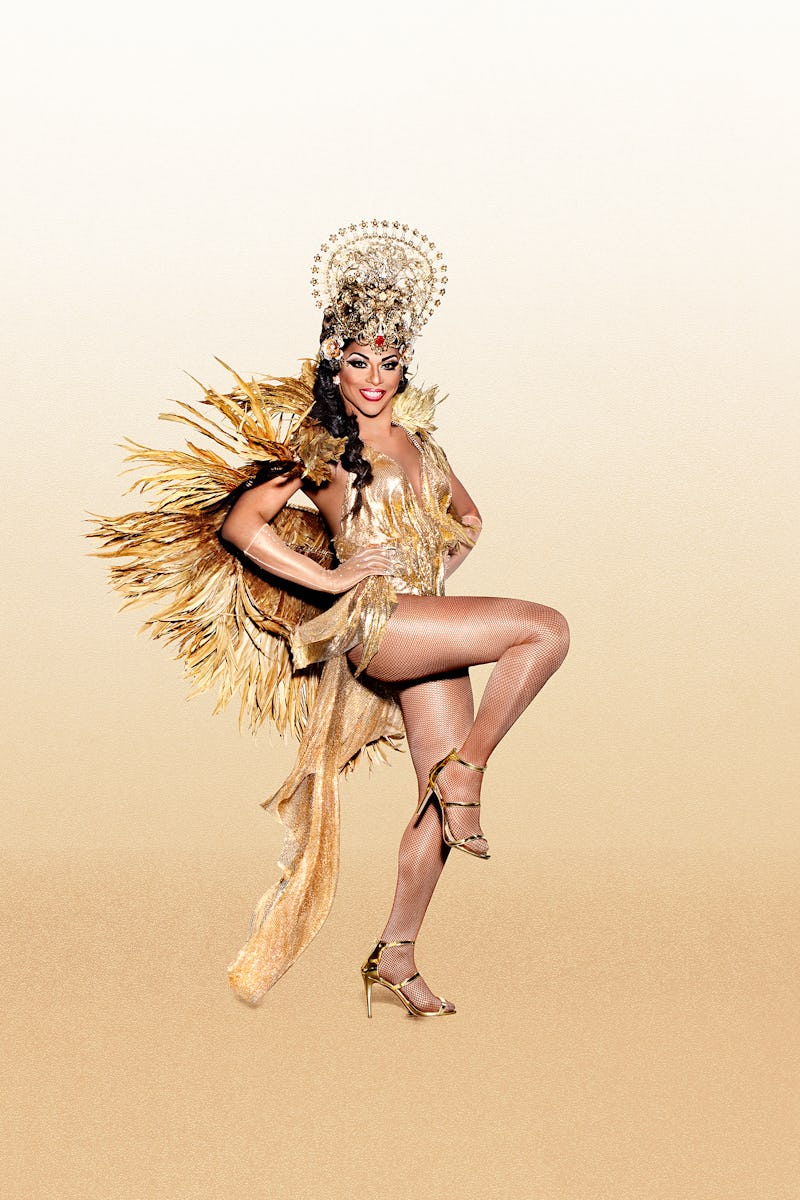 VH1
Looking ahead to Week 4 of RuPaul's Drag Race All Stars, Shangela is undoubtedly positioned to succeed. With one win under her belt and a confidence that rivals any of the queens, Shangela says she's here to win Drag Race. Unlike any of the other queens, this is her third time competing on the iconic series — and she tells Bustle that it's her time.
For Shangela, she feels like the third time's the charm. "I feel so comfortable in my Shangela skin at this point. Season 2 and 3 I was still figuring things out. I was honored to be there, but I felt like I was playing catch up a lot of times," she says. "Now, I feel like I'm going in there, like, 'Bring the challenges.' At least my foundation is strong."
That strong foundation has served her well through the first three weeks of the competition. She has showcased several strong performances and even won a challenge outright, earning $10,000 in Episode 2. Shangela isn't sweating any particular queen as competition, though. "I see all of them as competition and I see none of them as competition," she says. "I know what I've done, I know what I've prepared, and I know what I'm ready for. I'm Shangela." She continues with a TV analogy. "See, I watch Game of Thrones. I understand what it takes to take over the Seven Kingdoms. I'm like Daenerys Stormborn, I'm coming through."
Although she didn't win either of the seasons she had appeared on before appearing on All Stars, she says she always gave them her all — and that's what she's doing now. "I've never taken the opportunities that RuPaul's Drag Race has afforded me ... lightly," she says. "I've always tried to expand and grow. I'd never won, but I always walked away and held my head high like a winner."
If she's going to win All Stars though, she still has a number of queens to battle. In particular, Kennedy Davenport who won Week 3, and BenDeLaCreme who's been in the top of every competition through this point of the season. Shangela reveals that, while she's met and worked with each of the other queens before this season, she knows the competition is not a time to make friends. "I didn't play games with the girls, I'm here to win. I'm here to showcase for my fans what never giving up, where that can put you, what you can achieve," she says. "I'm going for the crown, now. I'm not trying to create drama, but when you get strong minded people together, going in a competition... honey, it's going down."
Shangela is feeling so confident, that she even revealed she'd come back to compete again in a fourth season... if she won, that is. As long as she got to bask in the glory of her victory for a while. "I'd want that crown to sit on my head a little bit, let it dent into my wig. I'd really want to feel it before I went back in and gave it up," she says. "Because RuPaul's Drag Race is scary! It is not a walk in the park type situation. For someone like BeBe who's won already, and to put your hat back in the ring, you're putting it back up on the table for grabs."
On the phone, Shangela joked that she is not just after the All Stars crown. "Hopefully, I can leave with three crowns and not just one," she says. "I'm taking BeBe's crown, I want the one RuPaul's giving if she wants to give up the one that she wears everyday, I'll take hers, too." After seeing her performance as Mariah Carey in Week 2, it's hard to argue that she is not one of the strongest queens in the competition. Who knows? Maybe, the third time is indeed the charm and she will get three crowns before RuPaul's Drag Race All Stars 3 is done. Good things are said to come in threes.