The 'Charmed' Reboot Just Got Some Support From Shannen Doherty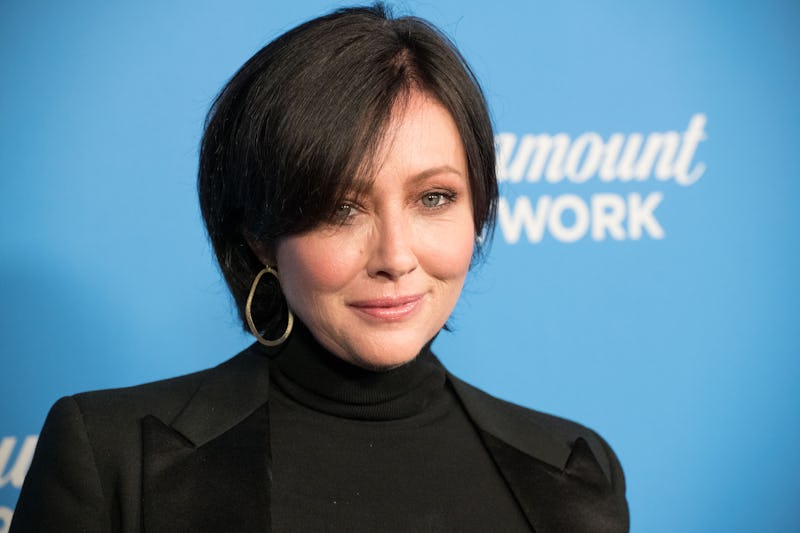 Earl Gibson III/Getty Images Entertainment/Getty Images
Whether or not the CW's new Charmed reboot has put a spell on fans of the original, the OG Prue Halliwell is urging audiences to give it a chance. At Comic-Con Paris, Shannen Doherty defended the Charmed reboot, asking fans to be nicer to the show and the women currently starring in it. While it isn't the Charmed they grew up with, Doherty says fans should celebrate the fact that a whole new generation is getting a chance to meet a new batch of witchy sisters.
According to TVLine, when Doherty was asked about the new Charmed during a Q&A, the crowd booed. "I have seen a lot of people be very mean and very negative and cruel to the new show and the new cast," Doherty said. "I want to remind everybody that these are three girls who just want to act. They got a huge opportunity, and I would implore everybody to be a little bit kinder."
Doherty, who starred in the first three seasons of the original show (which ran for a total of eight seasons), told the crowd that this new edition starring a cast of new sisters — Macy (Madeleine Mantock), Mel (Melonie Diaz), and Maggie (Sarah Jeffery) — is still "a show about three strong women." And while it may not "your Charmed," she told the Comic-Con Paris crowd, "you should all really pat yourselves on the back and congratulate yourselves, because you're the most loyal, amazing fans in the world. And because of you, you made it a show that a younger generation wants to see."
In other words, she doesn't want their intense and amazing fandom to ruin it for anyone who wants to see a new Charmed. "You have to think about what Charmed did for you when it was on and think about what that's going to do for a new generation," Doherty said. "Embrace it, you guys."
It's a sentiment that Doherty has been articulating since the beginning. At least, for the most part. Back in January, Doherty tweeted that she was interested in seeing a new take on the story, noting the impact it could have on a brand new audience. "I'm intrigued by the idea that a new generation might be comforted, inspired like all you were," she told fans on Twitter. "Charmed helped us all in some way."
However, she noted that she was disappointed by CW's description that the new Charmed, produced by Jane the Virgin creator Jennie Snyder Urman, declared it a "feminist reboot" of the show, being that, in her opinion (and those of others), the original was already feminist. "Their wording is terrible and a bit offensive," Doherty tweeted. "But, everyone makes mistakes. Perhaps with the backlash they will be more thoughtful in future."
Meanwhile, original co-star Holly Marie Combs also seemingly replied to the "feminist" description of the new show. She tweeted a statement back in May that read in part, "Reboots fair better when they honor the original as opposed to taking shots at the original." Still, she ended on a positive note, saying, "We wish them well and hope for success."
Doherty and Combs' co-star Alyssa Milano, was similarly diplomatic when asked about the new Charmed. Milano, who played the youngest sister Phoebe, told Entertainment Tonight back in August that she wished the reboot had asked her and the other original stars to be involved with the series. "But having said that," Milano said. "I do hope that it reaches the newer generation and impacts that generation the way ours was able to do for its generation."
There may be fans who are still upset about the new Charmed, but Doherty wants to give it a chance, and she clearly hopes her Charmed stans do the same. Who knows, maybe it'll put a spell on them just like the original.