Apparently, Shannon Purser's Starbucks Barista Also Wants Justice For Barb On 'Stranger Things'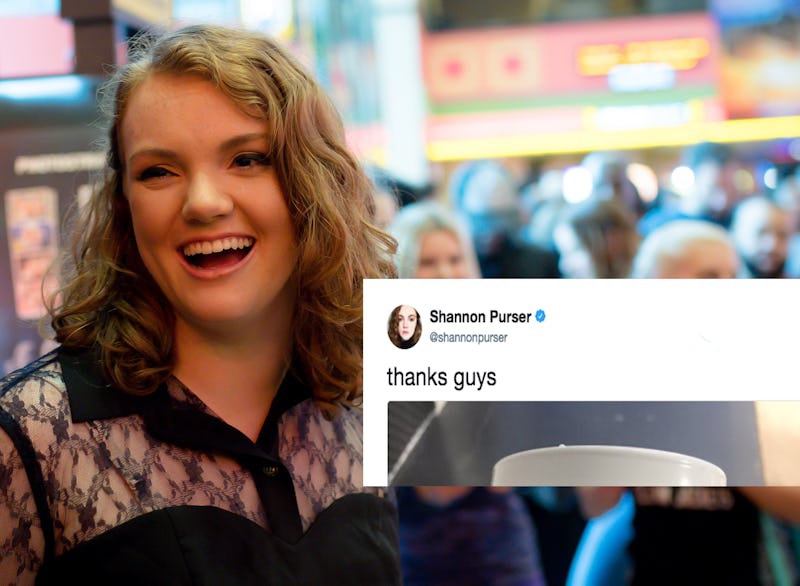 Marcus Ingram/Getty Images Entertainment/Getty Images/Twitter
Anyone who's watched Stranger Things has probably sympathized with Barb, the beloved gone-too-son character played by Shannon Purser. Though Barb died in the show's first season, her legacy still lives on. Fans of the show agree that she deserved a better ending — and they're letting the actor who played Barb on the Netflix series, know, too. These fans can be found in a variety of places, which was proven when Purser shared a photo of a Starbucks cup on Twitter It's not hard to see why her tweet is going viral: her barista left a very fitting message on the cup, and any Stranger Things fan will appreciate the clever quip.
We're guessing the actor gave the Starbucks employee her actual name when she left her order, but it looks like they decided to get creative. In the photo she posted, the barista wrote "Barb deserved better," apparently after recognizing Purser from the show. "Thanks guys," Purser captioned the tweet. To be fair, the barista is totally right — after all, Barb was just trying to stick by her best friend's side when the Demogorgon got her. And while it's not Nancy's fault that Barb died, it's understandable that fans are still mourning her loss, even through jocular messages written on to-go coffee cups.
If you were so wrapped up in Season 2's Dustin-Steve connection that you forgot the specifics about Barb's death, though, here's a quick refresher. After going with Nancy to Steve's house, Barb got stuck waiting by the pool while Nancy and Steve hooked up inside. Unfortunately, the Demogorgon got to her while she sat outside — and, unlike Will Byers, Barb wasn't lucky enough to survive the Upside Down.
In the second season, we got to see more of Nancy's reaction to Barb's death, and the guilt she felt about the loss of her friend. It caused tension in her relationship with Steve, too, eventually leading to a fight at a Halloween party. Steve went with Nancy to have dinner — a KFC bucket, to be exact — at Barb's parents' house. But eventually, the two of them broke up, with Nancy eventually finding her way to Jonathan. Losing a friend is more painful than many of us can realize, and the fact that Nancy went through that loss in high school is even more devastating. Nancy showed a lot of character development in Season 2, but her regret doesn't change the fact that Barb is still gone. And fans haven't forgotten it, either.
Still, the best part about Purser's tweet wasn't the barista's note itself, but a reply from a fan on Twitter. "I thought this said 'bob deserved better' and i was like yes even Shannon agrees but nope i guess barb is still a thing ha," one person replied to Purser's tweet. It's a little harsh — we can miss both Barb and Bob — but Purser had the perfect reply. "Bob DEFINITELY deserved better," Purser tweeted.
Losing a favorite TV character isn't easy, and it's clear fans are still pretty upset about Barb's (and Bob's) death. Hawkins' residents may have been able to stop the Upside Down's havoc from spreading, but there's no easy way to say goodbye to Barb and Bob. Especially since, if you think about it, both of their deaths could have been avoided fairly easily.
If there's another new character in Stranger Things season 3 — especially one whose name starts with the letter "B" — maybe we shouldn't get too attached to them. No one is ever really safe on this show, even if the Season 2 finale seemed to tie things up nicely. There's no telling who the next victim could be in Hawkins.