Shaq Is Hosting Shark Week, Which Is Literally Reason Enough To Watch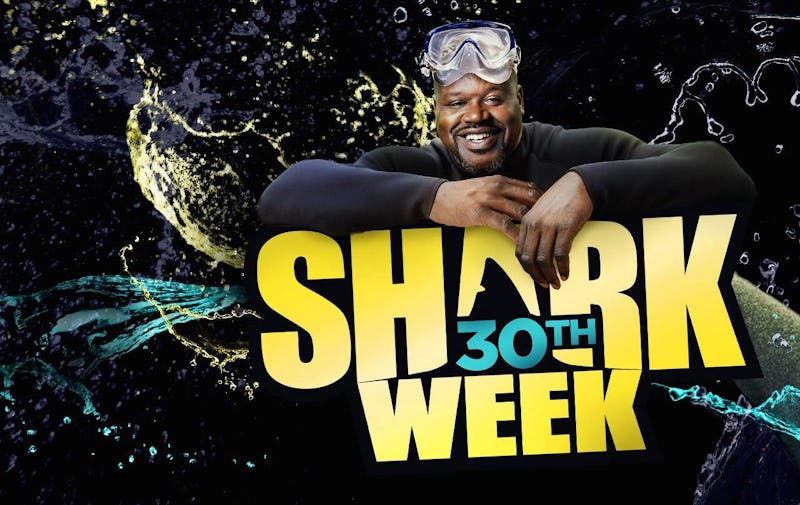 Discovery
It's all come full circle. After former NBA star Shaquille O'Neal first appeared in an April Shark Week promo to announce the premiere date, he's now back to kick off the week-long event. Yes, America, Shaq is hosting Shark Week 2018, and Discovery is having a ton of fun with that fact.
In a new promo for the TV event, Shaq reveals that he's the host of the 30th anniversary. Well, only because he thought he was hosting a whole different thing. "Full disclosure, I thought I was hosting Shaq Week. But that doesn't exist," he jokes in the clip. (Doesn't exist yet, anyway.) In any case, even though it's not Shaq Week, the basketball legend stuck around, and he's got a pretty big role in Shark Week. Not only is he the host, he also has his very own special.
On July 22 at 9 p.m. ET, to kick off the festivities, Discovery is airing "Shaq Does Shark Week." The episode description is pretty funny:
In the hopes of securing the ultimate symbol of fame and fortune — your very own week — Shaquille O'Neal inadvertently signed himself up to be thrust into the teeth of the 30th Anniversary of Shark Week. There's only one problem. Shaq doesn't do sharks. To overcome his fear of sharks, he's going to need some help — enter Ex-Marine and comedian Rob Riggle who will help train him at Atlantis, Paradise Island in The Bahamas for the big plunge.
Shaq may not have done sharks prior to his hosting appointment, but, to his credit, he's certainly doing them now. The preview clip of his episode shows him in something called a Shaq Cage — which I'm assuming is the specially designed shark diving cage they would need to fit all seven feet and one inch of Shaquille O'Neal's body. If anyone can take on a shark, it's Shaq. Although he doesn't seem to think so.
Shaq didn't take the easy road for this 30h anniversary celebration. He's not just sitting behind a desk delivering shark-y news or commentary. He's in the thick of it. Does he look thrilled? No, but that just makes it more entertaining. The preview clip shows Shaq nervously getting into the water and also examining some sharks from the back of a boat.
If you check out the full clip you'll also see him and comedian Rob Riggle re-enact the Titanic "I'm flying" scene, which is also a highlight.
Hopefully Shaq will overcome his fear of sharks after all is said and done. They may look scary, but they're actually not that bad. The International Shark Attack File reports that only six people on average die from unprovoked shark attacks globally. That's six people in seven billion. Shaq's gonna be just fine. And, considering that he's also a spokesperson for Carnival Cruise Line, he probably loves the ocean a little more than he's letting on.
He's also not the only celebrity getting up close and personal with these misunderstood water creatures for Shark Week. A press release announced that Shaq will be joined by fellow athletes Ronda Rousey, Aaron Rodgers, Rob Gronkowski, and Lindsey Vonn. Also stopping by are the Shark Tank judges Mark Cuban, Barbara Corcoran, Kevin O'Leary, and Daymond John. Survivalist Bear Grylls has a special episode. Oh, and, in a move even more random than having Shaq host — Guy Fieri is going to do a cageless dive at some point during the week, too.
It's a star-studded 30th year for the fintastic television event, and being lead by Shaq will just make the whole thing even more fun. If he can come out of his episode being just a little less scared of sharks, well, then maybe he'll finally get to have his very own Shaq Week. He'll deserve it.