People Are Comparing Shawn Mendes To Peter Kavinsky From 'To All The Boys' & TBH, It's Accurate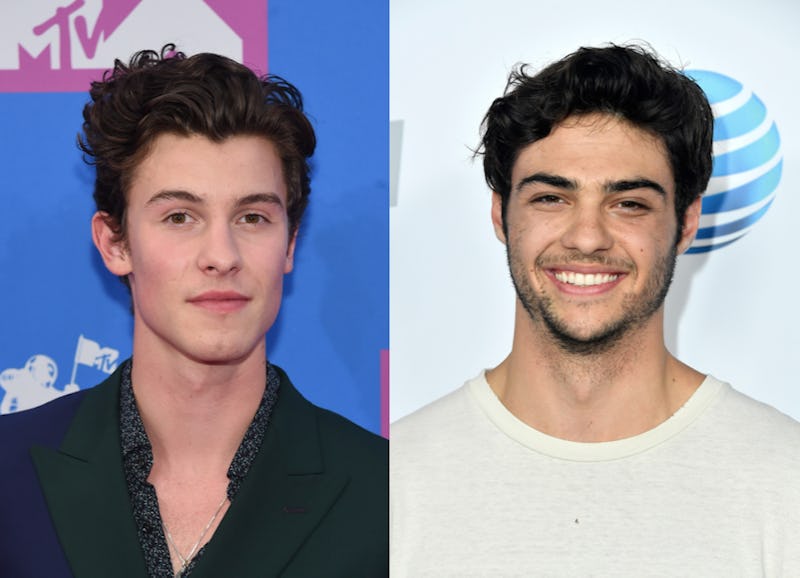 Jamie McCarthy/Getty Images Entertainment/Getty Images; Frazer Harrison/Getty Images Entertainment/Getty Images
Shawn Mendes opened the 2018 Video Music Awards. Peter Kavinsky started a fake relationship with Lara Jean Covey and fell in love with her in a hot tub. So you can see why people are comparing Shawn Mendes to Peter Kavinsky after Mendes' electric 2018 VMAs performance gave fans all the To All The Boys I've Loved Before feels. Wearing a white muscle tee and a good pair of jeans, Mendes looked every bit the part of the bad boy you'd totally risk everything for during his performance at the VMAs. And, fans couldn't help but be reminded of the Internet's new boyfriend, Peter Kavinsky.
Mendes, who performed "In My Blood" after a quick introduction from Cardi B, is, of course, a major heartthrob. And, you know, a real person. Peter Kavinsky, though no less of a heartthrob, is a fictional character from Netflix's new rom-com To All the Boys I've Loved Before, as played by Noah Centineo. That said, despite one being a living, breathing human, and the other being, well, a character in a movie, they are both dream Internet boyfriends. With their slightly floppy, but perfectly coiffed curls, and their sweet, bashful smiles, and their total crush-worthy swagger, these are the dream men we deserve. And, seeing Mendes' passionate performance at the VMAs, fans couldn't help but declare him the singing Peter Kavinsky.
In To All The Boys I've Loved Before, Peter isn't a singer, nor does he really look like Shawn Mendes. In fact, looking at the two side-by-side, it's kind of hard to see a point of comparison. In case you didn't spend your weekend watching To All the Boys I've Loved Before on Netflix on repeat, here's Peter Kavinsky, lover, lacrosse player, and excellent fake boyfriend:
In To All The Boys I've Loved Before, Peter sweeps Lara Jean Covey off her feet after he receives a love letter she wrote to him in middle school, but never sent. He proposes they enter into a fake relationship to fool their high school into thinking they're dating, and, of course, ends up falling in love. He doesn't sing songs, but he does write some pretty adorable love letters.
And this is Shawn Mendes, singer, songwriter, and pro-hair flipper:
His hit album, Shawn Mendes earned him a nomination for Best Pop Video at the 2018 VMAs and the title of everyone's favorite young pop star.
So, no, Peter Kavinsky and Shawn Mendes aren't exactly twins, but for a few fans watching the Video Music Awards on Monday night, seeing Mendes perform was like seeing Peter Kavinsky out in the wild. A real person, with a guitar to boot.
Of course, when it comes down to it, it's impossible to really say who is being compared to whom. Is it Shawn Mendes who is like Peter Kavinsky, or Peter Kavinsky who is really just like Shawn Mendes? Who is to say? The bottom line, however, remains the same: fans now have two beautiful Internet boyfriends to swoon over, and, honestly, they deserve it.