How To Tune Into This Year's VMAs From Almost Anywhere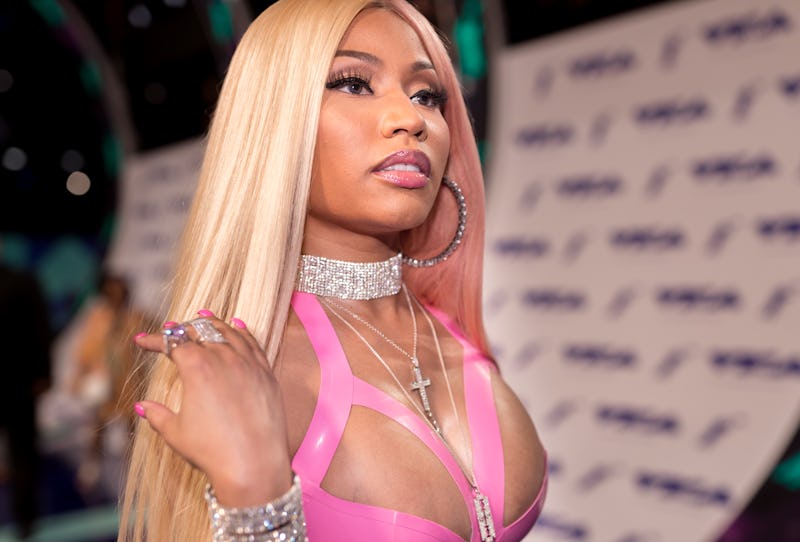 Christopher Polk/Getty Images Entertainment/Getty Images
For outrageous, show-stopping stunts like dangling from the ceiling and dripping in fake blood (lookin' at you, Gaga!) the world relies upon the MTV Video Music Awards, a.k.a. the VMAs. This year, the VMAs air on MTV on Monday, Aug. 20 at 9:00 p.m. E.T. And with performances by Ariana Grande, Travis Scott, Shawn Mendes, Nicki Minaj, and Video Vanguard honoree Jennifer Lopez, among others, you won't want to miss this year's VMA line-up, either. And fortunately, you can stream the 2018 VMAs from pretty much anywhere.
If MTV is included as part of your regular cable package, you can always log in and view the channel's live stream on their website. If you're not a regular MTV subscriber, they have an option to test the live stream for 24 hours, which might be just sufficient in order to pull off that VMAs viewing party you've been considering hosting. You can also download the MTV app to any of your accepted devices (iPhone, iPad, Android, tablet, Roku, Apple TV, Android TV, or Amazon Fire TV) and watch it there. The app feature even works if you only have the temporary log-in!
You should definitely hit the follow button on the official VMA Twitter and VMA Facebook page, too, just to make sure you stay as up to date as possible before the big night.
Of course, a huge chunk of the really good stuff (e.g., meat dress) goes down before the ceremony itself, on the red carpet. If you'd rather play "hot or not" than sit through all the singing and talking, then you should definitely check out E!'s YouTube Channel, Live from the Red Carpet. If anyone arrives wrapped in bubble wrap or riding an actual leopard, you'll be the first to know.
This year, the ceremony will take place in the iconic NYC venue Radio City Music Hall. It's a pretty significant spot since it was the first ever location for the VMAs 35 years ago, per The Hollywood Reporter. It provided the backdrop for Madonna's on-air smooches with Britney Spears and Christina Aguilera, as well as for Kanye's perplexing outburst in support of Beyonce. Over the years, the awards show has provided the setting for such pieces of pop culture history as Spears cavorting with a live python and Fiona Apple's anti-celebrity culture acceptance speech. Fingers crossed that this year is full of some equally memorable surprises!
Jennifer Lopez's performance is sure to be a highlight, as she's also being honored with the Michael Jackson Video Vanguard Award, which pretty much cements her status as a pop legend for all eternity.
Perhaps only second to the Superbowl Halftime Show (and without all that dry football), the VMAs are one of the best music events of the year when it comes to over-the-top performances and WTF moments. Whether you decide to stream it on your phone from the comfort of your bed, or watch it on a big screen TV alongside 10 of your screaming friends, the MTV VMAs are a phenomenon worth watching live.