Taylor Swift Had The BEST Reaction To Shawn Mendes & Camila Cabello's AMAs Performance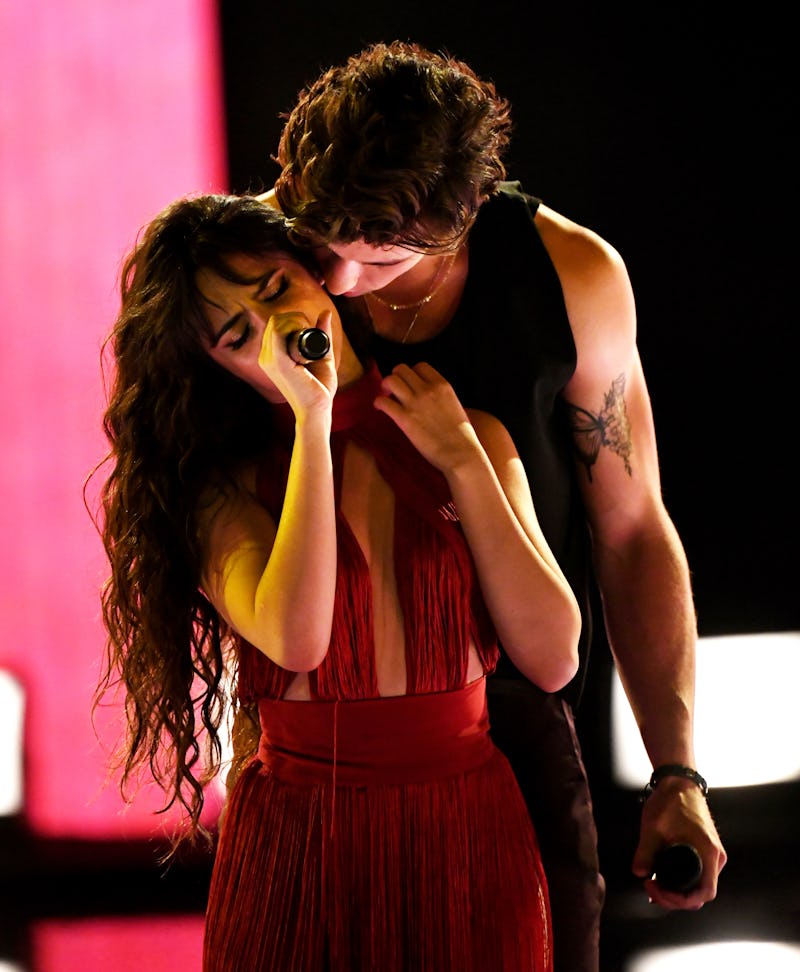 Kevin Winter/Getty Images Entertainment/Getty Images
On Sunday night at the AMAs, Camila Cabello and Shawn Mendes performed a sultry version of their song "Señorita." You could cut the sexual tension with a knife, and no one was more scandalized than Taylor Swift, who was literally speechless in the audience.
First, she just stared at the couple open-mouthed. Then, just as it looked like they were about to kiss, she held onto Billy Porter's shoulder excitedly. The two didn't actually kiss — just touched noses, like they did earlier this year at the MTV VMAs — but it was appropriately full circle. Swift had a similar reaction to Cabello and Mendes' VMAs performance, where she clutched her chest and mouthed, "Oh, sh*t."
It's particularly funny considering Swift is close friends with both "Señorita" singers. She previously toured with Mendes, not to mention bonded with Cabello over a breakup playlist, so Swift has presumably spent time with them IRL. Perhaps it was just the shock of seeing her friends show so much PDA in such a public setting (though Mendes and Cabello certainly haven't been shy about their relationship in front of the paparazzi).
In any case, it wasn't the last time Mendes and Cabello appeared onstage. Not only did the camera pan over to them getting pretty cozy in the audience, they later won the Collaboration of the Year award for "Señorita."
During their short acceptance speech, Cabello shouted out Mendes' mom, who was watching the AMAs from Toronto. But she really should have been shouting out her and Mendes' biggest fangirl, Taylor Swift.