Another 'PLL' Star Is Getting A New Show & The Details Will Leave Fans So Intrigued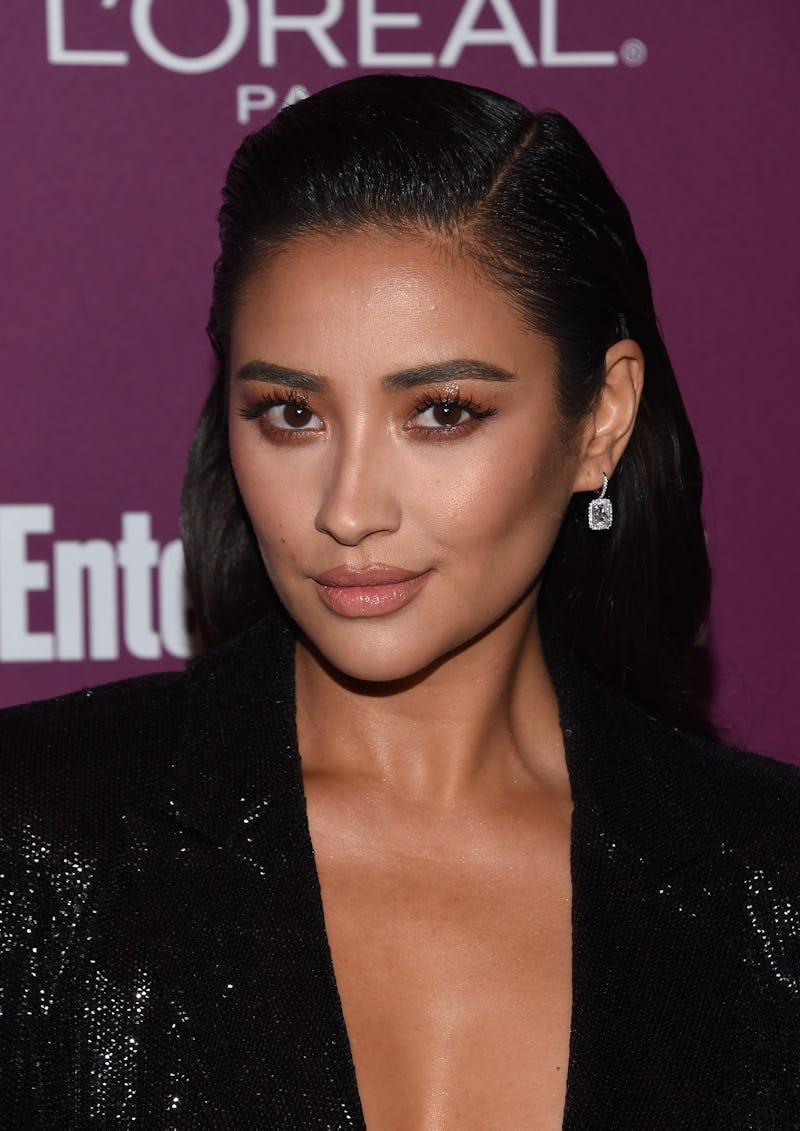 CHRIS DELMAS/AFP/Getty Images
Pretty Little Liars may have officially ended its run, but that doesn't mean the show's cast and crew don't have so much more in store for their fan base. Shay Mitchell's new series will be based on another Sara Shepard book series, The Heiresses, and if the book's synopsis is anything to go off of, the show will be filled with just as much drama as its predecessor.
According to The Hollywood Reporter, ABC has already ordered a pilot for the series. Mitchell will headline the show while I. Marlene King, the mastermind behind Pretty Little Liars, will write it based on Shepard's 2014 novel of the same name. The new soap opera will focus on the Saybrooks, a New York City based family behind a diamond empire.
Per the book synopsis on Shepard's website, the Saybrooks have been blessed with wealth and good fortune, but are plagued by a series of tragic and mysterious deaths. One day, tragedy strikes the family yet again when one of their own, Poppy, jumps from a window and falls to her death, but a threatening message that's later sent to her four cousins has the family questioning whether her death was an actual suicide or a murder. Soon enough, the four heiresses come together to investigate Poppy's death and end up uncovering a slew of dark family secrets in the process. Hmm, does this storyline sound familiar or...?
After word began to spread, Mitchell took to Twitter to confirm the news, sharing her excitement in a tweet.
Her PLL co-star Ashley Benson shared her support by responding to the tweet. Of course, fans enjoyed the moment, since they're forever obsessed with Benson and Mitchell's friendship, better known as ButtahBenzo. The Twitter convo also led to a really cute exchange between Benson and King
King will executive produce the show, alongside Leslie Morgenstein and Gina Girolamo, according to Deadline. Of the four main characters, it still isn't clear which one Mitchell will be playing as the details surrounding her role have yet to be finalized. So fans will have to hold out a little while longer for that information, but what'll be even more exciting about the show's pending announcements is finding out who Mitchell's co-stars will be.
Watching Mitchell share screen time on a PLL-like series with actors that aren't her original co-stars will definitely be different, but given how big of a hit Pretty Little Liars became over the years, we'll likely fall in love with the cast of The Heiresses just as easily as we did the leading ladies of Rosewood.
This is just the latest Shepard novel to get its own small screen adaptation. The new Freeform spinoff starring Sasha Pieterse and Janel Parrish (who played Alison DiLaurentis and Mona Vanderwaal on PLL, respectively) will also be based on one of Shepard's book series, The Perfectionists, which follows five girls whose lives take a messy turn after their common enemy turns up dead shortly after they create a hypothetical plan to kill him. The Perfectionists will be executive produced by King as well, so if you're looking to fill the hole that the series finale of Pretty Little Liars left in your heart, you at least have two more shows to look forward to.
Though the stories are different, both new series appear to have the same scandalous structure as Pretty Little Liars: a group of young women who have distanced themselves from each other over the years, but are suddenly brought together by a mysterious tragedy and an unknown villain. It didn't take long at all for Pretty Little Liars to become a phenomenon spanning across seven seasons, so it'll be exciting to see where King takes the two new shows. Regardless of how they both turn out on screen, one thing's for sure — the drama isn't ending any time soon.