Shay Mitchell Just Dyed Her Hair Bright Pink & Fans Are Already So Obsessed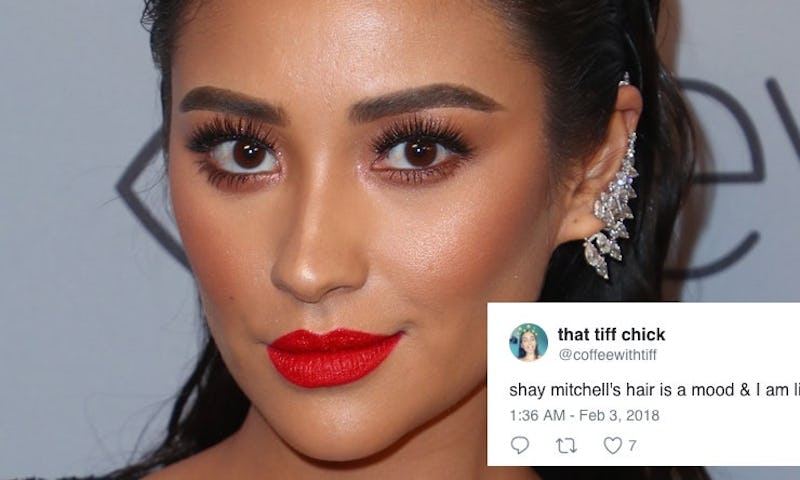 Joe Scarnici/Getty Images Entertainment/Getty Images; coffeewithtiff/Twitter
Celebrities are kind of like chameleons when it comes to changing their looks. Switching things up is something that occurs pretty often, but for unknown reasons, seeing stars make these major changes always comes as a major shock to fans. Because of that, it's no surprise that fans have plenty to say about Shay Mitchell's new pink hair — and yes, they're already obsessed. According to a newly posted photo, it looks like the actor decided to dye her hair pink, and per usual, she looks absolutely stunning.
The Pretty Little Liars alum took to Instagram on Friday to reveal her brand new look to her fans with a photo captioned, "Pink hair don't care." In the picture, Mitchell shows off her new long and wavy baby pink locks that she paired with a matching matte pink lip color. For her hair, Mitchell chose a pretty subtle pink, and it may even inspire you to switch up your color choice too. It's not clear what inspired the major change — she could have been itching to make a change because of the new year, or it could have just been a spontaneous decision.
Regardless, Mitchell is effortlessly slaying in this photo, and fans already can't get enough of how amazing she looks.
One fan on Twitter described Mitchell's hair as a mood, and yeah, that's actually the best way to explain how fans probably feel about this.
Another was understandably brought to tears by this slay.
One user made an observation that's worth looking into a little further.
And then there's this:
Judging by one of her more recent Instagram posts, it looks like Mitchell has been making a plan to switch things up for a while now. On Thursday, she shared a throwback photo of herself with sporting ombre hair, asking her fans what hair color she should try next.
"Thinking about what look to try next... what do you think?! #allthecolorsoftherainbow," she wrote. Honestly, there appeared to be more users in the comments section leaving heart eye emojis than there were fans that were actually giving their thoughts on how she should switch up her look, so it's likely that their opinions didn't influence her decision to go pink anyway.
Either way, a good amount of her near 19 million followers already appear to be loving her color choice — just take a look at the amount of heart eyes in her comments. But let's be honest, it's Mitchell, and she would probably look awesome no matter how her hair looked.
But, before you get too excited about the switch-up, it's worth noting the possibility that this might not even be a permanent thing for Mitchell. One Instagram commenter pointed out that, though her hair looks amazing, it's also possible that she could be wearing a pink wig, which definitely isn't a bad thing. Everyone knows that the great part about wearing wigs is that, any time you're feeling adventurous and in need of a change, a wig will allow you to easily save yourself the time, stress, and energy that goes into creating a new look. Not to mention that if the look you want involves bleaching your hair or putting it through any other chemical process, wearing a wig presents a safer alternative.
So far, Mitchell hasn't given any details on who did her hair and how she achieved the color she has, but she recently hit the 3 million subscriber mark on her YouTube channel (where she discusses fashion, beauty, and travel), so it's possible that if she decides to upload a celebratory video, she may also talk a bit more about her new hair or publish a separate detailed video about it altogether.
Wig or not, pink is a color that Mitchell wears extremely well, and if she does decide to keep the color for a while, fans will most definitely approve.