Shay Mitchell's Faux Bob Is Everything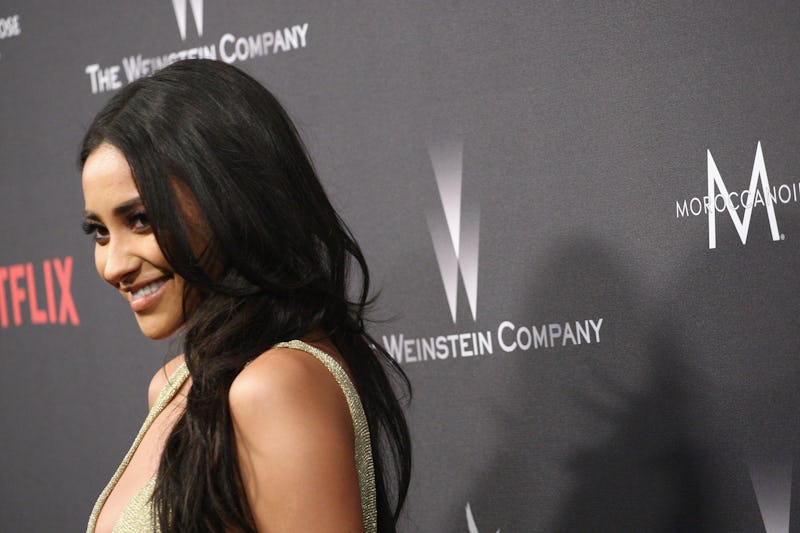 Earl Gibson III/Getty Images Entertainment/Getty Images
This PLL actress' long, dark brown tresses have pretty much become a constant. Because when you've got a mane that beautiful, why would you want to change it, you know? But, she recently shocked everyone and debuted a much, much shorter 'do, but I must say, Shay Mitchell's "power bob" absolutely slays. I mean seriously, I'm dying over how gorgeous this style looks on her!
According to hairstylist Chris Appleton's Instagram, they're dubbing this look the "power bob," and I can certainly see why. It'd be hard not to feel like an absolute #girlboss with a fresh 'do like this, I'd imagine. But, I must admit, when I first stared at the Instagram photo she posted, jaw slightly agape, I couldn't help but wonder, "Did she really make the chop?" According to Allure, she did not. So, if you're a lover of her long hair, you can take a deep breath now.
The publication chatted with Appleton, and he told them all about how he faked this shorter look. "We love to change the look up, and yesterday I gave Shay the power bob — it's a sexy look that is easy to maintain and so chic," he said. Apparently, he achieved the look by braiding Mitchell's longer strands and added shorter clip-in extensions along the braid, Allure reports.
I love that Mitchell's able to switch up her style without sacrificing her long locks. It's the best of both worlds!
This is how we're used to seeing the actress.
But, I could get used to this look, too. Maybe she should making this a full-time thing, you know?
Mitchell isn't the first celeb to fool us with a faux bob.
She certainly is on-trend, too. She's not the only "it" girl to lose the length recently. With the likes of Selena Gomez and Nina Dobrev cutting hair off, she really is in good company!