See The Gorgeous First Page Of Chelsea Clinton's Empowering New Children's Book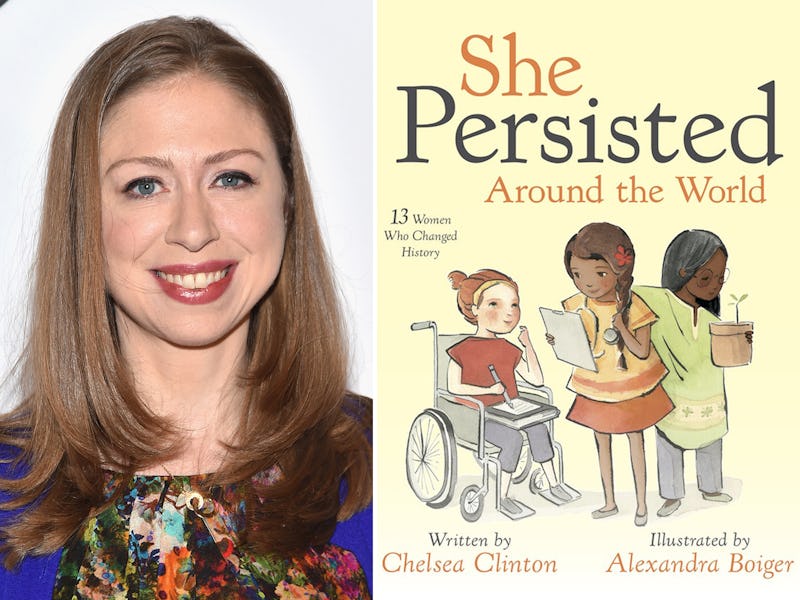 Mike Coppola/Getty Images Entertainment/Getty Images; Penguin Random House
When she began writing She Persisted, Chelsea Clinton knew she wanted to create an illustrated feminist history book that celebrated extraordinary American women who overcame, who persevered, and who, well, persisted. This time around, Clinton is directing her attention to feminist icons from across the planet with She Persisted Around the World: Women Who Changed History, out March 6 from Philomel Books. Bustle is proud to reveal a first look at this inspirational picture book and its beautiful interior artwork.
She Persisted Around the World is the official companion to She Persisted, illustrator Alexandra Boiger and Chelsea Clinton's first picture book about remarkable American women like Ruby Bridges, Sonia Sotomayor, Oprah Winfrey, and Harriet Tubman. In this moving follow-up, the bestselling author-illustrator duo share the amazing true stories of 13 international real-life heroines, including Nobel Prize-winning chemist Marie Curie, globally bestselling author J.K. Rowling, prima ballerina Yuan Yuan Tan, and revolutionary physician Mary Verghese, among others. On each page, Clinton's inspiring text is juxtaposed with Boiger's striking artwork. Together, these two women illustrate not only the persistence of the famous women whose lives they are celebrating, but the unstoppable perseverance of hardworking, brilliant women all over the world.
She Persisted Around the World: 13 Women Who Changed History by Chelsea Clinton, illustrated by Alexandra Boiger, $13, Amazon
This diverse and inclusive picture book features the perfect story for every tiny feminist out there, and it is exactly the kind of empowering picture book modern girls and boys deserve. Bustle is proud to have an exclusive look at the book –  below, you can see the first page spread, and the beginning of the book's 13 unbelievable true stories.
Take a look:
At first glance, readers will immediately be drawn to the book's bright colors and diverse cast of illustrated characters. In this first spread alone, a variety of race, gender, ability, and religious identities are represented. Right away, She Persisted Around the World lets readers know that, as the first page says, "It isn't always easy being a girl," but no matter what kind of girl you are, there is a story in this book for you.
Upon closer examination of this detailed spread, you might notice that each of the 13 paintings on the wall in the scene feature the book's extraordinary subjects: Marie Curie, Sor Juana Inés de la Cruz, Viola Desmond, Sissi Lima do Amor, Leymah Gbowee, Caroline Herschel, Wangari Maathai, Aisha Rateb, J.K. Rowling, Kate Sheppard, Yuan Yuan Tan, Mary Verghese, and Malala Yousafzai. The keen observer might also notice that the shelf illustrated on the left side of the spread is filled with real books by women featured in She Persisted, as well as other women Chelsea Clinton admires. The titles include Anne of Green Gables by L.M. Montgomery, Mighty Be Our Powers by Leymah Gbowee, and It Takes a Village by Hillary Rodham Clinton.
To find out what other hidden feminist symbols the book's pages hold, readers will have to wait: She Persisted Around the World hits shelves on March 6, just in time to celebrate International Women's Day on March 8.
To celebrate her book's publication, Clinton will be doing a nationwide book tour with stops in New York, Charlotte, San Francisco, and other cities across the country. You can see Clinton's full schedule here to find out if she will be bringing her inspirational message to a city near you.
Disclosure: Chelsea Clinton's husband Marc Mezvinsky joined Social Capital, an investor in Bustle Digital Group, in mid 2017 and joined the Board of Bustle Digital Group in early 2018.