These Are The Women Featured In Chelsea Clinton's New Picture Book (Including J.K. Rowling!)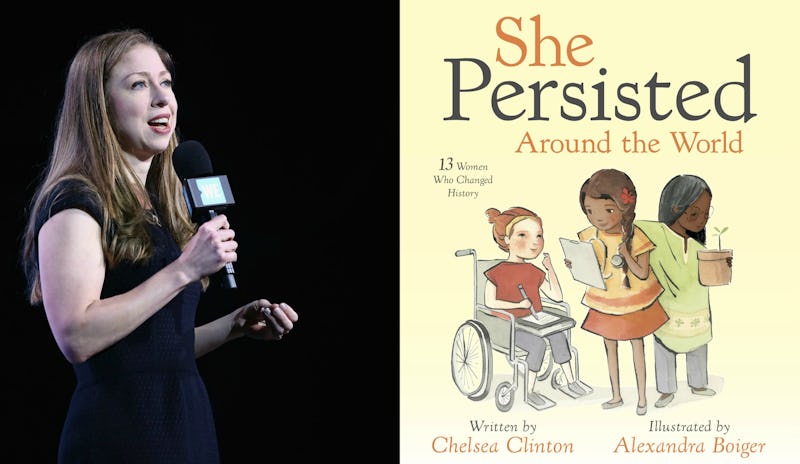 Monica Schipper/Getty Images Entertainment/Getty Images
After Chelsea Clinton's mother, Hillary Rodham Clinton, lost a historical, and contentious, presidential campaign, women everywhere were responding to sexism not only in politics, but across our culture. Senator Elizabeth Warren launched a feminist rallying cry around "Nevertheless, She Persisted," a statement used against her by Senate Majority Leader Mitch McConnell when she tried to speak up against Jeff Sessions' confirmation as Attorney General.
For her part, Chelsea Clinton announced that she would be foraying into picture books, and it seemed like just the right move for the advocate and author. Already the author of It's Your World, a middle grade book encouraging children to get involved in social justice causes, Clinton adopted the viral feminist expression and published She Persisted.
Now, after a long year of political and social unrest, Clinton is planning a sequel, due out March 2018.
The companion to Chelsea Clinton and Alexandra Boiger's No. 1 New York Times bestseller, She Persisted Around the World will look beyond the U.S. to tell the stories of 13 women across the globe who have spoken out, risen up and fought for what's right, even when they've been told to be quiet. Whether in science, the arts, sports or activism, Clinton's book promises to tell the stories of women and girls throughout history who have been determined to break barriers and change the status quo.
Where Clinton's first She Persisted book focuses on American women—telling the stories of Harriet Tubman, Helen Keller, Sonia Sotomayor and other iconic women that American children might be more likely to learn about at school or on the news—the international edition will be a great addition to any classroom or household hoping to expand kids' knowledge of some of the most influential women in the world. The book, which will again feature vibrant illustrations by acclaimed children's book artist Alexandra Boiger, promises to tell the stories of, these 13 iconic women:
Marie Curie, Nobel Prize-winning scientist
J.K. Rowling, Harry Potter author
Sor Juana Ines de la Cruz, Mexican scholar, philosopher, poet, and composer
Viola Desmond, Businesswoman who helped launch the Canadian Civil Rights Movement
Sissi Lima do Amor, Brazillian soccer player
Leymah Gbowee, Liberian peace activist
Caroline Herschel, German astronomer
Wangari Maathai, Nobel laureate and environmental activist
Aisha Rateb, Egypt's first female ambassador
Kate Sheppard, Leader of New Zealand's women's suffrage movement
Yuan Yuan Tan, Known as the "Greatest Chinese Ballerina of All Time"
Mary Verghese, physician and medical pioneer
Malala Yousafzai, Nobel laureate and human rights activist
Of course, it's obvious that is has become more important than ever to raise women's voices, particularly those who have been historically silenced and ignored. If you've been looking for more reasons to get excited for 2018, knowing that there will be countless kids (and a few adults, too) being encouraged to learn more about just some of the amazing women who have helped change out world? That's one huge bright spot in the new year already. Expect She Persisted Around the World to make its way onto the shelves on March 6, 2018.
She Persisted Around the World by Chelsea Clinton, $18, Amazon