The Team Behind 'Sherlock' Are Bringing THIS Horror Icon To The Small Screen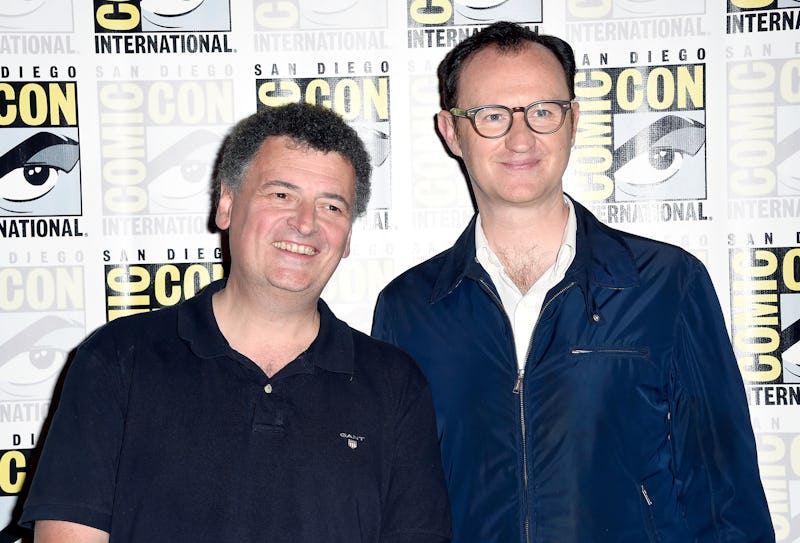 Frazer Harrison/Getty Images Entertainment/Getty Images
Few fans remain as perpetually frustrated as those devoted to Sherlock, the show show around which so many rumours circle that it's impossible to discern whether a new series is imminent — or whether it's never coming back at all. But here's something to keep you going in the meantime: Sherlock's Steven Moffat and Mark Gatiss are adapting Dracula for the BBC. Can you imagine a better combination?
According to the BBC, the new series will comprise three 90-minute episodes — plenty, then, to sink your teeth into (it had to be done and I won't apologise.) The show will begin in 1897 Transylvania, where "the blood-drinking Count is drawing his plans against Victorian London." Chilling! And it sounds like there'll be a dash of raciness to counter all that murder: the BBC describes Dracula as "the vampire who made evil sexy," after all. "There have always been stories about great evil," Moffat and Gatiss said. "What's special about Dracula, is that Bram Stoker gave evil its own hero."
Dracula is a co-production between BBC and Netflix; the streaming service will broadcast the show outside of the UK (excepting China, where Netflix isn't available). And Moffat and Gatiss aren't the only Sherlock alumni to make the leap from crime-solver to blood-drinker: Sherlock producer Sue Vertue of Hartswood Films will serve as an executive producer on Dracula. "There's nothing like fresh blood," said Vertue (while winking heartily, I assume).
The period setting of the upcoming Bram Stoker adaptation marks something of a departure for Moffat and Gatiss, whose interpretation of Arthur Conan Doyle's deerstalker-sporting detective is significant for its relocation to the present day. But it sounds as though the writing duo will still be doing something unexpected with the classic vampire novel. Piers Wenger, controller of BBC drama, said, "Steven and Mark's ingenious vision for Dracula is as clever as it is chilling. In their talented hands the fans will experience the power of Bram Stoker's creation as if completely anew."
It's fair to assume that Stoker's novel is in extremely capable hands. After all, both Moffat and Gatiss have adapted classic horror fiction for the small screen before. Moffat wrote Jekyll, starring James Nesbitt, for the BBC, a 2007 adaptation of Robert Louis Stevenson's The Strange Case of Dr Jekyll and Mr Hyde. What's more, the series — like both Sherlock and Dracula — was produced by Hartswood Films, while Mark Gatiss appeared in an episode as Stevenson himself.
Gatiss, meanwhile, wrote and directed 2013's TV movie The Tractate Middoth, starring Sacha Dhawan. The BBC feature adapted the short story of the same name by antiquarian horror master M.R. James. Gatiss has also written upcoming BBC Four ghost story The Dead Room, starring Simon Callow and Anjli Mohindra, which centres on the team behind a radio horror series as the terror follows them off-air.
That's about all we know about the BBC's Dracula for now: no casting news, no expected air date, no proposed visuals for the murderous Count (will he have the fangs?!) But hey — if there's one thing Sherlock fans are well-rehearsed in, it's waiting.