Tonga Guy Returned To The Olympics & His Clothing Choice Was Seriously BRAVE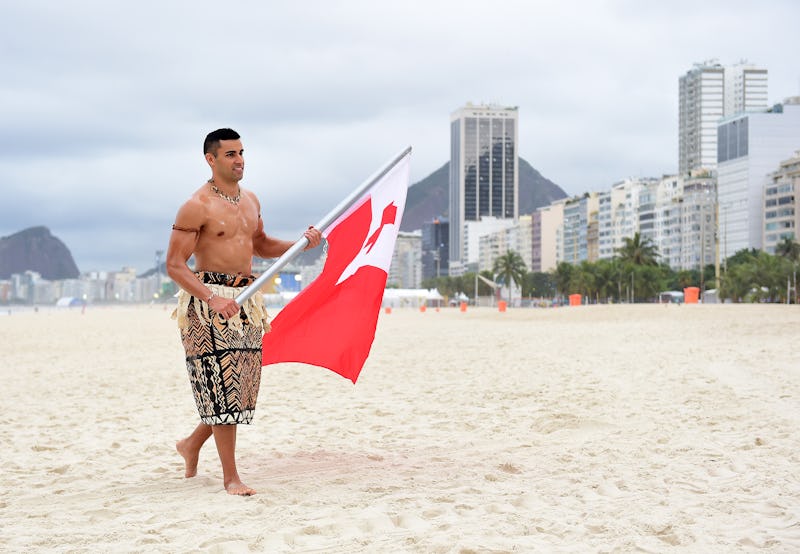 Harry How/Getty Images Sport/Getty Images
The Olympic Games have officially begun and athletes from around the globe have gathered in PyeongChang to battle it out for the gold. Standing out amongst the stunning visuals and in the sea of athletes during the opening ceremony was Pita Taufatofua, the oiled-up and shirtless Tongan athlete who nearly broke the internet during his first Olympic appearance two years ago at the 2016 Rio De Janeiro Games. And staying true to his roots, Taufatofua braved the winter cold shirtless while holding his country's flag aloft — much to the excitement of viewers.
Taufatofua is the only representative of Tonga at the 2018 Winter Olympics — and he almost didn't make the cut. Two weeks after his viral appearance at the 2016 opening ceremony in Rio, Taufatofua lost his opening match while competing in taekwondo. But for the Winter Games he decided to switch it up. He announced in December 2016 that he was switching to cross-country skiing in a bid for PyeongChang, according to NBC Sports.
After seven failed attempts to score a bid, Taufatofua finally snagged one to compete in the Winter Games at January's final qualifying weekend in Iceland. Taufatofua drove more than 9,000 miles during a blizzard to Iceland to get the bid, and he couldn't be more happy to be representing Tonga at the games this year.
"People don't see the hard work that goes [on] behind [the scenes]," Taufatofua said in an interview with the Olympic Channel. "They just see the shiny guy that walks with the flag. I decided to find the hardest sport possible because I needed a new challenge. The goal was to do it [in] one year, and [I] did it."
In addition to enduring months of brutal training in order to compete at the Winter Games, Taufatofua also faced plenty of monetary setbacks. He started a GoFundMe page in an effort to raise money to attend the Olympics and received over $24,000 in donations. "We sacrificed everything to be here," he told the Olympic Channel. Financially I'm in the worst position ever but I'm the happiest ever."
Tonga is known for having a strong rugby team. But Taufatofua is on a mission to put the Polynesian Kingdom on the map for a traditional winter sport — and bring home the country's first gold medal.
"If I go into training, doesn't matter what sport, the mentality will always be to train as though I'm chasing down that gold medal," he told People. "People say, 'Man you're crazy!' It's like yeah, I am, but you can be crazy and you can achieve as well. And that's what I want to show people. I want them to come on the journey, and I want them to be a part of this as well. But make no mistake, I'm going to be hunting down that gold medal!"
Twitter couldn't be more excited to have Taufatofua at the Olympic Games once again, either. In fact, many took to social media Friday to praise the athlete for braving the winter cold, bare chest and all. This in addition to shouting out his excellent use of body oil to make his chest extra shiny and camera-ready.
Additionally, there were some memes and jokes. But even within the laughs, Taufatofua's opening ceremony spectacle received plenty of love from Olympic fans.
No matter how he fares in the Winter Games, Taufatofua will no doubt go down in history as a legend simply for being able to withstand 20-degree weather shirtless and with a smile. Honestly, that deserves a gold medal alone. Now, just one question: will he be skiing shirtless, too?