Shonda Rhimes Had To Fight For Kerry Washington In 'Scandal'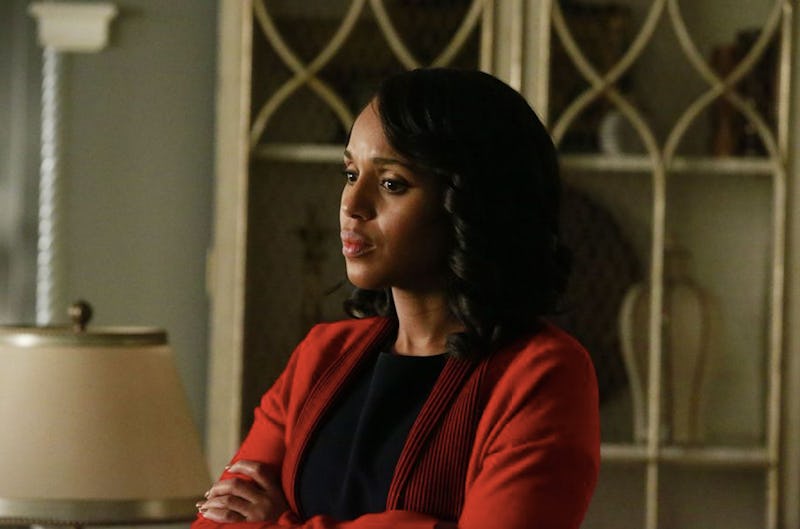 ABC/Mitch Haaseth
Shonda Rhimes isn't one to back down. Even when Scandal was in the hands of network execs in its infancy, she stood her ground when they allegedly wanted a white female lead for the show. Unbeknownst to her at the time, Kerry Washington would make the role of Olivia Pope an icon. Rhimes' decision to fight for a black lead not only changed the fate of the Shondaland series, but of primetime TV as well. There would be no Scandal without Olivia Pope, and there sure as hell would be no Olivia Pope without Kerry Washington.
During a sit-down interview with The Hollywood Reporter in light of the show's upcoming 100th episode, the cast and creators weighed in on the show-making process and how another actor was one ABC executives originally had in mind to play the lead. "I got a phone call from somebody who said, 'This would be the perfect show for Connie Britton,'" Rhimes revealed. Rhimes putting her foot down not only honored crisis manager Judy Smith (who the role is inspired by), but made Washington the first black woman to lead a drama in over three decades. "I said, 'It would be, except Olivia Pope is black," Rhimes stated. Olivia's identity is celebrated on the show and paved the way for other black females to lead in primetime.
"Nothing felt more important than the sense of outsiderness. I didn't know that there hadn't been a drama series with a leading black woman for 37 years," Rhimes said. Casting director Linda Lowy chimed in, saying, "The network was reading us their top choices, and it was Connie and all white women. I panicked. Somebody finally piped up, 'We're going to have to redo this list,'" she said. "We tested Kerry, Jill Scott, and Anika Noni Rose. It was Kerry from the moment I took her to meet Shonda."
But it should be noted that this choice had nothing to do with Britton herself, who's another fantastic actor. "This would have been a great role for Connie Britton," Washington said in the interview. But it was the significance of taking a leap and making waves in entertainment by fiercely representing minorities in ways other series weren't necessarily bold enough to do.
Since Olivia Pope made her epic primetime debut, other female leads like Annalise Keating (Viola Davis in How To Get Away With Murder) and Rainbow Johnson (Tracee Ellis Ross in Black-ish) were born, and those actors have earned prestigious awards for their roles.
Olivia Pope has been embraced and loved for who she is since the series premiered — a woman who's flawed, strong-willed, powerful, a complete boss, and black. Apparently this character was originally a threat to the network, because some execs had concerns about international sales. "There were some small discussions about if [having a black lead] would impact us internationally," said Channing Dungey, head of ABC Entertainment. Also, apparently, some male actors were apprehensive about joining a show in which they wouldn't be the lead (namely, President Grant, played by Tony Goldwyn).
"[Kerry's] tiny, cute, pretty and younger — and because she was all those things, she was aware that people would underestimate her," said Rhimes. "Then when we were searching for somebody to be the president, nobody wanted to [play the president] because they weren't the lead."
Good thing fans had Rhimes to stand behind her creation and fellow boss Olivia Pope, or the series and characters they've come to love so much would've been so drastically different.