How A Teenage Girl Could Become The Next Black Panther — Or The Next Iron Man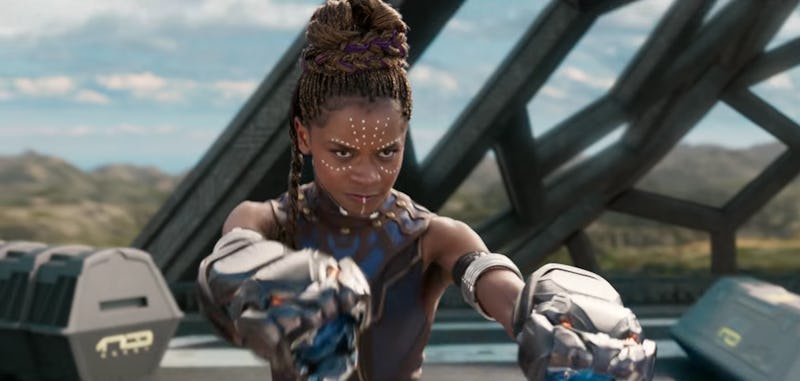 Walt Disney Studios Motion Pictures
Black Panther is so full of awesome, badass characters, it might as well be called Avengers: Wakanda Edition. Don't let the title fool you, though; Black Panther is not the only hero in the film. In fact, many are turning their attention to Black Panther's sister, Shuri. And, based on Shuri in the Black Panther comics, fans can expect to see a lot more of her in the Marvel Cinematic Universe going forward.
In her MCU debut Black Panther, Shuri is the brains in charge of creating and developing the technologically advanced Black Panther suit, as well as other Wakandan endeavors. In an interview with ScreenRant, producer Nate Moore described Shuri as the most intelligent character ever to join the MCU. "She's the smartest person in the world, smarter than Tony Stark, but she's a 16-year-old girl," he said.
Actor Leticia Wright, meanwhile, sees Shuri as a leader on equal footing with her brother T'Challa, just in a different way. "Shuri's place of leadership right now is in terms of technology and creating things that can be able to help her brother," she said in an interview with Black Girl Nerds. This is a bit of a departure from her identity in the comics, where Shuri is less concerned about technology and more interested in becoming Black Panther herself.
Shuri is relatively new to the Marvel family. T'Challa's younger half sister didn't make her first appearance in the comics until 2005. But once she arrived, she certainly made an impression. Determined and headstrong, Shuri has had a journey in the comics focused on her desire to become the first female Black Panther of Wakanda. She would have fought to earn the title herself if her brother hadn't gotten it first, as jokingly hinted at in the movie. And, in the comics, when her brother became Black Panther, Shuri continued to train as a fighter with her brother's blessing. According to Marvel Wikia, T'Challa trained Shuri himself to be both Queen of Wakanda and his successor as Black Panther.
Shuri eventually became Black Panther, though her reign was short-lived in the comics. She died in battle trying to save Wakanda and her brother's life, but recently returned as both a spiritual guide for T'Challa and a revived ally. In Ta-Nehisi Coates' new Black Panther run, Shuri has returned with new powers courtesy of the Djalia, a sort of afterlife plane that holds the entire history of Wakanda. Currently in the comics, according to Comic Vine, Shuri has the power to turn into a giant blackbird or a flock of blackbirds, she also has super speed, strength, and healing power, as well as the ability to turn into stone, making her bullet proof.
Associate Editor Sarah Brunstad described Shuri as T'Challa's most valued ally, telling Marvel.com, "She's the only living person who has not only ruled Wakanda, but has also worn the Panther mantle. She understands the pressures around him and why certain actions are off-limits."
Looking at Shuri's eventful comic book history, it's clear that Marvel Studios has plenty to pull from going forward. T'Challa might be Black Panther now, but with no end in sight for the MCU, who knows what could happen? "Hopefully it does," Wright told Variety when asked about her character becoming Black Panther on screen. "I'm happy that there's room to allow Shuri to grow. I wanna sit with her a little bit more."
Even if Shuri doesn't become Black Panther any time soon, there's still plenty of possibility for an expanded role, be it in the inevitable Black Panther sequel or in other MCU films. Perhaps a comics-inspired team-up with Peter Parker is in her future, or maybe a key role in Avengers: Infinity War. Whatever Shuri does next, if it's anything like her arc in the comics, it's sure to be pretty damn epic.