My Mother Always Taught Me To Speak Up — Just Like These Athletes Did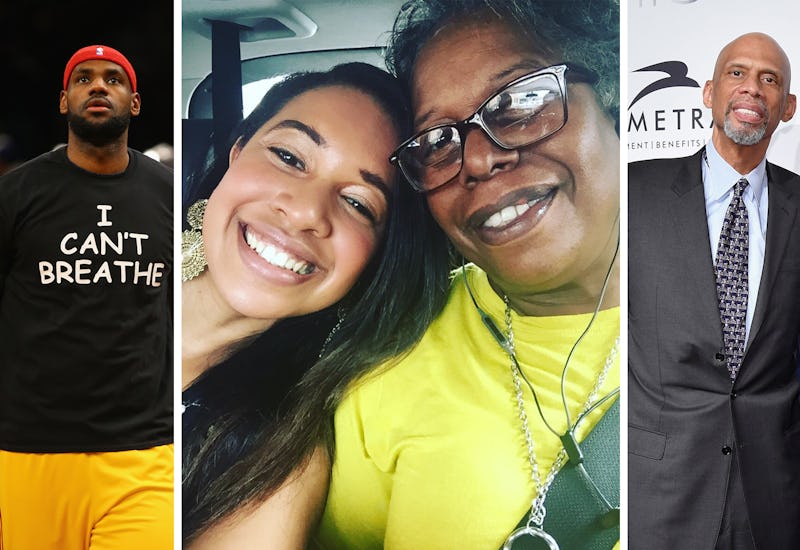 Al Bello/Getty Images Sport / Courtesy of Jada Gomez / Slaven Vlasic/Getty Images Entertainment
Growing up in the '90s, everyone wanted to be just "Like Mike." Michael "Air" Jordan — the Chicago Bulls shooting guard who is widely heralded as the greatest NBA player of all time — dominated movies (welcome to the Space Jam!), commercials, video games, and even my feet. When I had enough money to afford my first pair of Jordans, my mother would always remind me that her favorite NBA players, Julius Erving and Kareem Abdul-Jabbar, not only revolutionized the way basketball as I knew it was played, but they also fought tirelessly for my basic human rights by taking a knee, or raising a fist. That's why Showtime's upcoming documentary, Shut Up And Dribble — a three-part series premiering on Saturday, Nov. 3 at 9 p.m. — which tracks the history of sports and civil unrest from the tumultuous '60s to the present day, is so important for us.
Narrated by former ESPN anchor Jemele Hill and executive produced by the Los Angeles Lakers' newly signed icon, LeBron James — two voices whom Donald Trump attempted to silence with a string of vicious tweets — Shut Up and Dribble takes its title from conservative pundit Laura Ingraham's message to James on her Fox News show, The Ingraham Angle.
"It's always unwise to seek political advice from someone who gets paid $100 million a year to bounce a ball," Ingraham said during a broadcast. "Keep the political comments to yourselves. ... Shut up and dribble."
Hill's first words in Shut Up and Dribble are sobering. "America is where it's always been," she narrates. "It's confused. The tone, the texture of America has always been white America. So everybody can't possibly be equal. In America, black athletes were supposed to be the workers, not the owners. They were supposed to be the talent, and never the power brokers."
This shift in power is evident in Colin Kaepernick's protest against police brutality; his bent knee during the National Anthem triggered a domino effect that has brought out the best in players and the worst in those who see them as human fantasy draft picks only worth how many points they can score.
My mother taught me at a very young age, that speaking up for basic human rights is the most American thing you can do.
Shut Up and Dribble puts into chronicled context the messages my mother instilled in me very early in my childhood. She reminded me that for MJ to fly high and slam dunk, Olympic track athletes John Carlos and Tommie Smith had to bow their heads and raise their fists to protest working class poverty in places like Harlem, risking their careers because they took a stand for what was right. My mother is the reason one of my most prized possessions —a patchwork of Smith and Carlos at the 1968 Olympics — is displayed on my desk at work. It's a reminder each day that it is my privilege to make life better for generations after mine. My mother taught me at a very young age that speaking up for basic human rights, both stateside and abroad, is the most American thing you can do.
As a 10-year-old, I was just happy to spend a weekend out of my Catholic school uniform and in my favorite kicks. Although I retained my mom's history lessons, I came to appreciate them fully as I got older. She raised me to have a reverence for the African Americans who endured fire hoses, lynchings, and beatings for my right to even exist. She reminded me that growing up as a black child in New York City in the '60s, a white child even younger than her could call her the N-word, and there was nothing she (or her parents) could do about it.
Thanks to her influence, NBA Hall of Famer Abdul-Jabbar continues to be my all-time favorite baller. He championed civil rights, famously supported Muhammad Ali's refusal to be drafted in the Vietnam War, and still writes about activism in 2018. His phenomenal efforts off the court earned him the Presidential Medal of Freedom from former President Barack Obama in 2016. When Abdul-Jabbar retired from the NBA in 1989, I was just 7 years old. But I had such a love for him beyond that, thanks to everything he meant to my mom decades before I was even born. (His appearance on Full House also helped the cause.)
And while my generation has yielded a new era of activists, thinkers, and change agents to fight for social justice — including some of my favorite athletes, like Serena Williams and Misty Copeland — I'm still charged up when I think about the battles athletes like Ali and NBA great Bill Russell fought for rights I don't have to think twice about.
I can vote next week in the midterm elections without having to face a police officer's baton. There are no laws barring me from marrying a man outside of my race. Because of them, I've never had to come across a "whites only" sign on a bathroom door. We are undoubtedly facing an era in American history where the rights of people who are not cis, white men are being tested at every turn. But with massive civil rights wins in the rearview, there's nothing left to do but persist.
However, all of the pride my mother instilled, and the racism she shielded me from growing up, can't protect me from the police brutality that threatens my uncle and my friends, because they are simply black men existing. James and the Cleveland Cavaliers could win NBA championships, but they couldn't prevent Tamir Rice from being gunned down in an Ohio park for holding a toy gun at 12 years old.
When Eric Garner was choked to death by a police officer, I was equal parts heartbroken and terrified that something so heinous could happen in my own city. It felt like no amount of courage, none of my mother's stories, could make these repeated acts of violence any less painful. But when James and some of his former Cavs teammates took the court in "I Can't Breathe" T-shirts in 2014, it felt like our pain was being seen by the athletic superheroes we cheer on. My favorite teams had my back, even if everyone else saw my life as disposable.
For decades, black bodies have been the bedrock of American popular culture. Black bodies have perfected every dance move from the Moonwalk to the Milly Rock. They've suffered from concussions and chronic traumatic encephalopathy (CTE), but those don't seem to matter if Super Bowls are clinched. They can sell out arenas, dunk and dribble, win Olympic medal after medal. We are conditioned to believe that black bodies are not supposed to be inherently political. That black bodies are less alarming when they are silent. But thanks to my mom, I was taught to be anything but.
Shut Up and Dribble is an unapologetic, much-needed tour through history that serves to remind me — and the people of color who can feel so isolated and downplayed — that we do have a voice, and we have champions to amplify us. Like my mother experienced in the '70s, I'm getting to see my peers rising up in protest, right alongside the undeserved, overshadowed, stereotyped people of their own communities, and refuse to be silent.
When we watch it together, she will undoubtedly ask me to pause it repeatedly to share her own personal accounts and remind me of the history, like a cultural studies professor would. She'll remind me that she is a child of the Black Power movement. She will remind me that her generation lived by the mantra, "Holler loud, holler proud." She'll point out the perfectly manicured afros of her favorite NBA players, and ask me again why my basketball crushes insist on wearing such baggy shorts. I'll laugh, I'll listen, and I'll likely shed angry tears during the tough parts. But I'll be proud of her journey, and all that she endured so I'll never ever have to think about staying silent in my lifetime. So, thanks, Mom. For all those years, I was totally listening.