Here's Why Sia Fans Aren't Happy About Her Being MAC's Newest Spokesperson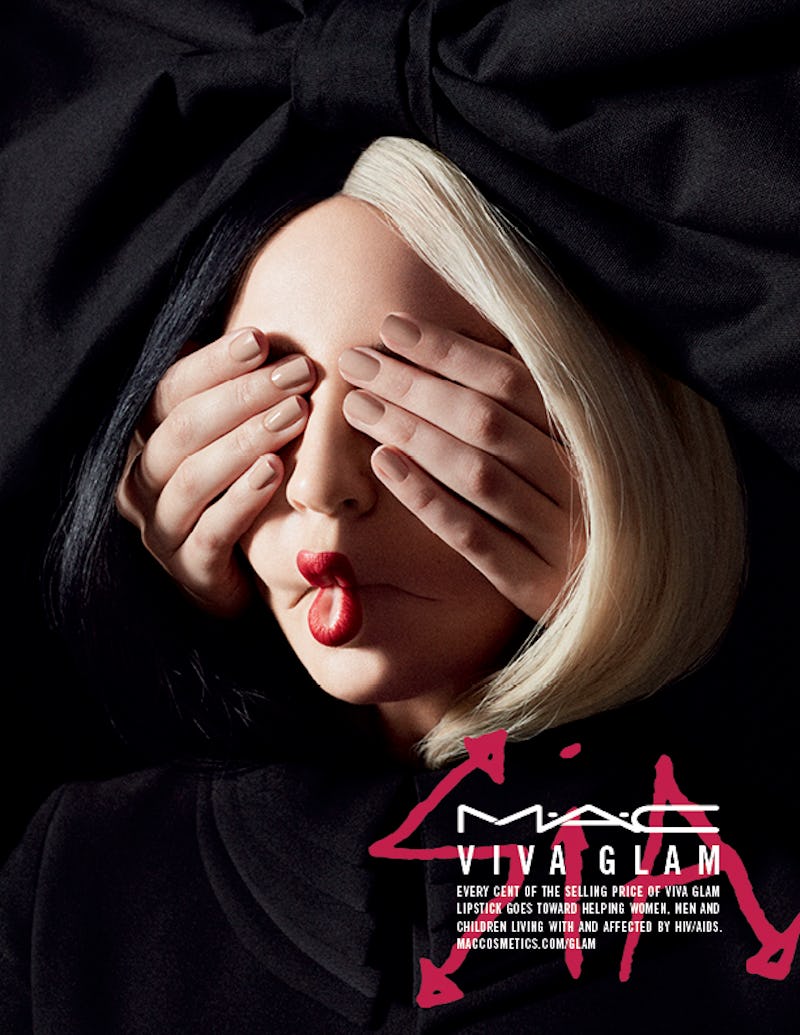 Courtesy MAC Cosmetics
'Tis the season for new makeup collections and collabs, but not all of them are well-received. Sia announced that she will be the next Viva Glam spokeswoman for MAC Cosmetics, and her fans aren't happy. Despite the gorgeous lipstick color for an incredible cause, her fans aren't too thrilled to see her defending the brand as cruelty-free. Here's everything you need to know, so you can decide for yourself whether you'll be buying or not.
Bustle has reached out to MAC Cosmetics for comment.
Typically, MAC Viva Glam collections go off without a hitch, but people had problems with the most recent match-up almost instantly. Sia, who has publicly declared herself vegan since 2014, first announced that she would be working with the brand on Nov. 31. People instantly had a problem with the singer supporting a brand that has been criticized for their cruelty-free standards.
According to the MAC Cosmetics website, the brand is cruelty-free. However, they sell their products in China, which tests their beauty products on animals. As they acknowledge on their website, they have no control over different government standards for testing beauty products. However, many people believe that although MAC says that it is "working toward a cruelty-free world," they are not doing all that they can.
Add into the mix a singer that is deemed vegan, and you have all types of concerned fans out there.
All Viva Glam proceeds go towards the MAC AIDS Foundation. The beauty giant created the foundation in 1994, and have since featured iconic, ground-breaking celebrities to promote it in Viva Glam campaigns. Celebrities such as Ariana Grande, Lady Gaga, and Taraji P. Henson have joined the Viva Glam ranks. The difference with Sia joining is that she's vegan and supporting a brand that has had their open conflicts about being cruelty free in the past.
Sia released an official comment on her social media platforms that show she's not planning to pull out of the collab any time soon.
"Like M.A.C, I believe that makeup should not be tested on animals," Sia's tweet reads. "M.A.C. does not test on animals and is advocating change in countries like China where animal testing exists." She then goes on to like to MAC's statement on their website on "working towards a cruelty free world."
Ultimately, whether you decide to buy or not is up to you. If you do decide to buy the lipstick, you can stock up on January 25 in-stores or on the MAC website. Like all Viva Glam products, you will only be able to purchase it for a limited time.
Despite the explanation, fans are still overwhelmingly disappointed to see that Sia is teaming up with MAC. Thanks to Twitter upping their character count from 140 to 280 words, people have a lot to say on the matter.
Ouch. Like I said, people are not happy to hear the statement from Sia. They see it as a cop-out.
The brand says that they are working to become cruelty free, but hasn't shown much data on their efforts.
Some people believe that MAC Cosmetics is just in it for the products, since they're not will to pull production of products out of China.
This one's short, sweet, and to the point.
I'm just going to set this right here. Do with it what you will.
People aren't asking her to stop collaborating with brands. They're just asking her to choose more animal-friendly ones.
MAC cannot both sell in China and care about animal welfare, according to this Twitter user. It brings up a great point.
Is Sia moving the blame off of MAC and onto China with her comment? I'll let you decide for yourself.
Education is key.
I'll just be sitting here sipping my tea and waiting to see how this one plays out.