Netflix's 'Sierra Burgess Is A Loser' Is The Body Positive Teen Rom-Com You've Been Waiting For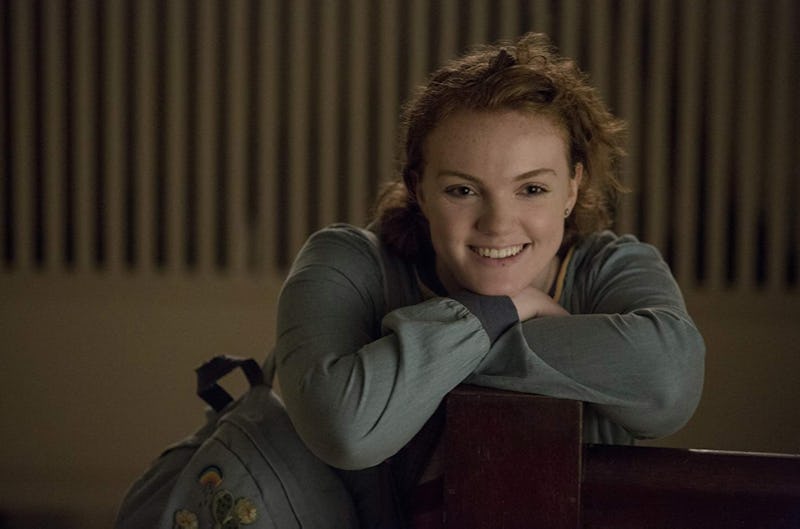 Netflix
This has been a huge year for Netflix's original teen romantic comedies. After the recent success of the young adult novel adaptation To All the Boys I've Loved Before, Netflix is delivering yet another YA rom-com with Sierra Burgess Is a Loser. In this modern take on Cyrano de Bergerac, Stranger Things' Shannon Purser plays the titular character, who begins a romance via text with her crush, who mistakenly thinks she's Veronica, the most popular girl in school. But what makes this take on the classic story so special is the powerful way it handles body image, by having a plus-sized protagonist who goes through a relatable journey of self-acceptance.
This theme resonates strongly with Purser, who has used social media as a platform to spread body positivity and has openly discussed her own struggles. "[The film's message of body positivity] is something that's very important to me because I don't think this movie was actually written for a plus-sized woman," says Purser, speaking over the phone to Bustle. "It was written about a teenager who's struggling with body image, so I do feel very grateful that they gave me this opportunity, because I feel like it helped me shed a light on body positivity and how it feels to grow up and have a different body than the one that, portrayed in pop culture, is seen as this ideal."
Part of what makes Sierra so relatable is how even though she has supportive parents who have taught her to build up a confident persona, she still deals with the societal pressure of having to look a certain way. In one emotional scene, Sierra bursts into tears and tells her mom how challenging it is to be plus-sized and how it's caused her to feel insecure. "Do you have any idea what it's like to be a teenage girl and to look like this? Of course not, because you're tiny!," Sierra shouts.
It's a moment that'll resonate with anyone who has struggled with body image issues, including Purser. "It was a very emotional scene because it is something that is very relevant to my life," the actor recalls. "It's how I felt a lot growing up, this idea that I won't be loved or that I'm not good enough because of how I look. So there definitely was something very intimate about playing that part and that scene in particular."
Over the years, Purser says she's gone through a complicated journey of self-acceptance. "As I've grown up and as my confidence has grown in myself, I'm at the point in my life where I realized that my body doesn't define me and that it is beautiful the way that it is," she explains. "But I'm very grateful to be a part of that movement, to help encourage young women to look at their bodies with more love.
In Sierra Burgess, out Sept. 7, Sierra initially keeps up the charade of pretending to be Veronica, thinking her crush Jamey will never love her as she is, due to her looks. But by the end (spoiler alert!), Jamey has completely fallen for Sierra as herself, not as Veronica. The concept of changing who you are to gain your happy ending is a prevalent theme in so many teen rom-com classics, from Grease to She's All That, but the message in Sierra Burgess is clear: a person who truly likes you as you are will not require for you to change yourself superficially.
And for Purser, having Sierra stay true to who she is instead of changing herself for a boy is part of what she admires most about the movie. "I love that there is no big makeover scene, where she has to get 'hotter' in the end or she has to lose weight to be attractive, because I think that's crazy," says the actor. "I hope that every young person watching it holds out for a relationship like that, where they feel comfortable being who they are and where they feel loved and accepted and cherished as they are."
Even though the body positivity movement is growing steadily, there is still a major lack of plus-sized protagonists in mainstream rom-coms (Hairspray is the rare exception). As such, Sierra's story is truly remarkable, and Purser hopes the character will instill confidence in those who resonate with her struggles. Says the actor, "I really just hope that the young people who watch this will find a little bit of faith in themselves and will find the courage to be honest and to realize that the most meaningful relationships [come] from when you are being 100 percent yourself and when you learn to love and accept yourself the way that you are."
Sierra Burgess tackles female empowerment unlike any current teen rom-com, showing that the best person you can be is yourself — no matter what anyone else thinks.