Simone Biles Called Out The New President Of USA Gymnastics For An Anti-Nike Tweet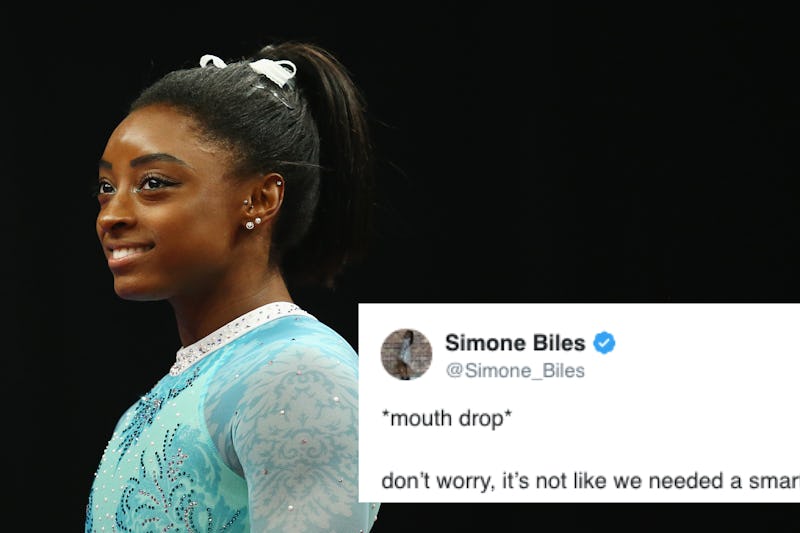 Tim Bradbury/Getty Images Sport/Getty Images
After only a day on the job, new interim USA Gymnastics president Mary Bono had to make her first public apology. Gymnastics superstar Simone Biles called Bono out for an anti-Nike tweet, which became the latest moment of bad publicity for the beleaguered organization.
Bono, once a Republican congresswoman from Southern California, replaced former USA Gymnastics President Kerry Perry on Friday, according to ABC News. After Nike announced its new ad campaign featuring Colin Kaepernick, who famously started the kneeling protests in the NFL, Bono posted a tweet showing a picture of herself coloring over the Nike logo on a pair of shoes, ABC News reported. Biles — who is sponsored by Nike — responded to Bono's post in a tweet on Saturday.
"Don't worry, it's not like we needed a smarter usa gymnastics president or any sponsors or anything," Biles wrote, along with the phrase "mouth drop" in asterisks.
Bono then deleted her original tweet and posted a series of apology tweets instead.
"I regret the post and respect everyone's views & fundamental right to express them," Bono wrote on Saturday. "This doesn't reflect how I will approach my position @USAGym I will do everything I can to help build, w/ the community, an open, safe & positive environment."
An hour after her first apology, Bono tweeted again, reaffirming her commitment to gymnastics as a sport.
"Hey all, I know the Tweet will live on but have taken it down to move the focus to all I hope to accomplish on behalf of a great sport & those who are dedicated to it," she wrote.
She soon tweeted again, writing, "I look forward to telling my gymnastics story, my vision for the future of the sport and why I wanted the job."
Biles previously criticized Perry for not speaking up more about the sexual abuse scandal rocking the organization. In the 2016 Rio Olympics, Biles won four gold medals and a bronze, and USA Gymnastics tapped her to lead the 2018 world championship team shortly before the announcement about Bono came out, ESPN reported. Biles will be entering this year's tournament with three world all-around championships under her belt.
Nike's ad campaign featuring Kaepernick led to huge publicity, sparking both boycotts and a $6 billion increase in the company's value overall, as Vox reported. The most visible part of the boycott, though, as BuzzFeed wrote, was actually just people destroying or somehow defacing Nike products they had already bought — like what Bono did with her Nike golf shoe.
Kaepernick's protests have been divisive from the outset, with the Trump administration coming down hard on the NFL players who participated, and then eventually on Nike once the ad premiered in September, as ESPN reported.
"I think it's a terrible message and a message that shouldn't be sent," Trump told the Daily Caller after Nike released the ad.
Numerous other athletes, including Biles, have come out in support of both Nike and Kaepernick.
"He's done a lot for the African-American community, and it's cost him a lot. It's sad," Serena Williams said of Kaepernick, according to ESPN. "But he continues to do the best that he can to support."