Simone Biles Dominated US Championships, & Her Outfit Had A Message For Survivors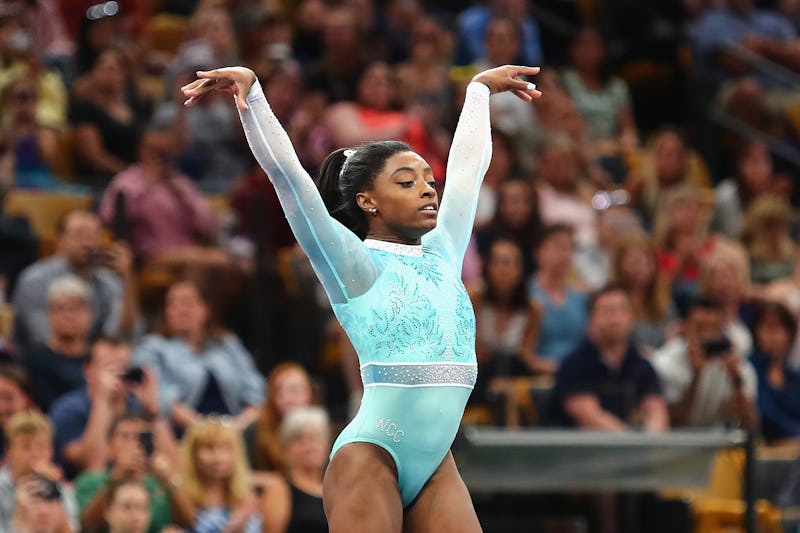 Tim Bradbury/Getty Images Sport/Getty Images
While hundreds of women have come forward as victims of a former USA Gymnastics team doctor, the organization has had trouble articulating their position on the issue in a way that made the victims feel fully supported. USA Gymnastics' current brightest star, though, hasn't had those same issues. Simone Biles' leotard at the U.S. Gymnastics Championships sent a powerful message to survivors of sexual abuse: she stands with them.
Biles revealed in January that she also was a victim of Larry Nassar, joining several of her teammates in coming forward. In November, Nassar was found guilty of multiple sex crimes and child pornography charges, and he was later sentenced to a total of at least 140 years in prison. Since then, though, USA Gymnastics has not managed to effectively address the problem, survivors say, which left hundreds of gymnasts with lasting psychological trauma. In a question and answer session on Sunday, the organization's president and CEO, Kerry Perry, was criticized for still not saying anything specific or offering the survivors anything more than platitudes, even after Biles had criticized USA Gymnastics for its response.
"I want [Biles] and all of our athletes to know we have their best interests at heart," Perry said in response to a question about abuse in gymnastics, according to the Concord Monitor. "I would hope that they know that I and all of the leaderships have their best interests in mind."
While Perry's statement lacked the clarity so many gymnasts desire, Biles laid out a dominating performance in teal, the color that has come to represent solidarity with and among victims of Nassar. Previously, Biles had criticized USA Gymnastics — and specifically Perry — for not speaking publicly about what took place.
"Hopefully it's going in the right direction, but nobody can know until Kerry Perry speaks up. So it's kind of hard," Biles said last week, USA Today reported, in answer to a question about whether the organization was addressing the issues. She also said that Perry should make public statements more often, because, as Biles said, "It's her job."
Her teal leotard was a statement that all of the victims and their allies would recognize, though, and then she even went further by verbalizing the sentiment as well.
"It is for the survivors," Biles said, speaking with ESPN. "I stand with all of them, and I think it's kind of special to unite."
According to the Baltimore Sun, Biles' performance was special in ways besides just how it may have united people. This was her fifth national championship, making her only the second woman to win the all-around championships five times. She posted dominating scores, winning every single event in addition to the all-around — and becoming the first woman in 24 years to do that. During the first day of competition, NBC Sports wrote that Biles achieved the highest overall score since the time she set that record, back in the 2016 Rio Olympics.
Her next chance to wow the field will come in Qatar at the world championships, where USA Today wrote that there's a very real possibility that she could win all of the available golds again. There's no word on what color she'll wear at that competition, but her teal at the U.S. championships already made it clear exactly who she's fighting for.