Simone Biles Explained How It Felt To Speak Out About Larry Nassar's Abuse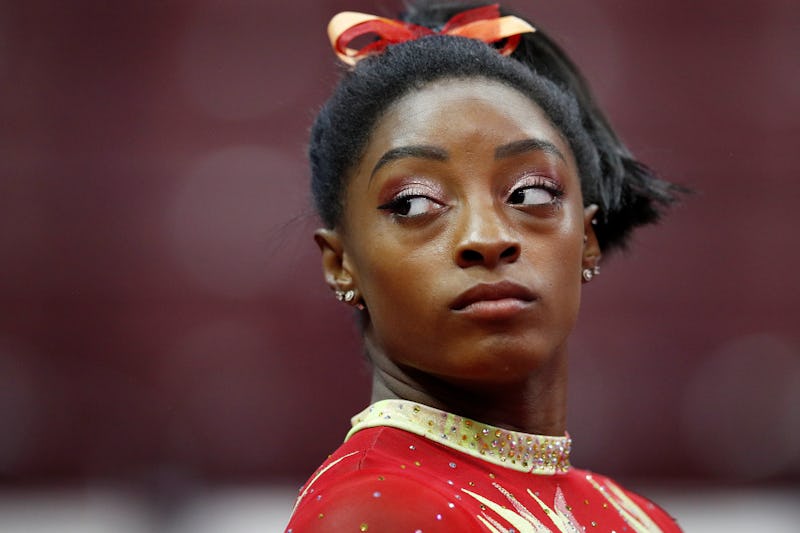 Joe Robbins/Getty Images Sport/Getty Images
Coming forward with allegations of sexual misconduct is a terrifying experience in itself, with no guarantee that one will be believed or even treated with basic respect. And in many cases, sexual abuse survivors are dismissed by those in power. For Olympic gymnast Simone Biles, speaking out about the abuse Larry Nassar committed toward her was difficult, she told the BBC on Wednesday, but ultimately liberating.
Early in January this year, Nassar was sentenced to prison for up to 175 years after more than 150 women alleged that he sexually assaulted them in his capacity as a doctor at USA Gymnastics and beyond. Biles was among the gymnasts who alleged he abused her. In comments to the BBC published on Wednesday, Biles said, "It was very hard [to speak out] but I figured out that I can tell my story then it might encourage other people to tell theirs."
The Olympic gold and bronze medalist, who competed in the World Championships in Qatar in October, added that she wanted to be a role model for those still hesitant or afraid to speak about their own experience with sexual abuse.
"I think it was very important to support the fellow gymnasts it had happened to and to speak up for what you believe in and say 'I don't think this is right' and I hope I gave them courage to come out and tell their stories one day if they want to," Biles told the BBC.
"People do look up to me so if they can see Simone can be strong enough then hopefully I can too," she added, "and that's the message I wanted to give."
While speaking to the BBC, Biles said she thought the word "empowering" was "an overused" descriptor. But she added that she did experience the feeling of having overcome something terrible when she came forward to speak of her experience with sexual abuse.
She also thanked the judge who presided over the Nassar case, Rosemarie Aquilina. Biles said Aquilina was "absolutely amazing on her part, so we were very proud of her, and it is kind of a relief because [Nassar] got what he deserved and he almost got as many years [in prison] as [he abused] girls."
Biles' interview with the BBC carries a decidedly different tone than when she first spoke up in January. During that month, Biles tweeted about her harrowing experience. "Most of you know me as a happy, giggly, and energetic girl," she said in a note. "But lately, I've felt a bit broken and the more I try to shut off the voice in my head, the louder it screams. I am not afraid to tell my story anymore. I, too, am one of the many survivors that was sexually abused by Larry Nassar."
On Wednesday, months later, the Olympic athlete seemed much more at ease. "It's kind of crazy because I can't be the one to save everything," she said, "but as long as I do my job and everyone is pleased maybe I'll save something."