Simone Biles Puts Gabby Douglas On Blast For Her Response To Aly Raisman's Tweet About Victim Blaming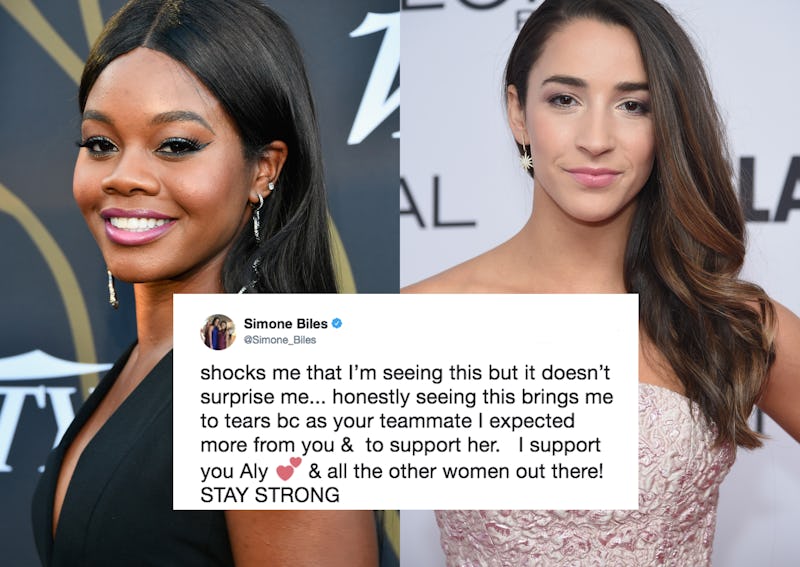 Getty Images/Bustle
Fans aren't happy with Gabby Douglas right now. On Friday, Aly Raisman spoke about supporting sexual abuse victims on Twitter, concluding with a request for everyone to stop victim blaming. Douglas responded in a since-deleted tweet by saying that it was women's "responsibility" to dress modestly and act classy — a response that struck many fans as tone deaf and that led to the gymnast being called out by just about every corner of the internet. In fact, Simone Biles slammed Douglas' response to Raisman's tweet with a message of support for the latter and for all survivors.
"Just to be clear… Just because a woman does a sexy photoshoot or wears a sexy outfit does not give a man the right to shame her or not believe her when she comes forward about sexual abuse. What is wrong with some of you?" Raisman's tweet reads. "AND when a woman dresses sexy it does not give a man the right to sexually abuse her EVER... I will not put up with any woman or girl being shamed for wanting to wear a skirt, dress, etc. I do not tolerate it. Are we clear?"
In response to this and Douglas' tweet about it, Biles wrote, "seeing this brings me to tears bc as your teammate I expected more from you & to support her. I support you Aly & all the other women out there! STAY STRONG." Of course, Douglas has since apologized for the way that her response came across. In a new tweet, she wrote, "i didn't correctly word my reply & i am deeply sorry for coming off like i don't stand alongside my teammates. regardless of what you wear, abuse under any circumstance is never acceptable. i am WITH you. #metoo."
However, the damage appears to have been done, as many fans are continuing to express their shock and outrage that she would imply that the onus is on women not to "entice the wrong crowd," something which struck fans as being the exact kind of victim blaming that Raisman was warning against.
Raisman's initial tweet comes in the wake of the gymnast opening up about the sexual abuse she has allegedly suffered during her career. On Monday, she spoke about allegedly being molested by team doctor Larry Nassar, claiming, "I want people to know, that I really didn't know what was happening to me. He was a doctor and he told me that his treatment would heal all of my injuries." Nassar is currently awaiting sentencing after pleading guilty to child pornography charges in July 2017 and has not commented on any of Raisman's current allegations — though he did deny similar claims from Olympic medalist McKayla Maroney in October 2017.
The fact that Raisman's tweet seems to be tied to her own current situation is one part of why many fans seem to be so angry Douglas; some view her initial response as both a failure to support all victims of abuse and a failure to support her own teammate while she is in the process of detailing her own alleged abuse. This element is present in Biles' tweet, when she expresses her disappointment with Douglas for this perceived lack of support.
Of course, not all fans are coming down harsh on the gymnast. Some fans have accepted that her tweet was made in ignorance and that she should be allowed to learn from her mistakes.
Whatever it is that Douglas originally intended to say with her tweet may not have come across the way that she wanted to, but the fact that she was so quick to understand how her words had caused harm and apologize for that is at least something.
If you or someone you know has been sexually assaulted, call the National Sexual Assault Telephone Hotline at 800-656-HOPE (4673) or visit online.rainn.org.