Prepare To Hear These Slang Words EVERYWHERE In 2018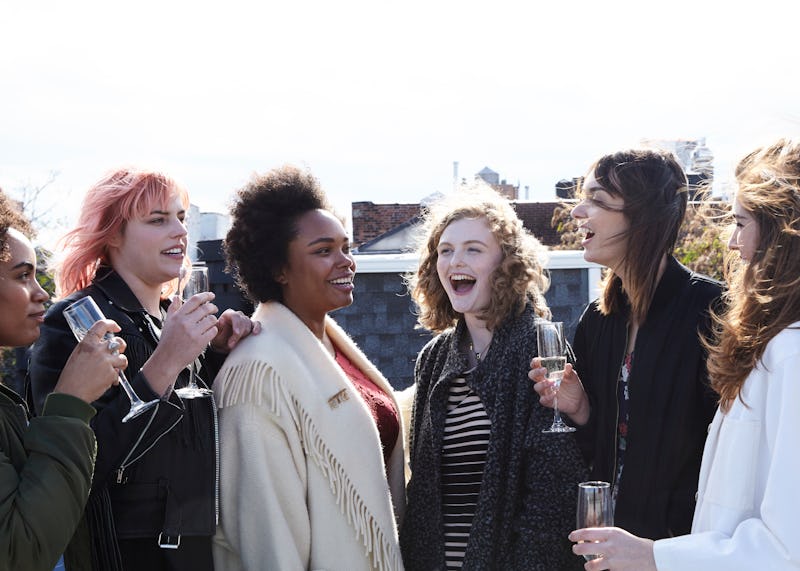 Ashley Batz / Bustle
There's no denying that the internet has a huge impact on how people communicate. Every year, there are new internet acronyms, abbreviations, and phrases. In 2013, linguists even declared that the internet created a new prepositional phrase for the English language in how the word "because" has evolved (because, linguistics). And while keeping up with new internet slang may seem impossible (NGL, I just learned what "JFC" stood for two days ago), some people have predicted what words will be popular this upcoming year. Bustle spoke with internet linguist Gretchen McCulloch, an internet linguist, about her slang word predictions for 2018 that you should prepare to hear even more in the new year.
"Words become popular when people have reason to use them," McCulloch tells Bustle. "2017 was a year filled with moments related to politics, technology, fitness and beyond. If you look at where these words stem from, you can see that they tie back to key cultural moments, showing that people are incorporating them into their daily conversations."
Every social media site, from Twitter to Reddit, has its own unique lexicon, but memes — viral pictures of cultural or easily recognizable symbols with accompanying phrases — are universal on the World Wide Web. According to McCulloch, the meme-famous words "Puppo" and "Doggo" aren't going anywhere in 2018, but will instead become even more relevant. "It's no secret that the world in a somewhat unsettled state and that societal issues are at an all-time high. In the 2017 year in particular, to escape the madness, it was common for people to focus on social good and all of the warm and fuzzy feels, which even translated through language," explains McCulloch. "Similar to that of birdie and fishy — Puppo and Doggo are some new animal word trends coming to fruition."
Not only will Doggo memes remain a mainstay of the internet in 2018, but so will fitness slang, as epitomized by the word "swole." Social media platforms like Instagram have somewhat revolutionized the world of fitness, and McCulloch says the accompanying lingo isn't falling out of trend any time soon. "Wellness has become bigger, broader, and cooler. And, most — if not all — are approaching fitness in a whole new way," she explains. "Individuals are not only focused on getting fit, but getting 'swole,' and we only expect to see more swoleness in 2018." So even if you're not a fan of the slang word "swole," be prepared to see it all over your Insta feed in the new year.
For Twitter users and beyond, expect to see more and more people using the term "clapback." McCulloch tells Bustle the origins of the slang term are from the 2003 song "Clap Back" by Ja Rule, but celebrities like Chrissy Teigen (aka, Twitter queen) have popularized the term with their witty responses on social media. "Not only on Twitter and not only from Chrissy, but people of all walks of life are building up the confidence to have voices, stand up for what they believe in and 'Clapback,'" adds McCulloch. From politics to human rights, McCulloch predicts people will keep speaking up about the issues that are important to them.
Lastly, McCulloch believes that "Bitcoin" will only become more recognizable in 2018, thanks to the ever-increasing popularity of the cryptocurrency. "Bitcoin started in 2015 and as the future is digital, it's anticipated that this new kind of money and word will only become more prominent in years to come." Bitcoin has dominated the news in recent weeks, because the currency has experienced a steep and steady rise in value— but many financial analysts are warning the digital currency may collapse soon. Even if you don't personally invest in Bitcoin or follow the cryptocurrency closely, expect to come across this term online pretty often.
Though the language on the internet is always evolving, McCulloch's predictions may help you get a grasp on what you should expect to see in 2018, across the internet and on Words With Friends, which will make the words playable beginning in 2018. Those who aren't as internet savvy can still be in the know, just by simply paying attention to what linguists are seeing, and what words or phrases are trending.