A Judge Just Sentenced The Second Girl In The Slender Man Stabbing Case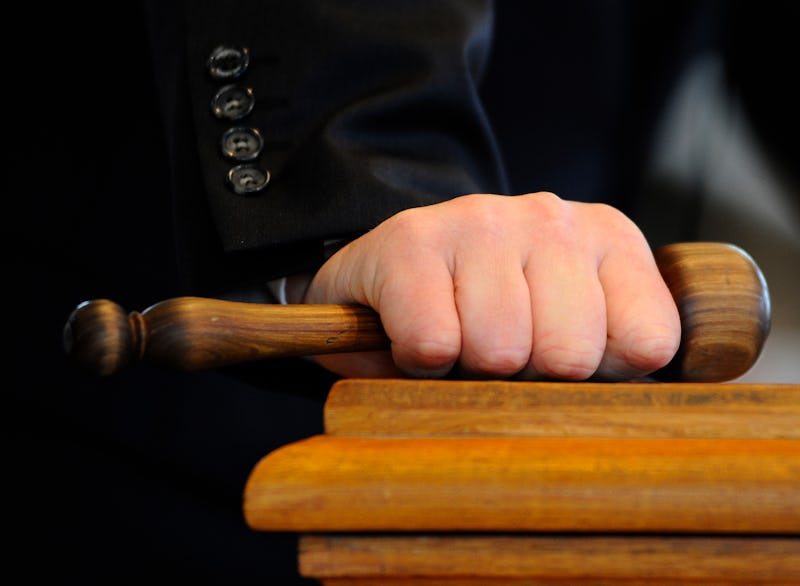 Alan Crowhurst/Getty Images Sport/Getty Images
A 15-year-old Wisconsin girl has been sentenced to 40 years in a mental institution for a "Slender Man"-inspired stabbing to which she pleaded guilty in October. Morgan Geyser was 12 years old when she stabbed Payton Leutner, a 12-year-old classmate of hers, in a suburban Wisconsin park. Geyser later told investigators that she carried out the attack to please the Slender Man, a fictional horror character who's popular in certain online forums.
"This is an issue of community protection," Judge Michael Bohren said while handing down the sentence Thursday. "This is an issue to be sure there's no recidivism. This an issue to ensure that Ms .Geyser doesn't have a revolving door situation, where she ends up being in the community, and then things fall apart, and she comes back [to court]."
Geyser had pleaded guilty to attempted first-degree intentional homicide in October as part of a deal to avoid prison time. Although her defense team attempted to prove that she no longer exhibited psychotic symptoms, a doctor who interviewed Geyser testified during the trial that releasing her to "a less-restrictive environment at this point would constitute a substantial risk of bodily harm to herself, to others, or to property."
"This is not a close call," Dr. Brooke Lundbohm said during the trial, adding that as recently as September, Geyser said she was hearing voices from an imaginary person she called "Maggie."
Geyser and a co-defendant, Anissa Weier, both lured Leutner into the park, according to investigators. Geyser proceeded to stab Leutner 19 times while Weier egged her on, and both girls later told investigators that they hoped the attack would allow them to be "proxies" of the Slender Man.
Leutner survived the attack, crawling out of the park and flagging down a nearby bicyclist for help. Weier pleaded guilty to attempted second-degree intentional homicide in September, and was sentenced to 25 years in a mental hospital in September.
During her testimony, Lundbohm said that Geyser's mental state appeared to improve when she was taking medication and receiving regular treatment at a mental institution after the attack. But when transferred to a standard juvenile detention facility, Lundbohm said, Geyser would begin to slide back into psychosis.
"Everyone who's in the legal system who's dealt with mental health issues from an NGI standpoint or from a civil commitment process know that individuals' mental health issues — as well as they're medicated, as well as they're taken care of — frequently come back, because they decompensate." Bohren said during the sentencing. "The court has to be sure that when that happens, there's control [and] there's supervision."
Slender Man (or "Slenderman," as it's sometimes styled) has been a meme in online horror communities since its creation in 2009. Like all memes, its exact form changes and shifts depending on the context, but the basic gist remains the same. Broadly speaking, Slender Man is said to be a tall, skinny man in a nondescript black business suit with telepathic powers and the ability to possess humans.
Although most of his backstory and motivation is left intentionally ambiguous, it's usually implied that Slender Man has nefarious intent. He's frequently featured in Photoshops and other visual art, and was the antagonist in Marbel Hornets, a 2009 YouTube series that was eventually adapted into a feature-length film.
Slender Man is also featured in many short horror stories, most notably on the website Creepypasta. After the stabbing in Wisconsin, Creepypasta released a statement clarifying that Slender Man is not real, and that the attack "does not represent or attribute the Creepypasta community as a whole." Creepypasta also set up a fundraising page for Leutner, and successfully raised over $6,000 to pay for her recovery.