There's Another Shopping Holiday This Week & It'll Make You Feel Better Than Black Friday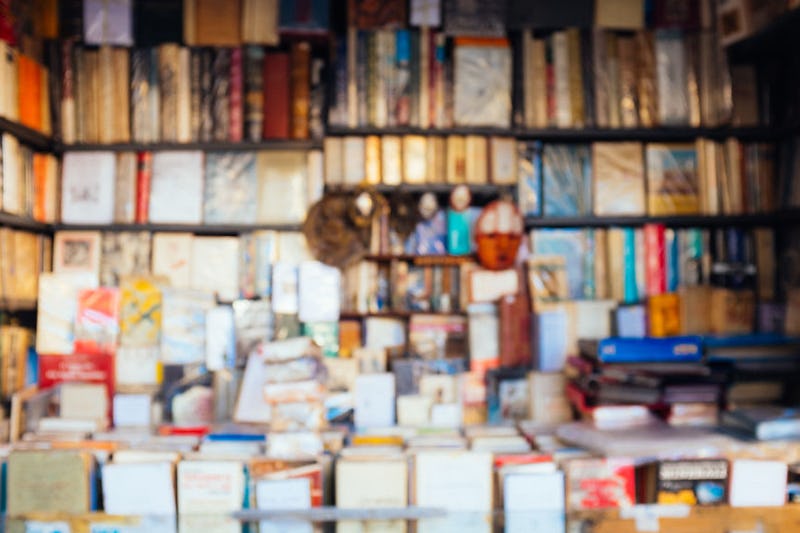 Good Vibrations Images/Stocksy
From stuffing your face with turkey to stuffing your shopping cart with gifts for friends and family, the first weekend of the holiday season can feel jam-packed with over-consumption. Now add in all those limited-time Black Friday and Cyber Monday deals on big-ticket items like computers and tablets and televisions, it can all start to feel a little impersonal and a whole lot less magical. Thankfully, there is the somewhat lesser known Small Business Saturday in between all the madness — and for readers, this year's indie bookstore line-up of events will have you more excited than ever to stack your shelves with new reads.
For those unaware, this Nov. 24, is a time to celebrate and support small businesses and all they do for their communities — a welcome break from online and big-box store shopping, and one that will make you feel great about the people and programs your money is supporting. Beyond that, small bookstores are planning fun events, discounts and freebies, and are chock-full of knowledgeable staff members who can give you personalized book recommendations for every single person on your list. It's no secret that indie stores need support more than ever in order to thrive, and Saturday's events are the perfect excuse to do just that.
"Since we opened, Small Business Saturday has always been our busiest day of the entire year," Bea and Lea Koch, owners of The Ripped Bodice bookstore in Culver City tell Bustle via email. "We completely transform the store, unveiling our holiday window display (which co-owner Leah works very hard on all year) and dozens of new products especially for the holiday season. A lot of our regulars make it a point to stop by and many of them bring family visiting from out of town. We really enjoy kicking the holiday season off with a bang."
Chances are high that no matter where you are in the U.S., your local indie bookstore will be participating in Small Business Saturday in one way or another. Stores like The Bookworm in Omaha will be having special readings and signings, along with the chance to win a freebie tote bag and enter a raffle for a $50 gift card. Taylor Books in Charleston will be having a raffle for a Taylor Books gift basket, along with freebie totes and t-shirts depending on how much you spend. Best yet, all of their used books will be 50% off. And Left Bank Books in St. Louis will be providing great donation incentives like cocktails and a Blind Date with a Book to take home with you. Be sure to call in to your local bookstore or check out their website to see what special events and deals they'll have this weekend.
Small Business Saturday is also IndiesFirst day in the bookselling world, an initiative started by the American Booksellers Association. Stores like Parnassus Books in Nashville will not only have authors (including their co-owner Ann Patchett) on hand to sign books and take part in their evening holiday kick-off party, they'll also be participating in IndiesFirst events.
"This Saturday is IndieNashGiving. The concept is simple, but it's a project we feel strongly about and are very proud to support," a spokesman for Parnassus Books wrote via email. "Every year on Small Business Saturday, a group of Nashville businesses pledges to give a portion of their sales to a nonprofit of their choice. What this means is that shopping locally not only supports the local economy, but also goes directly back into helping our community."
Whether you're looking for deals on books or a chance to take part in community events, Small Business Saturday is the perfect day to get off the internet and into a bookstore. Take a list of some of the best books of the year along with you, take some friends along with you, and don't forget to pick something up for yourself — after all, today, giving to yourself is part of giving back.