'Smallville' Actor Allison Mack Was Just Arrested In Connection To An Alleged Sex Cult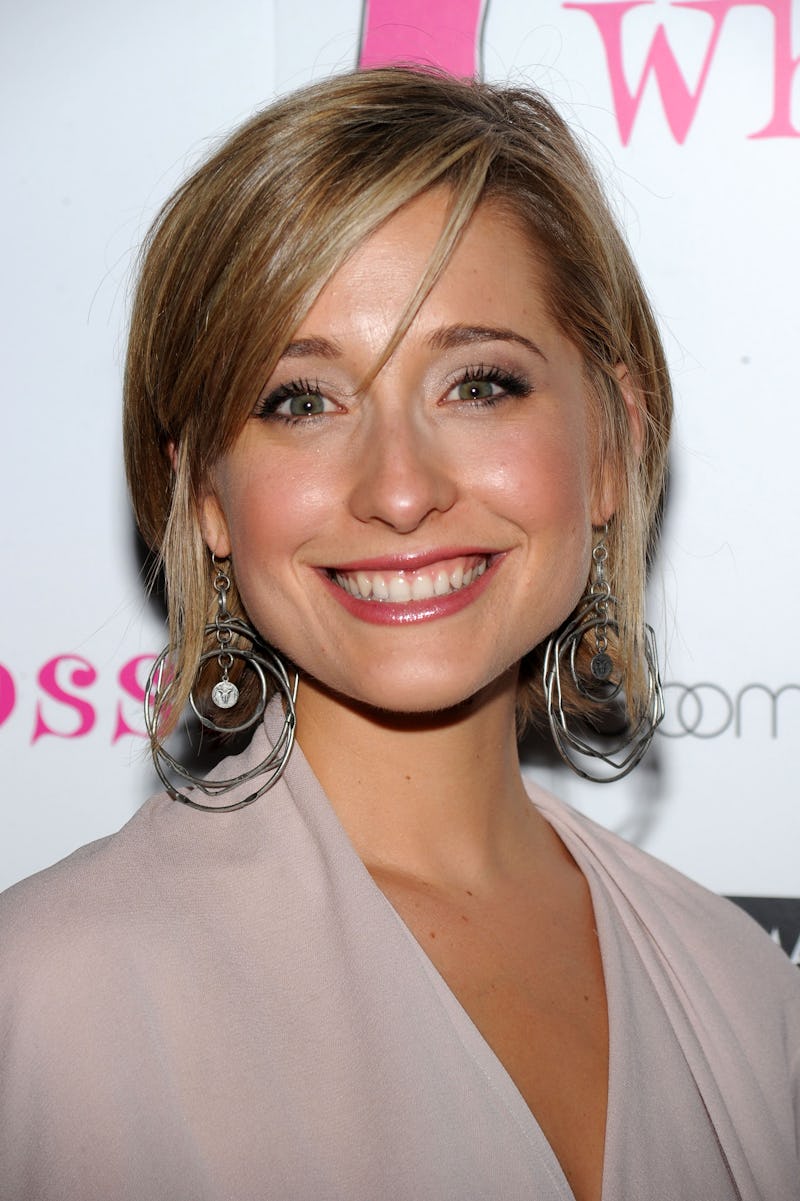 Bryan Bedder/Getty Images Entertainment/Getty Images
On Friday, April 20, Smallville actor Allison Mack was arrested for her alleged connection to a sex cult called Nxivm. As reported by NBC New York, Mack faces trafficking and forced labor charges for her alleged involvement with recruiting reported sex slaves for the alleged cult leader Keith Raniere. (Bustle reached out to Mack's rep for comment, but did not receive an immediate response.)
If charged, the actor and Raniere could face anywhere from 15 years to life in prison. According to NBC, prosecutors said Mack would allegedly force women to have sex with Raniere by allegedly threatening to release incriminating information about them. Mack was indicted by a grand jury on the charges of sex trafficking, sex trafficking conspiracy, and forced labor conspiracy, as reported by USA Today. These charges are in connection to her alleged role in DOS, a group led by Raniere that claimed to be a women's empowerment sorority.
In a public statement posted to their website, Nxivm has denied the allegations. The statement reads in part,
"Recently a media outlet unfoundedly, and incorrectly, linked NXIVM corporation, and its related companies, with a social group. The allegations relayed in the story are built upon sources, some of which are under criminal investigation or already indicted, who act as a coordinated group. This story might be a criminal product of criminal minds who, in the end, are also hurting the victims of the story.
Unfortunately, this media outlet fell prey to these coordinated, criminal efforts. NXIVM was not able to participate in this story because it painfully held true to the due process of our free world justice system.
We will explore any and all legal remedies to correct these lies."
Raniere was arrested by the FBI in Mexico on March 27, and he was charged with sex trafficking. As reported by Newsweek, William Sweeney, Jr., FBI assistant director for the New York Field Office said in a statement after Raniere's arrest, "These serious crimes against humanity are not only shocking, but disconcerting to say the least, and we are putting an end to this torture today."
While Nxivm is based in upstate New York, Raniere allegedly fled the country after The New York Times ran a story in 2017 in which defectors from DOS alleged that the organization was a cover for a sex cult. Raniere is currently being held without bail and is set to be arraigned at a later date, according to USA Today.
Mack, who is best known for playing Chloe Sullivan in The WB's Smallville, was reportedly second in command to Raniere, who former members of DOS claim was called "The Vanguard." According to NBC, upon joining the group women were reportedly forced into giving up collateral, and they were allegedly branded in the pubic region with Raniere and Mack's initials. NBC also reported that prosecutors also claim that Mack was allegedly responsible for recruiting new slaves into DOS and that she would allegedly force them into having sex with the leader in exchange for "financial or other benefits."
NBC reported that the official complaint against Raniere details the alleged branding ceremony. "During the branding ceremonies, slaves were required to be fully naked, and the master would order one slave to film while the other held down the slave being branded," the complaint reportedly reads.
In 2017, former Nxivm member Sarah Edmondson became one of the first people to speak out against the group. According to the Times, she was drawn into DOS after a meeting with a high-ranking member named Lauren Salzman. Salzman reportedly told Edmondson that DOS was a way for women to gain enlightenment and become influencers. The Times reported that Edmondson alleged that Salzman said DOS "had been formed as a force for good, one that could grow into a network that could influence events like elections. To become effective, members had to overcome weaknesses that Mr. Raniere taught were common to women — an overemotional nature, a failure to keep promises and an embrace of the role of victim."
While it's unclear when Mack first became involved with Nxivm, her personal website reads:
"Over the course of several years, Mr. Raniere mentored Allison in her study of acting and music. As such, she has developed a deep connection to the nature of humanity as it relates to acting as an art form, and a tool for personal evolution.In 2013, Mr. Raniere worked with Allison and a small group of equally skilled and dedicated professionals to develop a curriculum that is currently taught through a private arts academy, The Source. There Allison serves as president and is one of its top trainers. The Source provides a unique toolset and innovative exercises to increase one's mastery of the art of compassion, utilizing the disciplines of acting and expression."
Mack and Raniere are currently awaiting the next steps by law enforcement.