SmartGlamour's #AllMeansAll Campaign Is Pretty Rad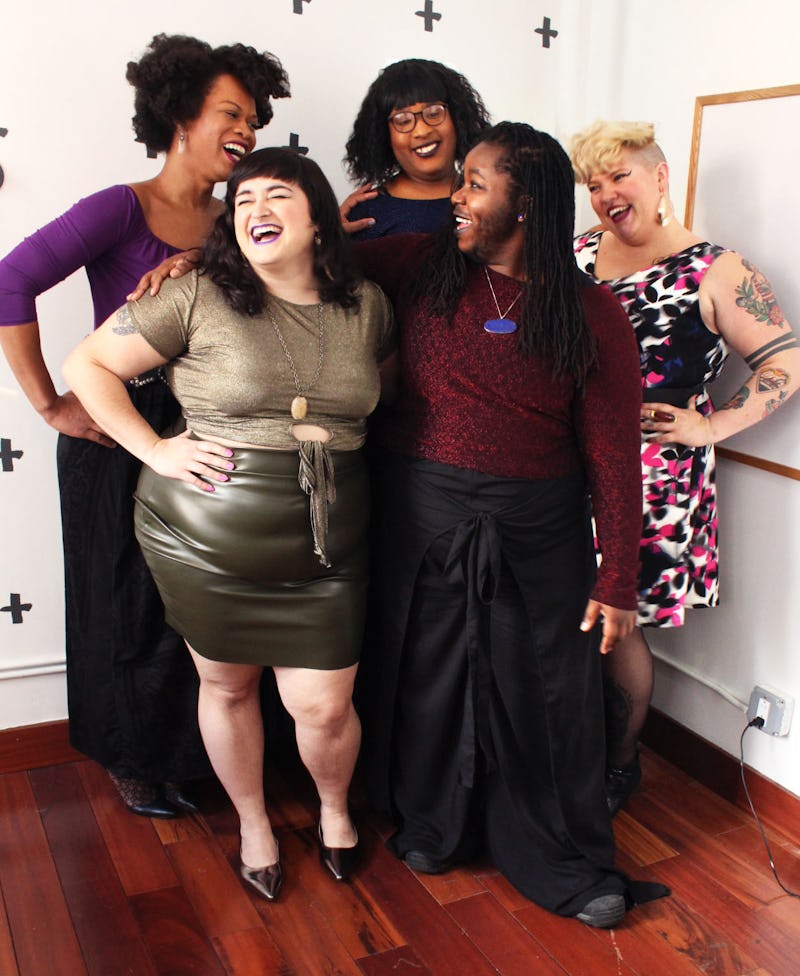 Inclusive clothing line SmartGlamour kicked off 2017 with the first installment of their year long #AllMeansAll campaign, which will feature models from many different marginalized groups. The first collection of imagery went live on Jan. 10 and exclusively features transfeminine, nonbinary, and genderfluid models.
SmartGlamour has used the hashtag #FashionForAll since its launch in 2014, and according to its site, "We strive to feature people of all shapes, sizes, heights, weights, ages, ethnicity, ability, and identity."
The brand's clothes are all handmade, and the company offers sizing customization from XXS to 6X "and beyond."
#AllMeansAll isn't the first time SmartGlamour has employed trans models, but it is the first time the brand is specifically highlighting them. In an email to Bustle, Mallorie Dunn, SmartGlamour's founder and designer, says, "[W]e've never felt the need to highlight their identity to anyone. We never want our models to feel as if they are being exploited for their differences."
But with the current political climate, Dunn says she feels a responsibility to enable vivid representation and to accurately reflect the diverse makeup of "humans in the world."
Dunn came up with the idea for #AllMeansAll and brought it to her assistant, Nikki Padula, who identifies as a queer nonbinary femme, and who put together much of the campaign.
"Mallorie actually had the original idea for the shoot, which, can I say, is amazing — that as a straight cis white woman, she is such an incredible and real ally that she would see the dire need to have a photoshoot like this, especially as we move into such a scary time, in terms of personal and political freedoms," Padula tells Bustle. "I think I shrieked in excitement and said that I was obviously on board and could think of a million people I wanted to cast in it."
Padula cast about 75 percent of the models, Dunn says, and then Dunn reached out to a friend at the Anti-Violence Project to cast more models.
Dunn says though SmartGlamour has featured many transfeminine, genderfluid, and nonbinary femme people in shoots, she has had difficulty sourcing models who are not thin, white, cisgender, and abled, which is part of her inspiration for #AllMeansAll.
"What I've realized over the years, is that even when I post castings saying - no body shape/size/ethnicity/age/identity/etc requirements, everyone is welcome, I still receive the majority of responses from straight size, small plus, cis, young women," she explains. "People who are differently abled, who are non binary or trans, who are older than 40, who may have skin discolorations— anything outside of the 'norm' — don't trust that I really mean 'all.' And who could blame them?! There are brands upon brands that use the word all or everyone — but their clothing stops at XL, or 3X if you're lucky. Who only show airbrushed models below a size 18 — who are all under 35 [years old]—the list goes on."
Padula says the statement SmartGlamour is making is a vital one. "[I]t is important for companies that literally give folks access to things as vital as the clothing we put on our backs, to come out and strongly say that they care about us—queer, trans, and nonbinary folks," she tells Bustle. "It's one thing to include the lives of queer people in your photo shoot, TV show, art piece, etc., and have their inclusion go unannounced—and I think this is incredibly important.
"However," she adds, "it's another thing to highlight the lives of those folks, vocally declare their representation in your work, and unmistakably align yourself with them as an ally: it says, we see you, we acknowledge that you are incredible and extraordinary, and we have your back. And SmartGlamour does this consistently."
This first #AllMeansAll installment is near to Padula's heart. "I am a queer nonbinary femme, and I am lucky that I am surrounded in my life by such an amazing body- and fat-positive femme community," she says. "A couple of the amazing things about femmes is that they are 1. Often at the vocal center of change-making forces in the world, and ready to spring into action to support folks doing that work, and 2. They know how to turn a look, am I right?"
#AllMeansAll will be an ongoing campaign throughout 2017, with transgender folks being just one of the groups Dunn hopes to boost. She says future campaign installments will include people of different ethnicities and people who are disabled.
According to The Fashion Spot, the 2017 Spring runways were the most diverse yet, but that works out to just 25.35 percent of models being nonwhite, less than 1 percent of models being transgender, and less than 1 percent of models being plus-size.
With brands like SmartGlamour putting such visible, genuine effort into diversifying fashion by employing and celebrating marginalized people, there's hope that one day, the runways will look like real life.
You can see all the images from the gender installment of #AllMeansAll on SmartGlamour's website.
Images: Courtesy Brand