Smirnoff Just Launched A Moscow Mule Flavor & The Drink Possibilities Are Endless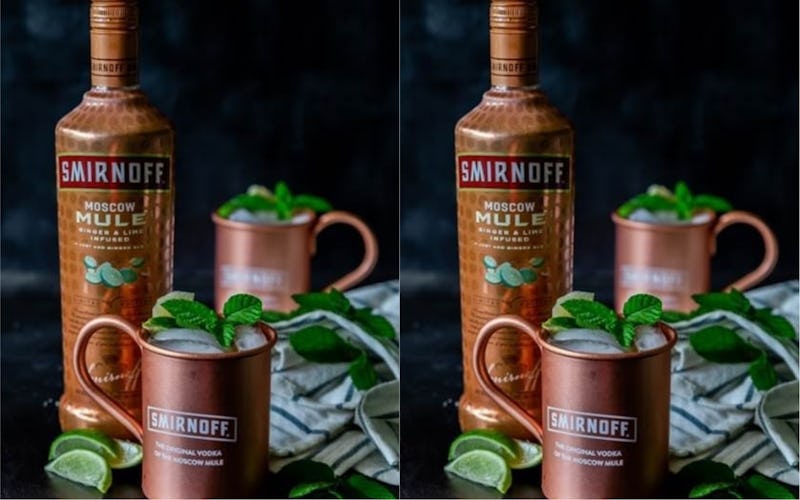 Smirnoff
When you mix ginger beer with lime and vodka, you create something truly magnificent: a cocktail known as a Moscow mule. It is tart, yet refreshing; fizzy, but with less intensity than a soda. During the humid happy hours of summer, you want to sip on something with a kick, but won't leave you feeling extra droopy in the heat. The Moscow mule is all but the perfect drink for the job, except when it comes to assembly. Who wants to take the time to mix a drink? The vodka gods heard your woes — Smirnoff is introducing a Moscow Mule flavor.
Considering the Moscow mule is nicknamed the vodka buck, it's safe to say that Smirnoff is coming at this from an expert angle — if anyone is to be entrusted with turning a mixed drink into a flavor that can be poured straight from the bottle, it's one that has been a top choice used to make Moscow mules for decades. According a press release, Smirnoff Moscow Mule "combines zesty ginger and tangy lime flavors for an exciting take on a classic drink, making it even easier to enjoy one of America's most popular cocktails. No detail was left unconsidered with this creation, either; the bottle it comes in is made of shiny, eye-catching copper just like the iconic mugs the drinks are served in.
According to Smirnoff, "The new flavor makes it easier than ever to create a Moscow Mule at home while hanging out with friends or family. While the Original Moscow Mule cocktail was made with Smirnoff No. 21 Vodka, ginger beer and lime, cocktail adorers everywhere can use the new ready-to-mix Smirnoff Moscow Mule variant to make an even easier version — just add ginger ale or ginger beer." While undoubtedly delicious on its own, Smirnoff also suggests adding watermelon juice along with ginger beer to create a watermelon Moscow Mule.
Summer vacation clearly means nothing to the people with Smirnoff. The company has been on a roll, releasing a variety of new products this season. At the beginning of summer, cans (that's right, CANS) of the brand's Spiked Sparking Raspberry Rosé Seltzer hit shelves. The product shied away from Smirnoff's traditional straight liquor, and instead threw its hat into the ever-popular canned wine category. The sip, as one would expect, tastes like a mix of raspberry and rosé flavor, and each can contains a solid 4.5 percent alcohol.
Smirnoff has also been keeping up with one of the country's most popular TV shows, as well. Last month, Smirnoff announced a partnership with Queer Eye megastar Jonathan Van Ness. In celebration of the legendary NYC Pride March in June, Smirnoff and Van Ness announced a new design of the company's Love Wins vodka bottle. Further, starting next year, Smirnoff is vowing to donate one dollar for every Smirnoff "Love Wins" bottle made to the Human Rights Campaign (HRC). What's better than drinking something from a rainbow bottle? Knowing the money you spent on it is going to a good cause.
The Smirnoff Moscow Muse retails at $14.99 for a 750mL bottle. It is available nationwide, but only for a limited time — so strap on your mules and make sure to grab this one before it runs out!