Smirnoff Just Launched A Sparkling Seltzer Rosé & It Sounds Refreshing As Heck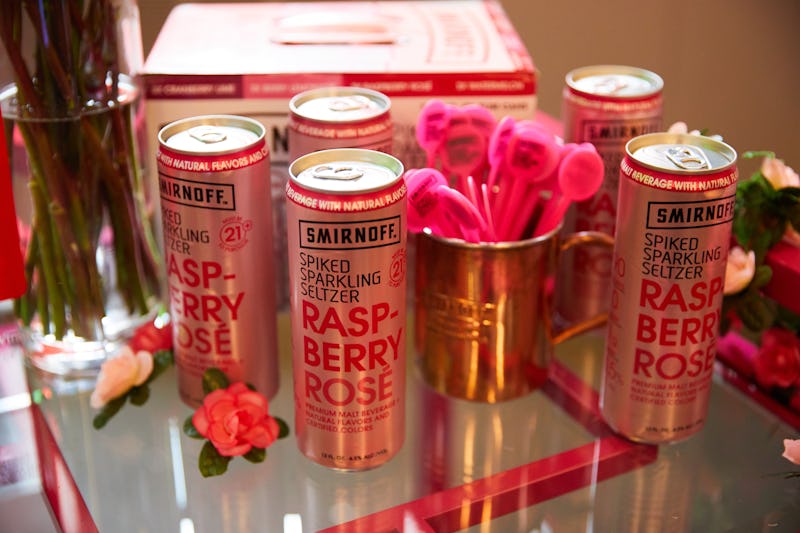 Courtesy of SMIRNOFF
The rising temperatures as seen on our phone's weather app are promising that we have not lost summer to an on-going winter. More proof of the upcoming season? SMIRNOFF's Spiked Sparkling Seltzer Raspberry Rosé is here, and that's enough of a forecast as I need to feel confident that summer is straight ahead. Hot Toddies and Mulled Wine had their moments, but their time in the spotlight has expired. Now is the time for another seasonal beverage to take center stage.
Once the summer sun hits, a chilled can is a security blanket for your sweating palm. If need be, refreshment is in hand. What is better to drink, as the sun turns the back patio into lava, than a little rosé? Not much. Unless it's a sparkling seltzer with hints of raspberry flavor. Which is exactly what SMIRNOFF has created for our backyard barbecues and poolside gatherings.
Danny and Sandy once sang from the bleachers at Rydell High, "summer loving/had me a blast." And that's exactly what you'll be crooning through the season when you cozy up to a can of this beverage. You'll be howling, "those summer nights," just like Danny. Get into the ~mood~ for summer and hit all the right notes with a spiked sparkling seltzer.
The 12-ounce pink can is stocked with bubbles that'll make your tongue feel fancy. Whereas in the winter we weigh ourselves down with hot drinks to stay warm, this summer drink will keep you feeling light. Fittingly, this SMIRNOFF drink is a blend of raspberry and rosé flavor, kind of like if sparkling seltzer and rosé had a baby. Hey, we the rosé consuming public are forever grateful for new ways in which to enjoy summer's beloved beverage.
The malt beverage is 4.5 percent alcohol and retails at $8.99 for a 6-pack of 12 ounce cans. The Spiked Sparkling Seltzer Raspberry Rosé is described to Bustle from a SMIRNOFF spokesperson as "perfect for those summer days when you just want to rosé all day." It's a good thing that rosé-ing all day is listed at the top of a lot of people's favorite summer activities.
Picture yourself in the backyard, allowing the summer breeze to envelope you in its brief refreshment, with a can of hard seltzer in hand to extend the moment of bliss. You can enjoy each sip chilled from the can or poured into a ~fancy~ glass full of ice. To spruce the experience up even more, add a garnish. Pluck a fresh raspberry from the bush in the backyard or make a splash with one of the ruby strawberries you picked from a local orchard. Get creative with your glass of spiked seltzer raspberry rosé.
The summer sipping scene welcomes the debut of this new seasonal beverage. Who would turn away a glass full of something that tastes like barefoot stroll through a meadow in a sundress? As a matter of fact, take that no-shoes-invited stroll. Wear that cute, new linen sundress.
Whether you're heading to a soirée or a casual backyard get together, arriving with a 6-pack of the Spiked Sparkling Seltzer Raspberry Rosé is always a good idea. And hey, if that's not your jam, SMIRNOFF also just announced the launch of a SMIRNOFF ICE Margarita, a citrus-y shakeup of their iconic drink and a nod to everyone's seasonal fave. Either way you slice it, a hard seltzer won't have a hard time fitting in anywhere. Just remember that wherever you go — from serenading the barbecue with show tunes to meadow strolls to fancy dinners — always make it known to drink responsibly.