Smoothie King Just Launched A Prenatal Smoothie — Here's What's In It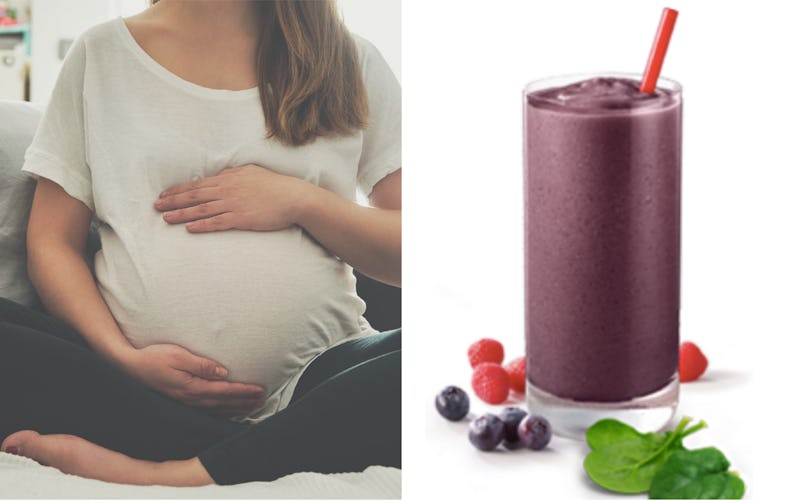 Fotolia; Smoothie King
Are you pregnant? Are you thinking about trying to become pregnant? Good news: You can now get your daily dose of prenatal vitamins in the form of a delicious prenatal smoothie. The Premama Smoothie from Smoothie King is the result of a partnership between the smoothie chain and prenatal nutrition company Premama — and it's available at Smoothie King locations nationwide right this very minute.
Smoothie King has been around for ages — the company was founded in 1973 — but Premama arrived on the scene more recently in 2010. Previously known as Priwater, Inc., the company sought to fill a void pregnant people were experiencing in the prenatal vitamin market: Prenatal nutrition supplements that were easy to take and which didn't have as many side effects (namely, constipation and nausea). Premama's first product was a prenatal vitamin drink mix — and now, eight years later, they have a whole line of products meant to support the nutritional needs of pregnancy throughout the whole process, from pre-conception to birth.
Knowing their history, then, it's perhaps unsurprising that Premama would team up with Smoothie King on a prenatal smoothie. Said Smoothie King VP of Product Development Rocky Gettys in a press release, "Working with Premama was key in creating this smoothie from both a nutrition and credibility perspective — the Premama brand is award-winning, and our smoothie ingredients are the real deal." The Premama Smoothie is made up of bananas, blueberries, raspberries, spinach, apple juice, a protein blend, and a dose of Premama prenatal multivitamin; you can also sweeten the drink with stevia if you like.
Prenatal vitamins contain nutrients that essential for the healthy development of fetuses and babies; as such, they're recommended for both people who are both already pregnant and planning to become pregnant. The two key nutrients the vitamins supply are folic acid and iron — which, according to Baby Center, most people don't get enough of from food alone. As the Mayo Clinic notes, folic acid prevents neural tube defects — defects that affect the brain, spine, or spinal cord — while iron both supports babies' growth and helps prevent anemia. According to Medline Plus, if neural tube defects occur, they're most likely to happen in the first month of pregnancy — which means they may occur before someone has learned that they're pregnant in the first place. Indeed, that's one of the reasons it's recommended that people who are planning to become pregnant begin taking prenatal vitamins prior to conception.
There are other nutrients that can benefit and support pregnancy as well, of course; prenatal vitamins may also include things like calcium, omega-3 fatty acids, copper, zinc, and vitamins E, A, C, reports Healthline. However, note that prenatal vitamins are not regulated by the Food and Drug Administration (FDA); that means that not all prenatal vitamins are going to necessarily have the same things in them. What's more, as Baby Center notes, prenatal vitamins probably won't have enough of everything that's recommended to support pregnancy. For example, they might have some calcium in them, but not necessarily enough, so you'll want to make sure you supplement your calcium intake in other ways; additionally, prenatal vitamins often don't have omega-3 fatty acids in them, even though they're recommended as a major part of prenatal nutrition.
It's not totally clear exactly which nutrients are in the Premama prenatal vitamin used in Smoothie King's Premama Smoothie; Premama has a pretty hefty roster of products, too, so narrowing the field to which one is used in the smoothie is a little tough. However, Premama's basic prenatal vitamin contains iron, folate (the naturally occurring form of folic acid), vitamin B12, vitamin B6, vitamin B2, biotin, iodine, vitamin D3, and an omega-3 fatty acid blend. The Prenatal Drink Mix, meanwhile — the product that got Premama on the map — contains vitamin C, vitamin D2, riboflavin, vitamin B6, folate, vitamin B12, biotin, calcium, iron, magnesium, zinc, and copper. As such, it's probably safe to assume that the multivitamin that goes into the Premama Smoothie is similar to one or both of these products.
The Premama Smoothie is available at Smoothie King locations across the country starting this week. May your prenatal vitamin intake always be as tasty as this.